Jordan's Response To The Jenna Cheating Allegations Will Totally Break 'BiP' Fans' Hearts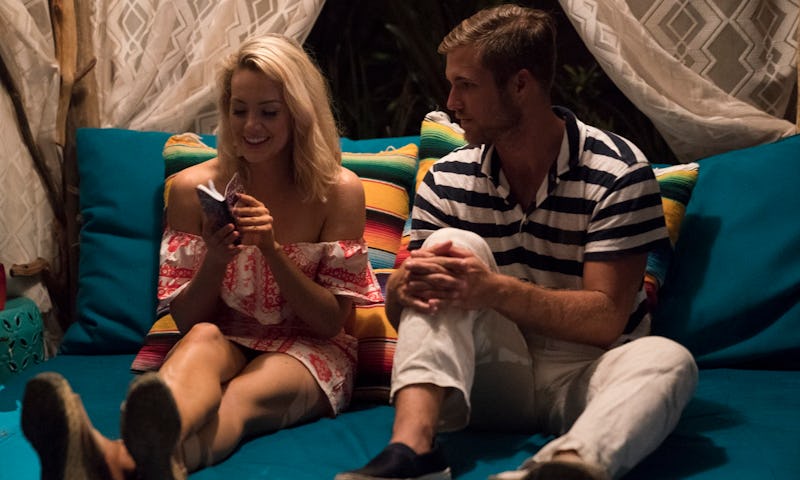 Paul Hebert/ABC
Early Tuesday, controversy rattled Bachelor Nation when a blog post by Reality Steve alleged that Jenna Cooper was romantically involved with a guy who isn't her fiancé, Jordan Kimball. But after reading Jordan's response to the Jenna cheating allegations — as reported by People in a story published late Tuesday night, Sept. 11 — it seems pretty clear that he still cares about Jenna. That being said, it sounds like Jordan is understandably feeling a little bit heartbroken right now, too. (Bustle reached out to Jordan and Jenna for additional comment regarding these allegations, but did not receive an immediate response.)
UPDATE: On Wednesday afternoon, Jenna posted an Instagram, explaining her side of the story. She wrote,
"I want to start by saying those texts were completely fabricated, and I never sent them to anyone. I did not cheat on Jordan, and I have nothing to hide. I have been extremely open and vulnerable throughout this whole process. I was looking for love, and I found it. I was excited to share this journey with all of you. I am hurt by these fake texts, and that anyone would believe this story so quickly without proof. I have an attorney helping me investigate this hurtful and fraudulent attack on my character. We are evaluating all legal remedies available to punish those responsible."
EARLIER: Speaking about what it was like for him to learn about the cheating allegations in the first place, and how he's faring emotionally in the aftermath of the Reality Steve story, Jordan told People,
"It felt like a body drop. I got taken down. I'm weak in the knees and I feel like I have rocks in my stomach."
In an exclusive statement to People, Jenna denied the infidelity claims, calling them "simply untrue." Her statement reads, in full:
"I am aware of the allegations being made against me and they are simply untrue. I am choosing to focus on my relationship right now. Thank you for respecting my privacy at this time."
Those who followed Jordan and Jenna's relationship on Bachelor in Paradise's most recent season know their romance didn't come without its share of ups and downs. The two met early on in the season (on Jenna's birthday, coincidentally) and seemed to hit it off almost immediately. Jordan, for his part, was totally smitten. And while Jenna might've appeared slightly less smitten during the earlier part of their BiP courtship, by the end, it seemed like she and Jordan were on the same page.
On Tuesday night, residents of #BachelorNation watched Jordan propose to Jenna during Bachelor in Paradise's two-hour season finale episode. "Since you walked into Paradise I thought you were the prettiest girl in the world," Jordan said to Jenna, right before he got down on one knee. Continuing he told her, "You've taught me to believe in love at first sight." As for Jenna? She said yes.
On top of that, Jordan pitched an idea for his and Jenna's TV wedding to Chris Harrison during the BiP reunion show, which reportedly taped a few weeks ago on Aug. 28, according to The Hollywood Reporter. Not too long after the taping, Jordan told THR that he and Jenna were making plans for the future. "We have a date for the wedding," he said, adding that he and Jenna "want to bring our families closer together" and "have to figure out a living space." Per THR, Jordan reportedly wanted the wedding to take place on June 9 of next year, along the beaches of Paradise. (June 9 is the day Jordan and Jenna first met in Paradise earlier this summer, and it's also Jenna's birthday.)
But early Tuesday morning, just hours before Jordan's proposal aired on Bachelor in Paradise, the blog Reality Steve published a story that alleged Jenna was involved with another man, who claimed she had been for a little while. Jordan told People that he felt blindsided by the news. "I never would have expected this," he told the publication, adding that he feels "sick about it."
And despite Jenna's statement denying the cheating allegations, Jordan told People that he still suspects the rumors are true, even after talking to Jenna directly. "I know my Jenna, and I read those texts and in my heart, I know it's her," said Jordan, adding,
"She was saying she didn't do it, but hinting towards the fact that there's a possibility that it happened. In all reality, I don't expect her to own it."
Whether or not the cheating allegations are true, let's hope that both Jordan and Jenna are hanging in there and treating each other with respect during this undoubtedly stressful time.