Former J. Crew Creative Director Jenna Lyons Is Launching A TV Show & Lifestyle Brand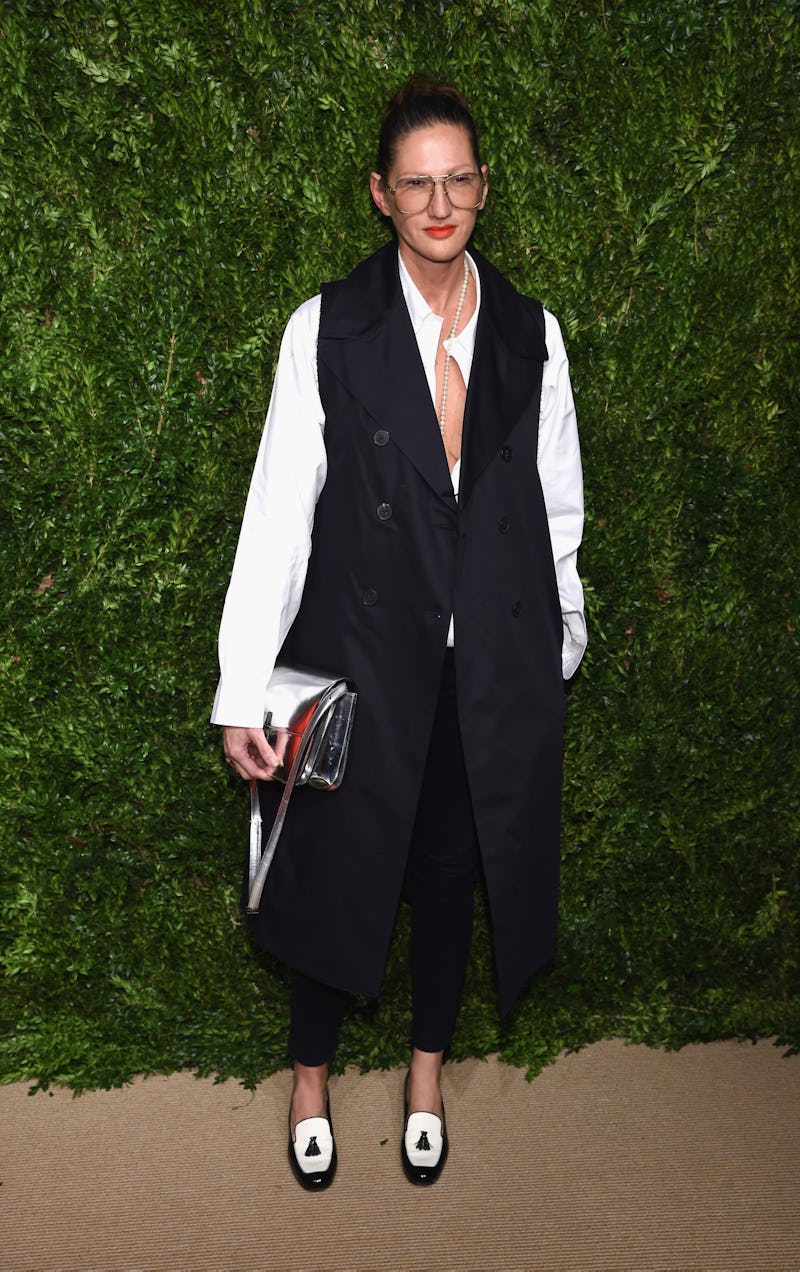 Dimitrios Kambouris/Getty Images Entertainment/Getty Images
Typically, you know a fashion influencer when you see one. They'll be the perfect combination of being relatable and inspirational. But to be a brand leader like former J.Crew executive creative director, Jenna Lyons, means taking those qualities to the extreme. That's why Jenna Lyons is partnering with Turner Entertainment to create a space in broadcast television where video content and shopping meet.
Since resigning from the brand in April 2017, Lyons is now making moves. Alongside Turner Entertainment, Lyons is developing a weekly lifestyle TV series, and a daily curated social and direct-to-consumer platform said to launch next year. Better start saving up now, friends.
It's innovative change Lyons clearly thinks is needed. Back in February, she told WWD about her distaste for the speed in which fashion was going because of social media's influence.
"I don't know if I want the intensity of fashion's speed now," Lyons said, "I don't think my own brand is in the cards. If I were going to get back into fashion, I'd do it in a different way." And what a way to go.
According to LA Times, Lyons' vision entailed creating a platform to maintain affordability, but still giving the people what they want. Additionally, she wants consumers to be better equipped to make choices that best reflect their personal style, which will be another additive touch to her new project.
"I want to build a story-driven, comprehensive resource for anyone to satisfy their personal style and help them make aesthetic choices," she said. "We'll bring that together with real-time entertainment. With the team at Turner, I've found an inspiring and open-minded approach to thinking about commerce across multiple platforms."
Working under the J.Crew name as executive creative director for 26 years, Lyons transformed the brand into a dressy casual place for stylish women to shop. She become her own brand once others took notice of her asymmetrical tomboy looks.
The show is reportedly set to be in a reality show format, based in Lyons' New York City life. She plans to share what her life is like as well as what it means to work in a creative industry.
In an interview with The Hollywood Reporter, she asserts catering time to the online channel as well and even mentioned there being a product line of her own.
"I want to find a language and voice that feels honest, approachable and human to share things that I love," she said. "The market is full. There is not someone helping to distill that down. And one of the natural effects of social media is that people are in a niche place. To me, inspiration and aspiration are both important in how we curate everything from furniture to beauty to clothing. I'm looking to find the space in between niche and Amazon, which is what I did at J. Crew to a certain extent, with a wide range of price points and aesthetics."
Lyons seeks to find different ways to engage viewers, similarly to Oprah, asking friends what they'd look for in the content she wants to create.
"I've been talking to my friends about what they would watch, what they are missing, and I think we will have an opportunity to let it evolve into different formats," she said.
As much as I love online shopping, I'm curious to see how this new format helps one curate their signature style. Guess I'll be tuning in.