Jenna's Apology To Jordan Expressed Hope For The 'Bachelor In Paradise' Couple's Future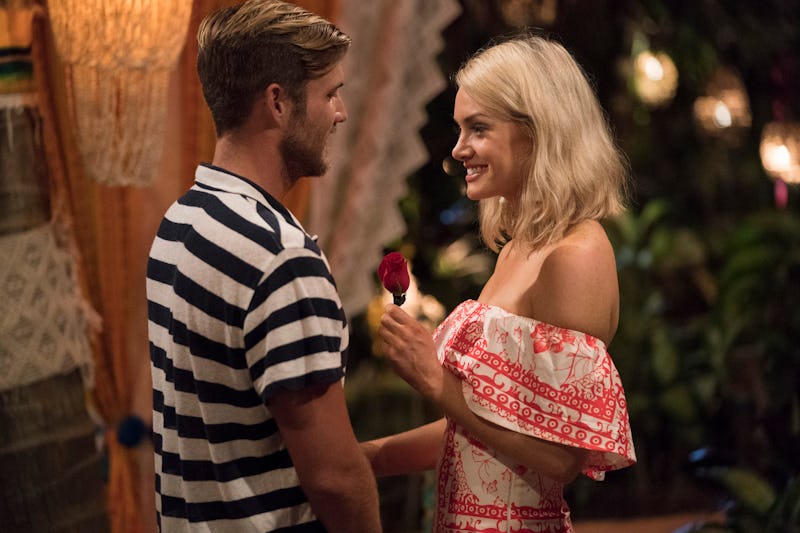 ABC/Paul Hebert
Chris Harrison could call this the most dramatic Bachelor Nation breakup yet. Adding another element to the split saga, Jenna's apology to Jordan via Instagram late on Friday, Sept. 14 shows the social media manager is far from ready to accept this relationship's end. What's more, in addition to trying to revive the Bachelor in Paradise romance, Jenna is also on a mission to clear her name, following Reality Steve's publication of alleged text messages that indicate she was having a post-engagement affair.
First addressing "Jordan, our families, friends, and supporters," the Indiana native, who noted she's now back home with her family, urged all of the above to "please stand by as I prepare to provide the true facts that will demonstrate the fraud perpetrated by terrible individuals." In the Instagram post, which also included a photo of the former couple horseback riding on the beach, Jenna continued:
"And to Jordan, I am sorry that horrible people have used fabricated, hateful efforts to come between us. I promise you that the truth will be set free in the coming weeks, and it will unquestionably be to your satisfaction."
Jenna, who has maintained all along that the text messages are fake and denied an affair, also offered comfort to "anyone who has had people callously, maliciously and falsely attempt to destroy all that you Love" and ended on a positive note: "I look forward to returning to a place of happiness, joy, moving forward with Jordan, and life..knowing that everyone knows the truth."
To recap: Just one day after his Bachelor in Paradise finale proposal aired on ABC, Jordan announced his and Jenna's breakup to Entertainment Weekly on Wednesday, Sept. 12, in light of the text screenshots published by Reality Steve. In one of the messages to an unidentified man who Jenna had reportedly met before appearing on BiP — and continued to be involved with following her engagement to Jordan — she allegedly wrote: "Me and Jordan aren't together for real. I don't even like him let alone love him."
Despite Jenna's denial about the validity of the messages, Jordan previously told People that he believes the texts are legit. "I know my Jenna, and I read those texts and in my heart, I know it's her," the male model revealed, adding that the news "felt like a body drop," after the BiP finale aired. "She was saying she didn't do it, but hinting towards the fact that there's a possibility that it happened. In all reality, I don't expect her to own it."
Reiterating his belief that the text messages were real during a 40-minute interview on Reality Steve's podcast, Jordan and the blogger revealed that one of Jenna's friends had come forward to break the news that his now-ex-fiancee really did type the messages in question. However, the identity of that unnamed friend is currently unknown and not verified.
Even so, Jordan asked fans not to attack Jenna. "I want her to know that I'm not against her," he said during the podcast sit-down. "I think everyone should know I'm not against her. I think it's awful that she's getting attacked by America right now. I don't think anyone deserves that."
Jordan had also previously written in a Sept. 12 Instagram caption that he will always be there for Jenna but had to make the difficult decision to end the relationship to find "inner peace." Added Jordan, "It breaks my heart to think, feel and fall for this. It's dropped me. Fumbling emotions and being understanding is not easy."
While the possibility of a reconciliation remains up in the air, it seems Jordan and Jenna are both taking the time they need to heal — and Jenna, at least, isn't giving up hope just yet.