Jennifer Aniston Teases A 'Friends' Reunion By Low-Key Shading George Clooney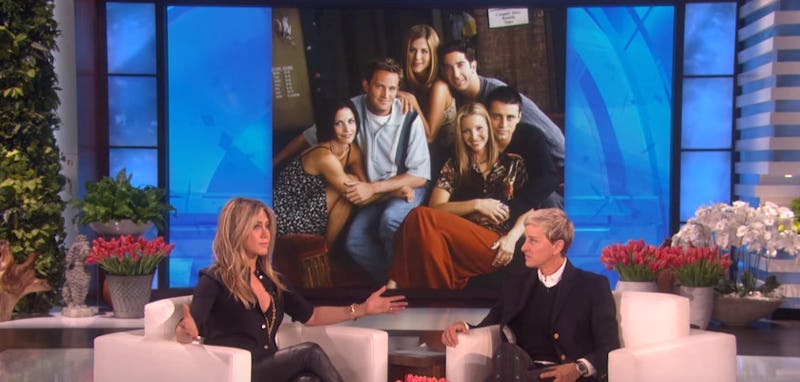 The Ellen Show/YouTube
After a decade of waiting and wishing, it's not like Friends fans need much encouragement to stay optimistic about a reboot. But Jennifer Aniston teasing a Friends reunion on The Ellen Show really takes things to the next level — especially because she snuck some low-key George Clooney shade in there too. Aniston was on the show to promote an as-yet-untitled series also featuring Reese Witherspoon that will be coming to Apple Network soon. But, as often happens, talk quickly turned to the series that made Aniston famous, and bless her, Ellen DeGeneres was out there doing the Lord's work.
The host told the actor, "Y'all should do a Friends reunion," before continuing, "I know people keep asking that, [but] is it even a possibility? Is it even in the realm of possibility?" The good news is that Aniston didn't rule it out, like she has in the past. Previously, the actor has said that she has no idea what new episodes would even cover and that "we've lost" the climate that made Friends possible, because now everyone's noses are buried in their cell phones. But she was singing a very different tune on Feb. 2 when she told the talk-show host, "Anything is a possibility, Ellen. Anything."
It's beyond exciting, but the better news — as if there could be such a thing when a Friends reboot is on the table — is that the 48-year-old didn't stop there. Along with teasing the return of one of the most beloved series on television, she also demonstrated a keen knowledge of the art of the shade. She coyly added, "I mean, George Clooney got married... that's like an 'anything can happen.'"
This is some sassy Rachel Green-style attitude coming out, and you probably won't hear anyone complaining about it. Despite Aniston's 2005 divorce from Clooney's BFF Brad Pitt, the Up In The Air star and the Cake star have stayed friends over the years. They aren't spotted together often in Los Angeles, but they've clearly remained close. In 2012, Aniston and Justin Theroux shared a private jet ride with Clooney and his then-girlfriend Stacy Keibler, and, in 2014, the two had a get-together in Cabo San Lucas, Mexico that was also attended by Theroux, Amal Clooney, and a few other famous faces like Jimmy Kimmel, Emily Blunt, and John Krasinski.
In short, these two have a history, and it seems to be one that's strong enough to stand up to a little gentle ribbing. Sure, he's a married father of twins now, but, for a long time, Clooney was right up there with the most eligible bachelors in Hollywood. The actor was married to Divorce actor Talia Balsam from 1989 to 1993. But between 1993 and his wedding to Amal Alamuddin in 2014, Clooney refused to be tied down. He has been linked to a string of women including Kelly Preston, Kimberly Russell, Lucy Liu, and Renee Zellweger. Many of the relationships lasted years and included multiple red carpet appearances as an official couple, but well into his fifties, it seemed like nothing could lure Clooney out of his perpetual bachelorhood.
And then he met Alamuddin, of course, and the rest is history. They got engaged in April 2014, married in September of the same year, and welcomed twins Alexander and Ella in June 2017. But anyone who was around for that time has hardly forgotten Clooney's reputation. In this case, it actually works to our benefit. Five years ago, no one would ever have believed that Clooney would have settled down so quickly and so contentedly.
So maybe in five years' time, we'll be having the same conversation about Friends. "Remember how unlikely everyone thought a reunion was, and how many people told fans it wouldn't happen? Pretty crazy that now we have an 11th season and a movie, and the entire cast travels together like a roving band of nostalgia, huh??" Thanks to Aniston, we can now dare to dream.