Jennifer Garner Wants To Be In A Potential 'Alias' Reboot On This One Important Condition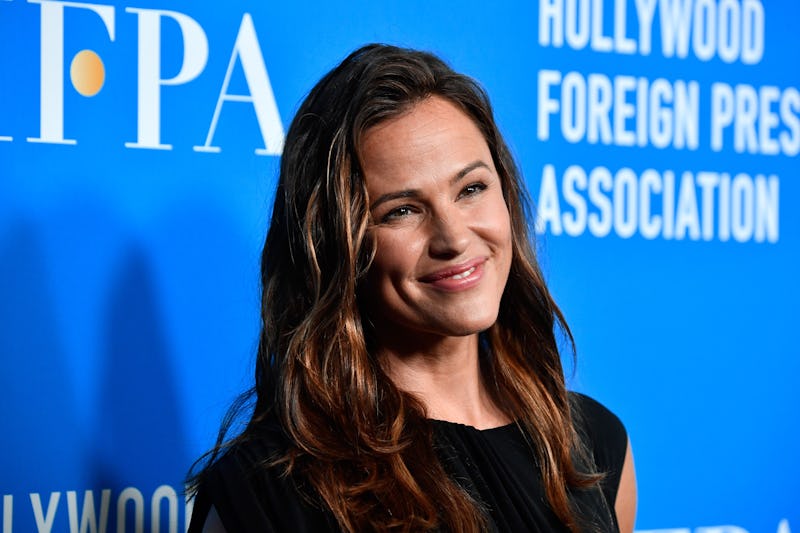 Frazer Harrison/Getty Images Entertainment/Getty Images
On Sunday, Oct. 14, Jennifer Garner makes her return to television on HBO's Camping, but there's another role she has her eye on. Jennifer Garner wants to be in the Alias reboot, which is rumored to be in the works but has yet to be confirmed. The actor starred in the original series as Sydney Bristow over a decade ago, and it's the role that first brought her recognition. According to The Hollywood Reporter, Garner hopes fans haven't seen the last of her in that part. "I've heard that there's an Alias reboot happening, but no one's talked to me about it," she said. "I mean it would be totally different. But if they didn't have me on as a guest, I would be very, very angry. But I can't imagine it being that serious yet because I haven't heard anything about it at all."
The original Alias premiered in 2001, and was created by J.J. Abrams. The story followed a young women, Sydney, whose family has a history working in the CIA and who becomes an international spy. It was largely about her attempt to conceal her identity as a secret agent from friends and family, even as she took on different aliases for missions. The show was on for five seasons, and launched both Abrams and Garner's careers. The last episode aired in 2006, and since then, Garner has focused on film projects. However, the actor's lead role in the Lena Dunham and Jenni Konner produced Camping represents a renewed interest in television projects. This could be just in time for Alias to return to TV.
Garner has discussed the potential Alias reboot in the past. In 2012, the star said she would love to return to the show as long as Abrams was at the helm, according to SyFy. "I don't see him turning around and rebooting Alias anytime soon. If he did it and he was involved, I'm sure the rest of us would sign right up," she said. "We had a blast making that show and we're all still super close, so I'm sure you would find an eager group of participants right there."
The 13 Going on 30 star has continued to focus on film in the years since Alias has been off the air. However, she told THR that the return to the TV medium is a natural step. She was drawn to Camping because of the writing and the cast, which includes several major stars. "I've never thought of returning to TV as some huge thing, so it wasn't a barrier to me that I had to get over," Garner said. "It was a job. And it was shot in L.A., and the words were genius, and Jenni Konner and Lena Dunham were a pair that anyone would be so lucky to work with. And once I was in the process of saying yes, it just kept getting better and better. As David Tennant came on and Juliette Lewis came on and Ione Skye came on, the pot just got sweeter."
Further details about the Alias reboot have yet to be released, but Garner made it clear that she's not interested in leading a network show, according to THR. Even if the series were to return, she would be more likely to take on a guest spot. "Being the lead in a single-lead 22-episode, I don't think that I could do it anymore," she said. "I just don't, I don't know. I don't know how moms do that." Even so, it only seems right that she would have at least a small role in the reboot, given her leading role in the original series.
Now that Garner is returning to television, there could be plenty of career opportunities that will open up for the star. However, if Alias gets a reboot, it should bring her back in the role that started it all, even if it's just as a guest. Garner is ready to return to the series, and fans can only hope that Abrams is going to be on board as well.