The Video Of Jennifer Garner On Laughing Gas You Didn't Ask For, But Seriously Needed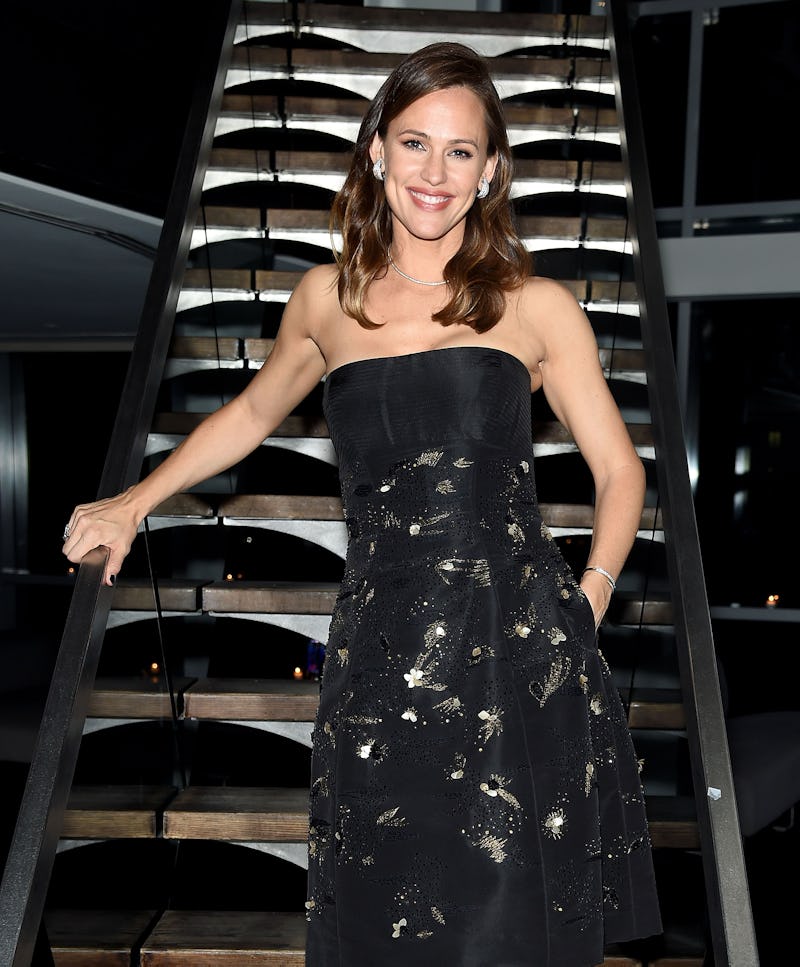 Jamie McCarthy/Getty Images Entertainment/Getty Images
After joining Instagram just two weeks ago, the hilarious and talented Jennifer Garner has proved that she's someone you'll want to follow. Case in point: The amazing and relatable throwback Thursday video Garner posted of herself on laughing gas after having dental work done. The clip is a classic example of why fans of Garner were excited when she announced she was joining Instagram, because although she's an A-list celebrity and movie star, she seems like she could totally be one of your BFFs.
Oh, and guess what she gushes about in the clip? How the music in Hamilton — the insanely popular musical about the life of Founding Father Alexander Hamilton — made her cry. The play, which features singing and rapping, was written by Lin-Manuel Miranda and received a record-setting 16 Tony nominations. It went on to win 11 Tony awards. After it's massive box office success on Broadway, Hamilton went on a national tour in Spring 2017. The show has been seen by fans across the country, who — like Garner — were emotionally moved by the musical.
"They did the sad part of Hamilton and I started crying and I couldn't stop," Garner tells someone on the phone, sounding audibly affected by the anesthesia. "And they said, 'Are you OK?' and I said, 'It's so beautiful!'' At that point Garner laughs a laugh that can only be described as hilariously contagious. You know, like when you get the giggles because someone is telling you a story that's so silly you can't help but chuckle — except in this case Garner is both telling the story and laughing at it.
"It's so beautiful," Garner continued, basically crying because she's laughing so hard at this point. "Listen to this song. It was so beautiful — that musical, so pretty. And so, I told them about it. They have to see it." And isn't that cool, even under anesthesia Garner is giving theater recommendations to the people doing her dental procedure. (At least, that's what it seems like she's trying to say.)
Garner shared the video to Instagram along with a caption reading,
"Throwback Thursday-- that time I had dental anesthesia...laughing gas + novocaine + Hamilton = you're welcome."
Many thanks indeed, if you're like me, then you probably watched the video above a dozen or so times before scrolling down. And you'll undoubtedly be re-watching it once or twice more. No judgement, the clip is absolutely addicting.
Garner was spotted after seeing Hamilton on Broadway in New York City back in 2015 at the Richard Rodgers Theatre. Although she hasn't really spoken about the play in public, it clearly left an impression on her just like it did on everyone else who saw it.
Garner officially joined Instagram on Sept. 1, with an adorable, and also relatable video announcement. "I am officially on Instagram," she captioned the clip. "Please follow me because isn't that how this works." So true!
Although she's had a career in Hollywood that's lasted over 20 years, Garner didn't immediately jump on Instagram like so many other celebs when the social network first became popular. And you know what they say, all good things are worth the wait! Though it may be hard to top the amazingness that was her dental anesthesia video, I have no doubt she'll continue to delight her fans and followers with future posts.