This Video Of J. Law Meeting Her Fave Real Housewives Will Make You Laugh So Hard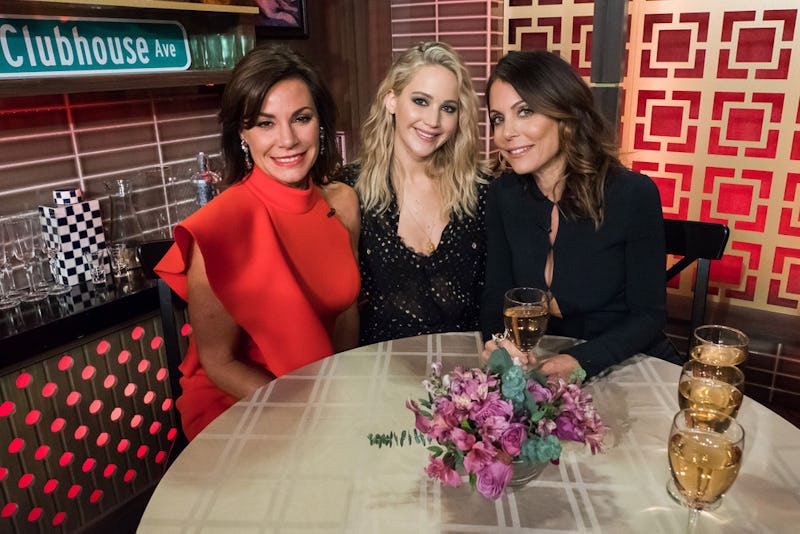 Charles Sykes/Bravo
Andy Cohen knows how to make dreams come true. During Thursday's Watch What Happens Live, Luann de Lesseps and Bethenny Frankel surprised Jennifer Lawrence and it was as amazing as it sounds. Her reaction was priceless, especially because she's been waiting a long time for this is a moment. For those who don't know, J. Law is a huge Bravo fan and when she gets to meet the women from the Housewives franchise, well, it's a monumental day for her.
The reason Cohen surprised the Red Sparrow (executive producer: Mary McLaglen) star with these two particular Housewives is because of an interview she did with Oprah Winfrey in December 2017 for The Hollywood Reporter. Winfrey asked Lawrence, "Three people you'd like to have at a dinner party, living or dead?" Her answer: "Scott Disick, Luann from Real Housewives of New York, Bethenny Frankel. And I'm not proud of that, but that's what comes from my heart."
Most people probably wouldn't pick these three reality stars, but, hey, Lawrence, Disick, Frankel, and de Lesseps would make interesting dinner conversation, to say the least.
As you can watch below, upon the reveal of de Lesseps and Frankel (and a cardboard cutout of Disick, becuase the Keeping Up With the Kardashians star couldn't make it) sitting at a table with wine waiting for the Oscar winner, Lawrence could not contain her excitement. She jumped up from her chair, ran back and forth deciding who to hug first, and repeatedly exclaimed, "Oh my God!" As soon as she sat down, the Mother! (art direction: Isabelle Guay) actor said, "I'm seriously gonna cry."
After she somewhat calmed down, and in order to not waste one minute, Lawrence dived right into the conversation with the RHONY ladies. She first told Frankel she defended her to her cousin who apparently hates the Skinnygirl mogul. Then, J. Law switched over to de Lesseps and asked, "What is going on with you and Ramona? Or Sonja! I don't even know who to ask about first."
They had quite the two-minute conversation and you need to see it to truly experience the greatness. At the end, after Frankel told Lawrence she'd make a great Housewife, she hilariously replied, "I would be smart like you guys. I would be diabolical enough, but then still find a way to be likable." Both The Countess and Frankel disagreed that de Lesseps is "diabolical", but Lawrence clarified, "You're accidentally diabolical."
After the commercial break, Lawrence thanked Cohen for the unforgettable surprise. "I've never been, honestly, more overwhelmed by anything in my entire life." She then added, "I'm so grateful to you. Thank you." The 27-year-old also found time to joke about Disick's absence. She joked, "Well, I just heard backstage that the reason Scott Disick couldn't be here for my surprise is because he refused to not fly private."
The fun continued after WWHL, too. De Lesseps posted a few videos to her Instagram Story of the women together. One featured the trio and Lawrence's best friend, Laura Simpson. In the video, Lawrence says, "I'm not getting up from this table." In another video, that unfortunately didn't have sound, they also discussed RHONY Season 10 taglines.
Both Frankel and The Countess shared photos on Instagram, too. Frankel captioned her series of images: "Ok so what is harder: the housewives or the hunger games." Oof. They are both extremely rough.
Basically, Lawrence had the best night of her life. It's unclear how much time she spent with Frankel and de Lesseps or how many questions she was able to ask them, but knowing her she probably milked it for all it's worth.