The 'RHONY' Season 10 Trailer Is Finally Here & Gives Details About Luann's Arrest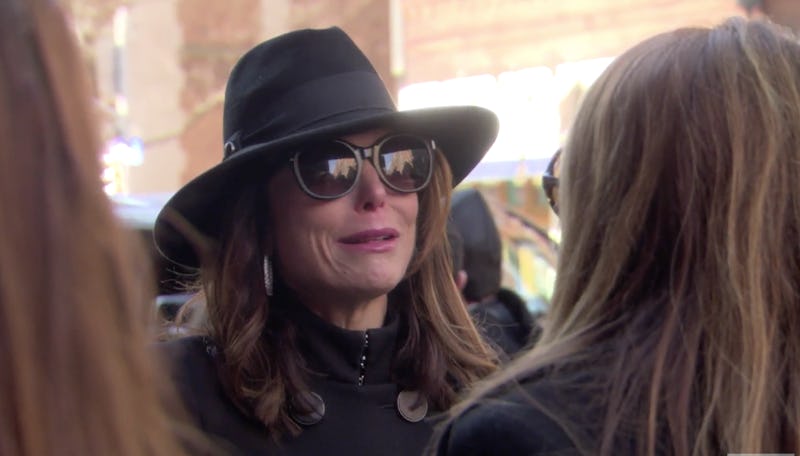 Bravo
The time has finally come. The Real Housewives of New York City Season 10 trailer is here and there is so much drama fans won't know how to handle it. First off, this season's cast is the same as Season 9. That's right, Bethenny Frankel, Luann de Lesseps, Carole Radziwill, Dorinda Medley, Ramona Singer, Sonja Morgan, and Tinsley Mortimer are all returning for another season of madness, which premieres Wednesday, April 4.
The trailer opens up with fun, laughter, smiles, and ridiculousness, like this quote coming out of Sonja's mouth while she's dancing: "This is the money move. Tuck in your penises." Oh, and the ladies partake in what appears to be a murder mystery dinner, but Ramona is more concerned about eating. "Are we ready to die?", she asks before adding, "'Cuz I'm really hungry."
There are even a few uplifting moments, including Bethenny helping those affected by the hurricane in Puerto Rico and Carole running the New York City Marathon.
However, the drama quickly erupts and where to begin? Fans are probably dying to know if Luann's arrest will be featured, and, yes, that will be part of her storyline in the milestone 10th season. "I've been traveling, I've been to prison, and I just want to be close to home," The Countess says after footage of her exiting rehab is shown. At one point, Luann declares, "She called me a convict," but it remains unclear who made the comment.
In addition to her arrest, she even reflects on her failed marriage to Tom D'Agostino Jr. by telling her daughter, Victoria de Lesseps, "I'm moving on. In retrospect, why did I have to get married?"
Luann isn't the only one dealing with drama. Similar to last season, Tinsley and Sonja still don't seem to be getting along that well. Tinsley even yells at her former housemate: "Shut your mouth and shut your f*cking legs!" Yikes.
As for those who adore Bethenny and Carole's friendship, you better sit down for this one. It sure looks like their relationship isn't as tight as it used to be. "I'm not sure Carole is excited to see me as she used to be," the Skinnygirl mogul admits during her confessional. During the murder mystery event, they also have a heated exchange. "Every time we're together you're aggressive with me," Carole says, but Bethenny denies it. "Honey, it is," Carole says. To that, Bethenny says with some fire, "Don't call me 'honey.'"
This season sounds like it may be a rough one for Carole. She even says, "It's probably the scariest place I've ever been." Regarding that remark, it's not entirely clear what she's referring to, but there's a chance it could be about her relationship with Adam Kentworthy. Carole tells Tinsley, "Adam says, 'I went on a date with someone and I like her.'" If you recall, during the second part of the Season 9 reunion, Carole revealed she and Adam were taking a break, but it might be more permanent now.
On an even more serious note, Dorinda's drinking is a focus, but not in a funny way like it typically is. Bethenny says to her face, "You're a drunk." Dorinda responds through tears, "You know, I have a life now that's not the life that I expected."
Speaking of tears, Bethenny shares a sad moment with Jill Zarin at her late husband Bobby Zarin's funeral. Jill says to Bethenny while crying, "What am I gonna do? I've never been alone since I was 20 years old." Bethenny replies, "I'm alone, too." Could this be the moment that brings Bethenny and Jill back together? Fans will have to wait and see.
There's certainly a lot going on in the trailer, meaning Season 10 is going to be just as great as the rest of the RHONY series. And with that, here is a departing piece of wisdom from Dorinda that she tells Ramona in the sneak peek: "Say it, forget it; write it, regret it."
To watch the trailer its entirety, head on over to People.