Jennifer Lawrence Wore An Old Red Carpet Dress To Amy Schumer's Wedding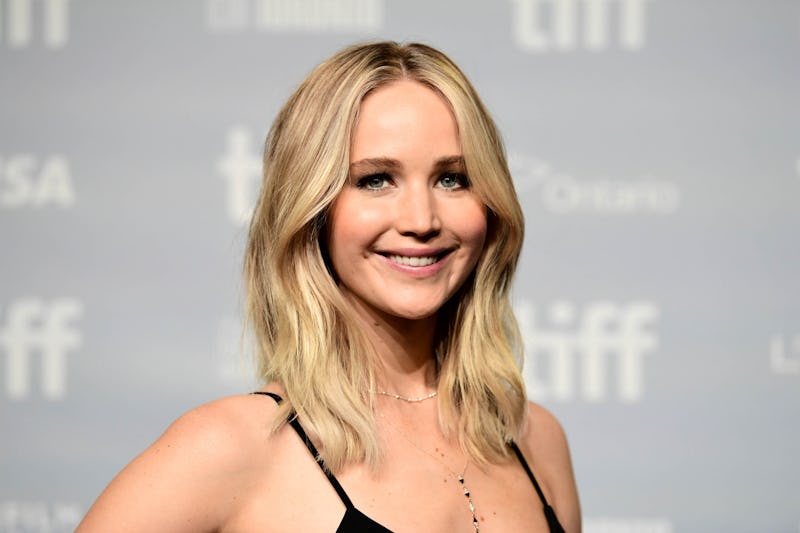 Emma McIntyre/Getty Images Entertainment/Getty Images
By now, you know that actor Jennifer Lawrence and comedian Amy Schumer are tight. The pair are so tight, in fact, that Lawrence was among very few to attend Schumer's intimate wedding on Feb. 13 to chef Chris Fischer. And to that wedding, Jennifer Lawrence wore a light pink gown that she has worn before. Please, don't faint.
As People found, the dress Lawrence wore to Schumer's wedding was the exact same pink-and-black gown she wore to The Hollywood Reporter's 2017 Women In Entertainment Breakfast on Dec. 7. And it's easy to see why the dress isn't a loaner Lawrence would simply want to let go. The Philosophy di Lorenzo Serafini dress is a classic and chic design — and it also happens to be incredibly gorgeous on the star.
The startling revelation that Lawrence would repeat a dress to her best friend's wedding seems to prove an iconic adage: Celebrities, they are just like us.
The dress, however, did receive a style change for Schumer's wedding, which is actually pretty impressive. The dress, after all, does have a unique look that even the most seasoned fashionista wouldn't think is the most versatile.
At the Women In Entertainment Breakfast, Lawrence wore the gown with a pair of simple black heels and no jewelry. To keep attention on the high neckline of the dress, Lawrence wore her hair up, leaving face-framing locks down for a little bit of undone chicness.
For Schumer's wedding, Lawrence loosened things up a little. She wore the gown with the top four buttons unbuttoned and added a black choker and statement necklace to accessorize. She also changed up her updo, pulling those face-framing locks back into a sleeker 'do. A candid photo also shows Lawrence changed her shoes, opting for open-toed lace-up black wedges.
Let's be real, both looks totally slayed. But the only obvious reaction to the earth-shattering news of Lawrence repeating a red carpet gown — gasp! — is to quote an iconic movie moment a la The Lizzie McGuire Movie.
Joking aside, it's not worth being totally shocked that Lawrence repeated an outfit. But her styling does teach a valuable lesson. Any dress can be transformed into a new look with a few simple — and inexpensive — adjustments. And that's especially good to see from stars.
This alarmingly normal moment from Lawrence proves that you don't need a closet of endless clothing possibilities to be on your style game. Swapping out some shoes and throwing on a choker can transform a dress — even one that has been photographed all over the red carpet.
While some people gasped over how Lawrence dared to repeat an outfit — a true crime, for sure — others came to her defense. In fact, one tweet calling out a culture that's shocked over Hollywood outfit repeaters actually went viral.
Do you know how many Hollywood men are wearing the same suit ALWAYS? Shocking.
And the responses to this tweet are just as cutting.
Does anyone else remember this story? One new anchor, in one suit, for an entire year. And not one person said a word to this shameful outfit repeater.
Wait, what? I need to sit down.
I mean, show me the lie. She looks damn good in the gown.
Laundry is a true miracle. Even Will Smith knows it. And I bet he's worn that suit before, too.
Girl, same. My donut pants have gotten so much use. Washing machines get off the glaze and all.
While J.Law isn't shocking the masses with her outfit repeating ways, she is teaching us all how to get the most versatility out of even the most hard-to-style items. And for that we all deserve to give this fashion queen a round of applause.