Amy Schumer May Have Secretly Married Her New Boyfriend— Here's What We Know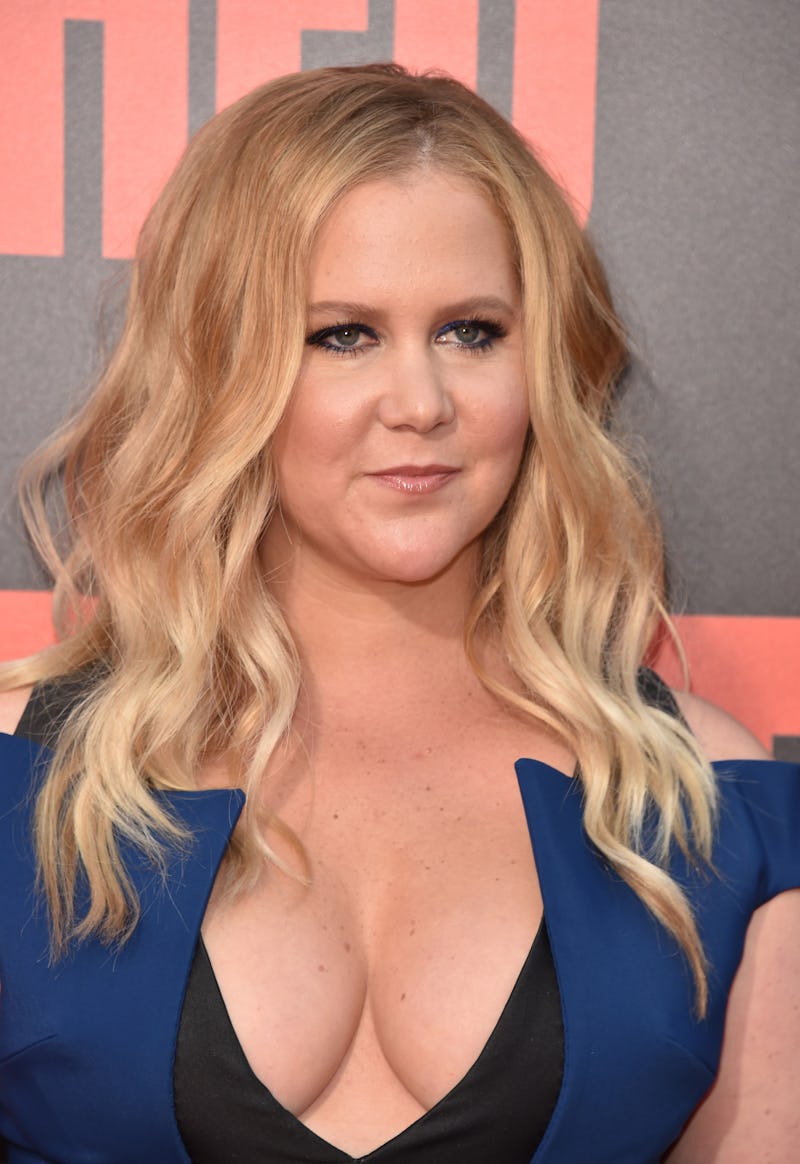 Alberto E. Rodriguez/Getty Images Entertainment/Getty Images
Well, it looks like love really was in the air for this couple around Valentine's Day. Amy Schumer married Chris Fischer, according to Us Weekly. There aren't that many details just yet or any comment from the couple themselves, but Us reports multiple sources have confirmed they said "I do" in Malibu, California on Feb. 13. According to People, about 80 guests attended the wedding, including Jennifer Aniston, Jake Gyllenhaal, Jennifer Lawrence, Larry David, and David Spade. Us also reports that a comedian (a name wasn't given) officiated the ceremony and there was a "strict no-photos policy".
UPDATE: On Instagram Thursday, Schumer confirmed she married Fischer by sharing a series of photos from the wedding (below).
EARLIER: "It was a very chill wedding," a source told Us. "It was thrown together last minute. Most of the guests found out the wedding was happening on Tuesday from a text message sent out by Amy on Sunday. It was like, 'Hey, this is happening. If you can make it, great. If not, no worries. People were in and out all night. It was a gorgeous day. Everyone was having a good time."
The news may surprise or shock some, especially since the I Feel Pretty (director: Abby Kohn) star and Fischer haven't been together that long. They've reportedly been dating since November 2017, which means Schumer and her chef boyfriend have only been romantically involved for about three months.
However, after the Trainwreck actor (associate producer: Kim Caramele) broke up with Ben Hanisch after a year and a half together last May, she revealed in June 2017 at the Hilarity For Clarity event (via AOL Entertainment), "I'm dating this new dude. He's awesome. He's like Stephen Hawking ... sexually." It's unclear if she was referring to Fischer or someone else.
Whatever the case, the length of their relationship doesn't matter, because they seem to be head over heels in love and extremely happy together. If you need further proof, Schumer's good friend, Bridget Everett gushed to Us in December 2017 about her bestie's newfound love, whom she has also met. "I won't say anything other than I'm happy that Amy's very happy," Everett said.
And as you can see above in the Instagram Schumer shared on Feb. 11 (the first time they made their love IG official), they can't keep their hands off each other. Based on the comedian's caption, they took the photo at Ellen DeGeneres' 60th birthday party, which was quite the star-studded affair.
They first made headlines as a couple last fall after Us obtained pictures of Schumer and Fischer eating dinner together in New York City. They were also spotted in the Big Apple attending Saturday Night Live in January, which was only their second time being photographed out in public together, according to People. A few days before DeGeneres' celeb-filled birthday party, Schumer, her dog, and Fischer were also seen in Beverly Hills.
Last November, E! News reported that Schumer and Fischer met in a typically normal way. Apparently, Fischer's sister is Schumer's personal assistant. What better way to meet someone than through family? It makes for a perfect meet-cute.
Fischer seems like a great catch, too. As E! also revealed, he previously worked as a sous chef at Mario Batali's Italian New York City restaurant, Babbo. According to E!, Fischer met Batali through Gyllenhaal, who also once made a cameo in Schumer's Inside Amy Schumer (art direction: Naomi Munro). They sure do know a lot of the same people and no wonder Gyllenhaal was reportedly at their supposed wedding.
E! reports that Fischer lives on Beetlebung Farm in Martha's Vineyard, Massachusetts. In 2016, he won a James Beard Award for his book, Beetlebung Farm Cookbook: A Year of Cooking on Martha's Vineyard. As reported by Esquire in August 2013, his success doesn't stop there, because, apparently President Barack Obama and Michelle Obama said Fischer's previous restaurant, the Beach Plum Restaurant, was their favorite place to eat in Martha's Vineyard. Now that's something to brag about.
Between Schumer's comedic talents, Fischer's chef skills, and how happy they seem to make each other, it sounds like they're going to have a wonderful life together.