Jennifer Lopez Channeled Her Iconic Green Grammys Dress On A Magazine Cover 18 Years (!!!) Later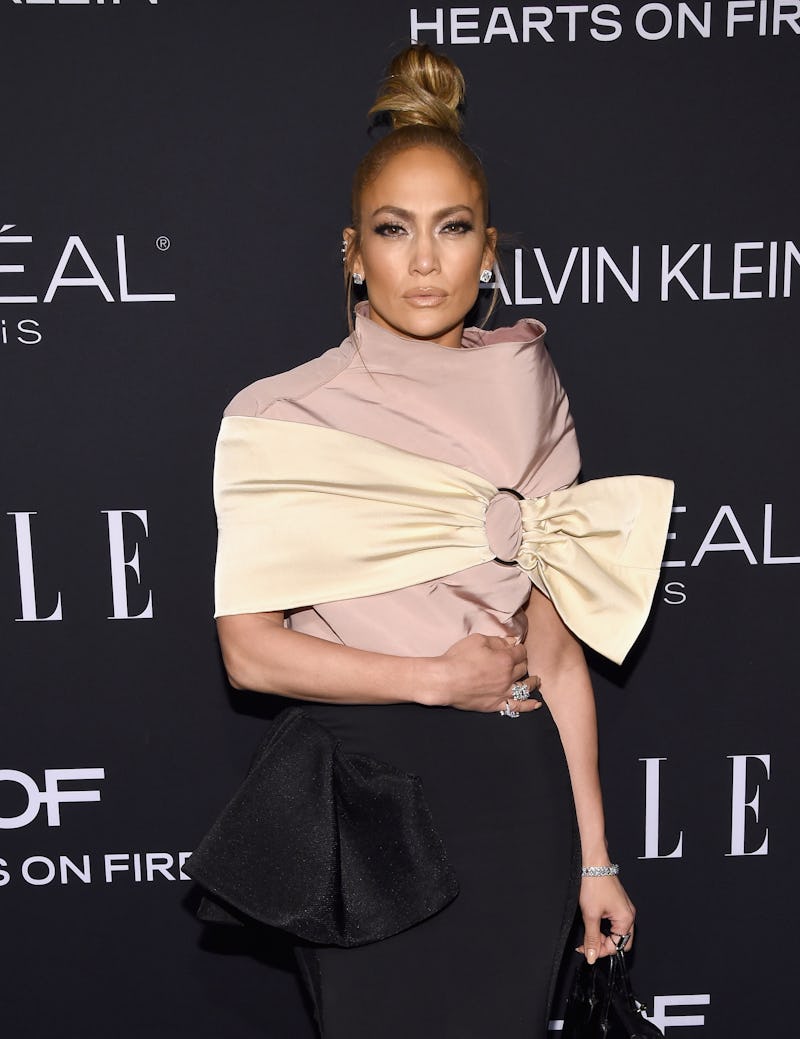 Michael Kovac/Getty Images Entertainment/Getty Images
Being from the Bronx, you're more likely to have thicker skin than a lot of your NYC counterparts. And as a BX native herself, Jenny from the block has proved it so both in her music and, well, have you seen her tookus? If not, JLo's green dress for InStyle Magazine is a great reminder. Not to mention, all this green is giving fans flashback feels of her Grammys dress from 2000. You know? The one designed by Versace that left everyone's jaws on the floor. Yeah, that dress.
While it may not always be Thursday, throwbacks are always welcome in this house. Decked out in an emerald green Haute Couture gown from Valentino, the "Dinero" singer showed off and showed out for InStyle's December subscriber cover. And woah baby, she served a whole lot of skin just like she had way back in the day.
This dress (if you can really even categorize it as that), on the other hand, left nothing to the imagination as it covered only JLo's front and back. However, Lopez made sure to leave her sides unhidden and bore it all. She's basically the queen of side butt. In this look, though, she's everything.
This is the kind of dress that screams "confident", which is lowkey a JLo staple. 18 years ago, she shocked and shook viewers at the 2000 Grammy Awards wearing a sheer Versace dress with the deepest of V necklines that tore straight down to the actress' naval. If anyone can recall Carrie Bradshaw's "naked" dress, it doesn't take a genius to tell JLo's gown has hers beat by a landslide.
Along with this double-take dress, Lopez wore a set of sky high, red bottom Christian Louboutins. Should you expect anything less with a dress like this though?
Being a trailblazer for curvy figures was easy, though, according Lopez. Growing up, JLo didn't seek out the latest magazine issues that showed models of smaller sizes. Being curvy is essentially a part of who she is. She told InStyle that while she was growing her career in the industry, being a figure for curvy women wasn't something she ever even really noticed she was doing.
"In my family, curves were glorified and part of the culture. It was just like, 'Jennifer has a big butt, and it's good,' " She said. "I was just being myself."
From being a Fly Girl on In Living Color to charming fans as a rom-com sweetheart, the Bronx babe never forgets where she came from and even revealed that she makes sure to reflect it in both her personal style and high fashion glam.
"It's what I still often wear to this day, the big hoops and, you know, gold jewelry," she told InStyle. "I always like to mix the glam with a bit of the hood."
People stan a celeb that's charismatic, relatable, and charming, but Jennifer Lopez is the multi-faceted entertainer that fits the shoe best. I mean really, she's been grabbing eyes on the red carpet since 2000.