Jenny Slate Is Joining 'Muppet Babies' & The Details Will Make '90s Kids Jump For Joy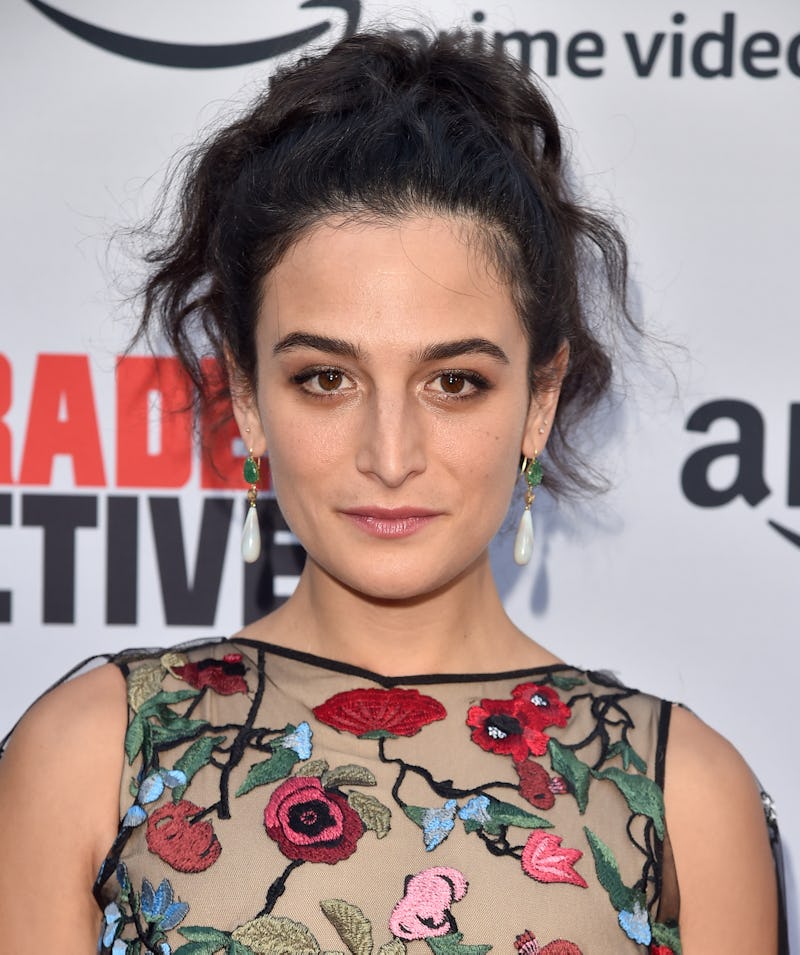 Alberto E. Rodriguez/Getty Images Entertainment/Getty Images
If you've ever wished that you could go back in time and have Jenny Slate teach you everything you need to know about life, then you're in luck — kind of. You can't go back in time, but you can learn a lot from the actor who voiced and created Marcel the Shell, because Slate's upcoming Muppet Babies role will bring you back to your childhood. On Tuesday, Disney Junior announced that Slate will reprise the role of Miss Nanny, which originally aired for seven years starting in 1984. Every '90s kid most likely remembers watching the show's reruns, though.
Slate's role as the voice of Miss Nanny couldn't be more perfect, considering how kindhearted and wise the Obvious Child actor is. She has a book of feminist essays coming out in 2019 to prove it, but you won't have to wait until then to hear Slate school you, as Muppet Babies returns to TV in March. Barbara Billingsley, who played the iconic June Cleaver in Leave it to Beaver, voiced the original Nanny in Muppet Babies, and Slate is entirely ready to take on the role formerly played by a TV legend.
"I'm so excited that it gets to be me," Slate gushed on a Disney Junior featurette about Muppet Babies. She continued, adding,
"I'm a lifelong Muppet fan. I watched the original show as a kid. I think that Miss Nanny really pays attention to each of the Muppets and she sort of accepts their nature, you know, she's not trying to get Animal to be straight laced and not be Animal, she's a good nanny and a caretaker for them because she nurtures what they have inside themselves which is really really sweet."
Even just based on that quote, you can already tell that Slate will make fans of the original Muppet Babies so proud, and it's exciting to see the modern twist given to the character. Not everything about Slate's Nanny rendition will change from the original though, even the fact that Miss Nanny's face is never shown in the show.
While the Muppet Babies Nanny of the '80s wore a pink skirt, striped green tights, and purple sneakers, Slate's Nanny wears a purple skirt, green tights with an airplane design, and purple flats. Change is hard, but it's for the best, and both Jenny Slate and Miss Nanny would probably tell you to embrace it.
(Image credits: Disney Junior/YouTube; CBS)
As you may or may not know, Muppet Babies is exactly what it sounds like: a show with your favorite Muppets as babies. Those characters include Piggy, Animal, Gonzo, Fozzie Bear, and a new character, Summer — a baby penguin. And of course, Kermit will also be there, and he looks even cuter than ever before.
Slate has a lot of exciting things happening in the moment, including the recent rekindling of her relationship with Chris Evans, aka Captain America. Slate usually keeps her personal life pretty quiet, so don't expect to hear much about her relationship in her upcoming book. What you will get from Slate's exciting non-fiction debut (the actor famously authored the book Marcel the Shell with Shoes On) is still pretty exciting though. Actually, make that really exciting.
As reported by Entertainment Weekly, the actor's book will include everything from her childhood haunted house to the importance of vulnerability even when it's daunting. Sounds, um, utterly incredible. Plus, just based on Slate's tweets alone, you know that she has a way with using words to spread joy.
The verdict is in: The more Jenny Slate, the better. It's exciting to know that she will be a part of a new generation's learning experience with Muppet Babies, and, let's be honest, the older generations will definitely be watching it as well.