'Jeopardy's Alex Trebek Just Announced He Has Stage 4 Pancreatic Cancer In A Video To Fans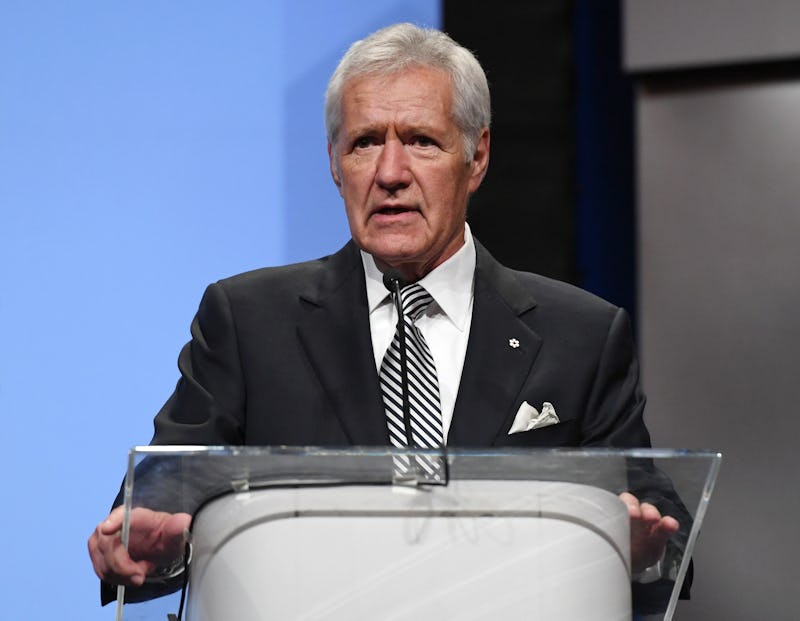 Ethan Miller/Getty Images Entertainment/Getty Images
In a heartbreaking message on March 6, Jeopardy host Alex Trebek announced that he has pancreatic cancer. He shared that his cancer is in Stage 4. "Normally, the prognosis for this is not very encouraging," he said in the filmed message. "But I'm going to fight this. And I'm going to keep working."
It was important for him to share the news with the Jeopardy fan base directly, he explained, as part of his "longtime policy of being open and transparent" and also to prevent supporters from hearing or reading "overblown or inaccurate reports" regarding his health. "And with the love and support of my family and friends and with the help of your prayers also, I plan to beat the low survival rate statistics for this disease," he added in the clip.
According to the American Cancer Society, the five-year survival rate for Stage 4 pancreatic cancer, is just three percent, based on people diagnosed with pancreatic cancer between 2008 and 2014. Even so, Trebek, who also noted in the video that 50,000 Americans receive the same diagnosis yearly, showed no sign of discouragement. In fact, he even infused a bit of his trademark humor, joking that he has no choice but to beat the devastating disease. "Truth told, I have to," he added, "because, under the terms of my contract, I have to host Jeopardy for three more years. So help me. Keep the faith, and we'll win. We'll get it done."
Trebek, who's hosted the syndicated quiz show since 1984, did, indeed, renew his Jeopardy contract through 2022, as Deadline reported in October. According to the site, "with 24 million viewers reached each week, Jeopardy is also the top-rated quiz show on television" and has, over the course of its 35 seasons, earned the Guinness World Record for the most Emmy Awards won by a TV game show (with 34 wins), as well as a Peabody Award.
The news that the now-78-year-old Trebek would remain on the the show came as a relief to fans, as the host had revealed months earlier in an interview with TMZ's Harvey Levin that he may leave Jeopardy in 2020. At the time, he shared that his chances of staying in the role past 2020 were "50-50, and a little less." Had he not re-upped his contract, however, he did have a couple suggested replacements, including CNN analyst Laura Coates and Alex Faust, the play-by-play announcer for the NHL's Los Angeles Kings.
Back in 2014, Trebek also revealed that, should he decide to leave Jeopardy, it would likely "happen on a whim," according to The Hollywood Reporter. "I'm happy doing what I'm doing and I'll keep doing it for awhile — I don't know how long," he told the trade publication. "I will decide at that moment, "This is it. Leave me an extra 30 seconds at the end of the program so I can say goodbye.""
Of course, he's also been open about other health struggles over the years, including two heart attacks in 2007 and 2012, as well as a condition requiring brain surgery following a Dec. 2017 fall. In a Jan. 2018 video posted to Jeopardy's YouTube account, Trebek updated fans on his "slight medical problem," explaining that the procedure was a result of having "subdural hematoma," or "blood clots on the brain."
Now, fans' prayers are certainly going up for Trebek as he begins the cancer battle he's steadfastly determined to win.