'Jeopardy' Host Alex Trebek Has Taken An Important Medical Leave From The Show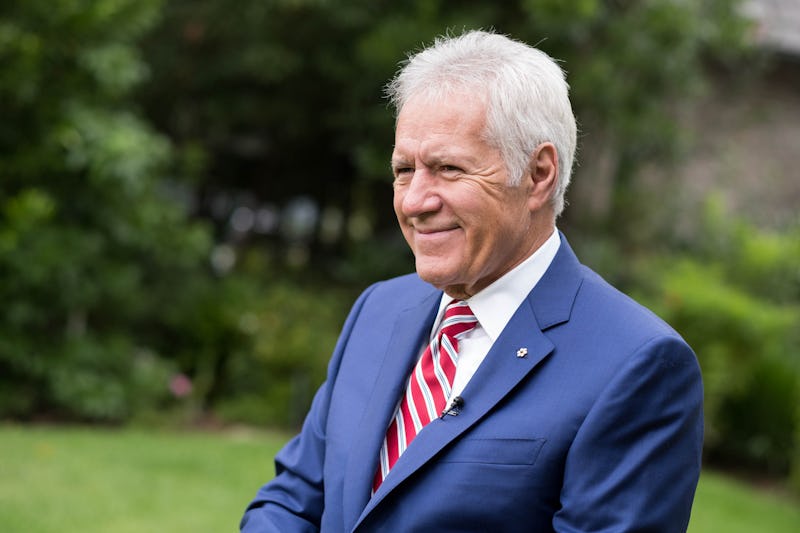 Emma McIntyre/Getty Images Entertainment/Getty Images
NBC's classic television gameshow Jeopardy! will suspend production for a reason that's important to viewers past, present, or future. Host Alex Trebek is recovering from brain surgery, according to a Jan. 5 NBC News report. The news comes just a couple of weeks after he was checked into Cedars-Sinai Medical Center Dec. 15, as a result of enduring a fall over the holiday break. Naturally, many fans need to know if Trebek is OK after his surgery and that fall.
Thankfully, according to a statement released by Sony Pictures Entertainment, obtained by NBC News, the 77-year-old "is expected to make a full and complete recovery." The gameshow host was said to have been surrounded by family over the holiday break, and will "return to the Jeopardy! studio for taping in mid-January."
Trebek has been hosting the weeknight event since 1984, when he took over for the late Art Fleming atop its syndicated run. Prior to that, Fleming helmed the program from 1964 until 1975, and, after the show's small hiatus, from 1978-1979. Currently, the Canadian-born personality is signed to host the NBC staple until 2020.
He discussed his recovery progress with fans in a brief video published on Jeopardy!'s official YouTube account, Jan. 4, and appeared to be in good spirits. The television host refers to his holiday-break fall as a "slight medical problem," before explaining that his surgery was a result of having "subdural hematoma," which translates to "blood clots on the brain."
According to Trebek, he was able to return home two days post surgery, and the prognosis for his recovery is "excellent."
The host suffered two mild heart attacks over the years — one in 2007 and another following in 2012 — but, overall, he is more known for his positive life view and iconic mustache than of any health controversies. In a 2017 Business Insider interview, Trebek shared that he doesn't have a workout regiment, and it isn't something that he concerns himself with. But, instead, he stays active by working on home improvement projects. And no, he isn't talking about getting his hands dirty around the yard; he's more of handyman around his residence — being heavily involved in all of its "labor-type demolition."
"[I] break things, and fix them, and get my hands dirty," he says in the interview, further explaining that "electrical, plumbing, drywall, carpentry, painting," are tasks that are usually on his to-do list. Despite not obsessing too much over any healthy-lifestyle plans, he must be doing something right. Not only can home-improvement work be pretty taxing on the body, but, as of 2014, Trebek holds the Guinness World Record for the most game show episodes hosted by the same presenter — awarded on his 6,829th episode. And no one reaches such milestone without having a handle on their healthiness and well-being.
Thankfully for fans, they won't have to wait too long before having Trebek grace their television screens. According to NBC News, the gameshow is taped months in advance, and so, there are a lot of Jeopardy! episodes ready to air at the close of the show's holiday break. The Hollywood Reporter also reports that the broadcast schedule is virtually "unaffected" by the suspension, citing that the only delay being Jeopardy!'s annual College Championship week — which has been pushed back to April 2018, opposed to being taped in Jan. 2018 as originally planned.
Overall, things seem to be on the up-and-up for Trebek, as well as Jeopardy!'s future production plans. Here's to hoping that the legendary host makes a full recovery, getting back to breaking down and fixing up his home, and inspiring folks on the Jeopardy! stage in no time.