How To Stream 'Jeopardy!' So You Can Re-Test Your Trivia Skills With Your Fave Episodes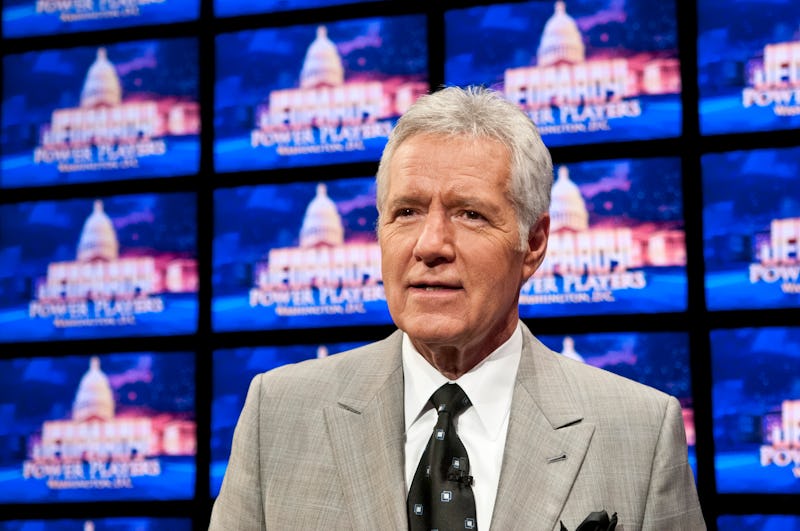 Kris Connor/Getty Images Entertainment/Getty Images
File this under Exciting News for $1000, Alex. As of Friday, August 10, Jeopardy! is now available on Hulu, the subscription streaming service announced the same day. Now, fans who have played along at home with the Alex Trebek-hosted quiz show over the course of its just under 35 years in syndication — but didn't have all the answers or didn't wager quite enough money in Final Jeopardy — will have a second chance to re-test their knowledge.
In a video promoting Jeopardy!'s streaming debut, Trebek, who's hosted the show since 1984, lightheartedly revealed the news, how else, but in the form of a question. "It's the streaming service that's now home to one of the most beloved quiz shows of all time, Jeopardy!" he said before buzzing in with the correct answer: "What is Hulu?"
With more than 7,000 episodes having aired to date, binge-watching the long-running quiz show would be quite the undertaking for even the most dedicated trivia enthusiast. Not to worry, though: Hulu is just hitting fans with the highlights, making 60 of the most memorable episodes available first.
According to a press release, "Hulu has curated collections of some of Jeopardy!'s flagship special events, including a Tournament of Champions, a College Championship, and a Kids Week, as well as Battle of the Decades, which features some of the show's fan-favorite contestants from its 35 year history, like all-time money winner Brad Rutter and long-running champion Ken Jennings." Additionally, Hulu will regularly refresh its offering of popular episodes.
Of course, Rutter's $4.5 million in prize money and Jennings' 74 Jeopardy! wins made history, but there have also been several other entertaining contestants that have made lasting impressions on viewers. Some more recent viral examples include animated bartender Austin Rodgers and college champ Rishab Jain who vowed to spend his $10,000 in winnings on Taco Bell for life. (After his win, the fast food chain also gifted him a $500 gift card.)
With a weekly audience of 23 million viewers, per Hulu, as well as 34 Emmy Awards, multiple Guinness World Records, and a Peabody Award, Jeopardy! has consistently been referenced in pop culture since it debuted in the '80s. Aside from being included in episodes of Seinfeld and The Golden Girls, Saturday Night Live has often parodied the show. Most recently Chadwick Boseman reprised his role of Black Panther's T'Challa in a hilarious SNL "Black Jeopardy" skit. And Will Ferrell's take on Trebek, hilariously sparring with Darrell Hammond's Sean Connery on SNL in the '90s "Celebrity Jeopardy" skit became an instant classic. (In 2015, a Jeopardy! contestant even got the real-life Trebek to finally utter the "name" Turd Ferguson, made famous on the NBC sketch comedy series.)
Celebrities frequently tweet their excitement when they appear as clues on the game board. Earlier this year, Reese Witherspoon tweeted "this made my day!" when Jeopardy! devoted an entire category to her past movie roles, for example.
Fans were understandably upset last month when Trebek revealed he may leave Jeopardy! in 2020, in an interview with TMZ's Harvey Levin. Of course nothing is set in stone yet, with the host saying that his chances of staying on past 2020 were "50-50, and a little less." He did have a couple suggested replacements, though: CNN analyst Laura Coates and Alex Faust, the play-by-play announcer for the NHL's Los Angeles Kings.
As Trebek told The Hollywood Reporter in 2014: "It will happen on a whim. I will decide at that moment, 'This is it. Leave me an extra 30 seconds at the end of the program so I can say goodbye.' ... I'm just enjoying what I'm doing."
While fans await that day, at least they can now look back on some of the show's glory days, thanks to Hulu.