There's A New Late Night Show Coming To Bravo, With A Concept That No One Asked For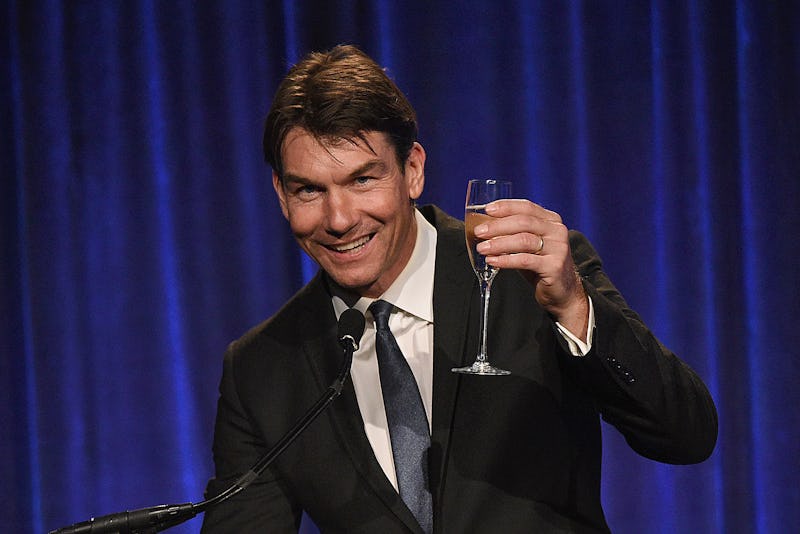 Bryan Bedder/Getty Images Entertainment/Getty Images
Just when you thought you understood their programming, Bravo is here to throw you for a loop. The network has announced that Jerry O'Connell will host Real Men Watch Bravo, a new late-night talk show set to premiere this fall. TV Guide reports that the show is created both by and for men — finally! — and will be executive produced by self-proclaimed Bravo superfan O'Connell, alongside the network's head honcho Andy Cohen.
As far as structure, the outlet makes a comparison to Justin Baldoni's talk show Man Enough, which gathers men in a dinner party-like setting to talk about what it means to be a man today. Much like the Jane the Virgin star's project, Real Men Watch Bravo will reportedly also feature exclusively male guests, but will take on decidedly less controversial topics, as they're more likely to be ripped from the Bravo headlines than those from real-life. According to the blurb for Real Men Watch Bravo released by Bravo Media on Monday, the panelists will be "male celebrities, comics, and tastemakers" who will be on hand to "chat about all the buzziest moments on Bravo and other hot topics in pop culture."
First, it's important to point out that there really isn't any other programming like this on Bravo, so it has the potential to be a really fun addition to the conversation. Not to mention, a clever way to pull in new audiences. (According to NationalMediaSpots.com, Bravo's fanbase skews heavily female, with women representing 67% of total viewership.)
But optimism aside, there are some parts of this announcement that are sure to cause some eye-rolling. One particularly tone-deaf aspect is a segment of the announcement blurb that promises Real Men Watch Bravo will offer up "unprecedented access to what guys are really thinking and loving when it comes to all things Bravo and entertainment."
We'll take a quick pause here to allow you to retrieve the eyeballs that rolled out of your head, because if there's one thing in this world that's extremely precedented, it's access to what men are thinking. Any time you're wondering what men are thinking, you can turn on the television and they'll tell you, and at no time is that sentiment more true than during the late-night hours.
If you're looking for a female perspective past 11:00pm or so, your options are strictly limited to Samantha Bee or Robin Thede. Even after substantial pressure on the networks and public outcry, late-night desks are still male-dominated, with almost three times more Jameses on air — James Corden, Jimmy Fallon, and Jimmy Kimmel — than women. But sure, let's add a Jerry to the mix. (It's also worth noting that Bravo's other late night show, Watch What Happens Live, has a male host in Cohen himself.) And on a network that's made a name for itself with franchises featuring women, people of color, and LGBTQ folk. What could go wrong?
On the one hand, it's great that Bravo is looking to widen its audience to those who might not feel that the network is "for them." But to come at it with such a loaded title feels, again, pretty tone-deaf. Proclaiming that "real men" watch Bravo suggests that there's some reason to overcome about why men shouldn't or wouldn't in the first place. And referring to someone as a "real man" anyway in this day and age comes with a lot of baggage; a real man should be someone who pursues tasks that make him feel fulfilled, but that doesn't seem like the trope that's being leveraged here.
The group it sounds like this new show is aiming for is not just men, but specifically straight men. And to see Bravo trying to lure in that group by placing a straight, cis-gendered white man like O'Connell at the helm is disappointing, to say the least. Hopefully, it will reinvigorate issues like representation in the media and gendered advertising that require a closer look and potentially some more thoughtful programming.