'Jersey Shore' Star Mike "The Situation" Sorrentino Has Been Sentenced To 8 Months In Prison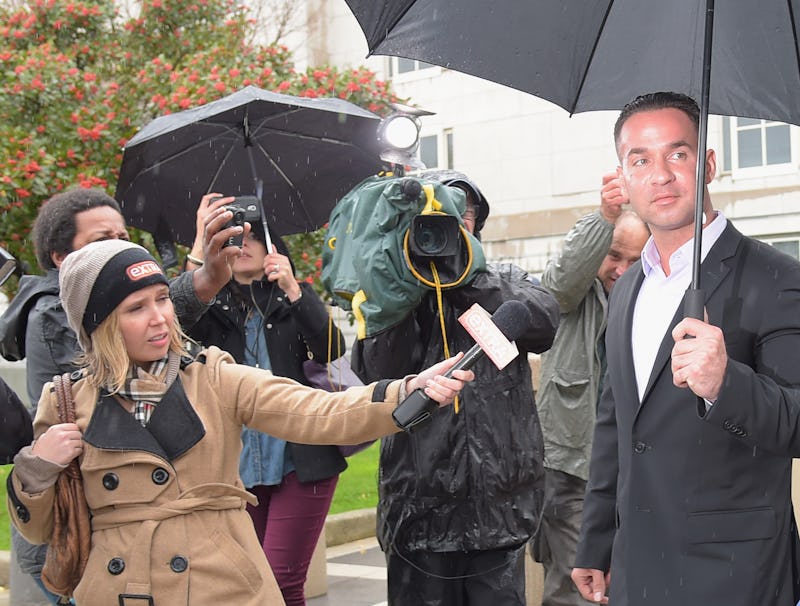 Michael Loccisano/Getty Images Entertainment/Getty Images
After pleading guilty to one count of tax evasion back in January, Jersey Shore star Mike "The Situation" Sorrentino's has been sentenced to prison for eight months and two years of supervised release, People and other media outlets reported on Oct. 5. In addition to serving time behind bars, he must also pay a $10,000 fine within 30 days — on top of the $123,913 in restitution he's already paid to the IRS — and complete 500 hours of community service after he gets out of prison.
Mike Sorrentino's attorney Henry Klingeman issued the following statement to Bustle on Friday:
"Michael accepts the Court's judgment. He is looking forward to marrying his college sweetheart, Lauren Pesce, next month, and moving forward together after he serves his sentence."
Back in November 2013, the U.S. Attorney's office issued subpoenas for financial records belonging to both the MTV star and his brother, Marc. In September 2014, the two men were indicted for tax offenses and conspiring to defraud the United States. In April 2017, the Sorrentino brothers were also indicted on additional charges, including tax evasion, structuring and falsifying records.
Both men were potentially facing up to five years in prison, but prosecutors were seeking at least 14 months for Mike Sorrentino, People reported. Marc Sorrentino, for his part, was given 24 months behind bars at Friday's sentencing, after pleading guilty to one count of aiding in the preparation of a false and fraudulent tax return back in January. He'll also have to pay an as-yet-undetermined amount in restitution, pay a $75,000 fine within 30 days, and will be under supervised release for one year after he gets out of prison.
While it's a difficult day for Mike Sorrentino, at least he had his entire Jersey Shore family there to lend their support. Sorrentino's family and his fiancée Lauren Pesce were present for his court day. As Klingeman's statement to Bustle read, Sorrentino and Pesce are planning a wedding for November.
In addition, Jenni "JWoww" Farley, Nicole "Snooki" Polizzi, Deena Cortese, Ronnie Ortiz-Magro, Vinny Guadagnino, and Pauly "DJ Pauly D" DelVecchio all showed up in Newark, New Jersey for their castmate's day in court, according to People. The majority of the group have known each other for nearly a decade now, and their appearance at Sorrentino's sentencing today makes it clear that their bond goes well-beyond what fans see on TV.
On Oct. 4 — the day before the ruling — Polizzi told Us Weekly that Sorrentino has come a long way since his early days on Jersey Shore. "He's just such a good person," she said. "He changed for the better. He's a totally different person. He doesn't deserve this right now, but obviously you gotta get that done … We're all hoping for the best."
Polizzi also told the publication that the entire cast has an "amazing" relationship, and then pointed out, "We all go through sh*t and sh*t that you guys don't even know, honestly. Everyone goes through something even if it's behind closed doors."
People reported that Sorrentino walked out of the courthouse holding Pesce's hand. When asked by a reporter if he had anything to say to his fans, he simply held up the peace sign as he moves forward with the decision.