Jessica Capshaw's Tweet About Her Last 'Grey's Anatomy' Day Will Make Arizona Fans Sob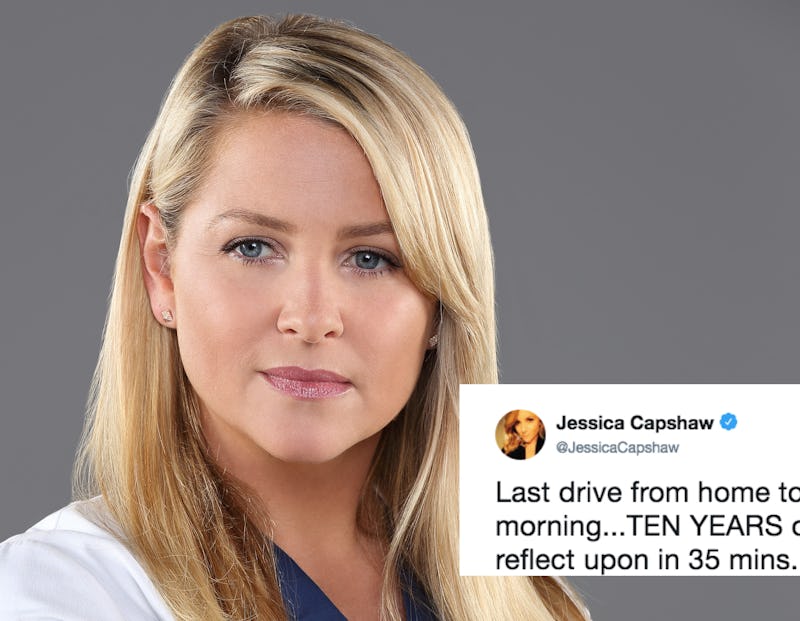 ABC
As all Grey's Anatomy fans are well aware by now, the characters of Arizona and April, fan favorites and longtime staples of the show, are leaving the production following this current season. To make the heartbreak even worse, Jessica Capshaw tweeted about Arizona's last day on Grey's Anatomy's set, and it's enough to make any fan upset.
"Last drive from home to the studios this morning," the tweet, posted early Tuesday morning, reads. "TEN YEARS of commuting to reflect upon in 35 minutes." Sarah Drew, who plays April on the show, also chimed in with her words of solidarity to Capshaw, quote-tweeting with "Love you sister," and heart emojis. This is all too much. Capshaw's and Drew's departures were announced at the same time in early March, and at the time it became public, it appeared as though the actors themselves had only been aware of the decision for a couple of days.
Drew said in a statement posted on Twitter that she was still processing everything and had "been with [the information] for less than 48 hours" when news broke. This statement prompted some fans to call out the show for the unexpected dismissal, and some even said that they were considering boycotting the show altogether over how the situation was handled.
The show's creator Shonda Rhimes and head writer Krista Vernoff offered statements on the two characters' departures, but weren't especially clear on why exactly the decision was made. "The characters of Arizona and April are permanently woven into the fabric of Grey's Anatomy thanks to the extraordinary work of Jessica Capshaw and Sarah Drew," co-showrunner and executive producer Krista Vernoff said in a statement, according to The Hollywood Reporter. "As writers, our job is to follow the stories where they want to go, and sometimes that means saying goodbye to characters we love. It has been a joy and a privilege to work with these phenomenally talented actresses."
It's odd, to say the least, that Grey's Anatomy writers see Arizona and April's stories as ones that warrant a goodbye, considering they act as the only lesbian character and the only devout Christian character, respectively, featured on the show at all. It certainly seems that there are other characters and plotlines in the show that could more easily be abandoned instead of these, and it's made the decision a largely unpopular move for the show. "April was my favorite character and I loved Arizona as well. Losing them both at the same time will hurt my enjoyment of the show A LOT," one Reddit user, Captainhankpym, wrote in response to the news. "I'm obviously going to keep watching. But I will never enjoy the show like I used to."
But through all of the controversy and mystery surrounding the decision to get rid of their characters, Drew and Capshaw have stuck together as friends, and had the support of fans and plenty of cast members along the way.
As soon as Capshaw tweeted about her final commute, tons of people swarmed her replies with well-wishes. "It's still hard to think you are leaving Grey's. We love Arizona so much," one fan account wrote in response to her tweet. "But I hope you are enjoying your last day on set. And please, never forget how much we love and support you."
It's clear that they'll be missed once their iconic characters are gone, no matter how they're eventually written off and their stories come to a close. But Drew and Capshaw have their longtime fans by their side, and they also clearly have each other's support along the way.