Attention 'AHS' Fans: Jessica Lange Is Returning For A VERY Crucial Role In Season 8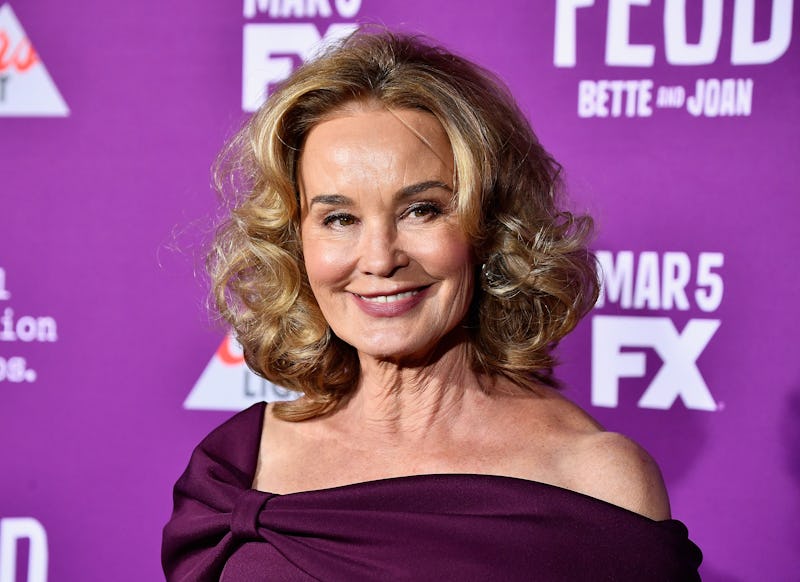 Frazer Harrison/Getty Images Entertainment/Getty Images
The queen of American Horror Story fans' hearts is finally returning. As reported by Deadline, Jessica Lange is returning for American Horror Story Season 8, and she's set to play her Murder House character, Constance. (You know, the grandmother of the Anti-Christ.) Sarah Paulson shared the news at FX's TCA panel, where she also revealed that Constance will appear in episode six of AHS: Apocalypse, which she is directing.
Lange's long-awaited return to the franchise has been hinted at for a few weeks now. Although it hasn't been confirmed, Billy Eichner's Instagram post about a "secret friend" joining the cast for dinner could have been alluding to a return of the former Supreme. Meanwhile, series creator Ryan Murphy previously told Entertainment Weekly, that something "huge" will happen in episode five. Could that something huge involve Constance? Or perhaps her definitely evil grandchild, Michael? As TVLine reported on July 26, American Crime Story's Cody Fern has been cast to play a grownup version of the murderous baby, who was last seen giggling after murdering his nanny in the last moments of Season 1.
Michael is the child of Connie Britton's Vivian and Evan Peters' Tate. And it stands to reason that he may be at least partly responsible for the whole apocalypse thing. However, since the end of the world is bringing Lange back to the franchise and serving up the long-awaited Murder House/Coven crossover, fans seem to be willing to give him a pass.
In fact, if Twitter is any indication, the AHS fandom is freaking out in the best way possible. Having Lange back — even for a single episode — is a major deal. The last time she appeared in the franchise was in Season 4's Freak Show. However, she's remained a beloved member of the ensemble thanks to her roles as Constance, Sister Jude, Fiona Goode, and Elsa Mars. Having her return as her first ever AHS character is exciting stuff.
Lange is in good company for Apocalypse. The cast includes Paulson, Peters, Kathy Bates, Joan Collins, Eichner, Billie Lourd, Cheyenne Jackson, Leslie Grossman, Adina Porter, and Emma Roberts. At this point, it's still unknown whether Taissa Farmiga or the rest of the Coven cast will return, although TVLine reported that executive producer Alexis Martin Woodall confirmed that Murphy has "invited all of the witches" back.
While it's hard to get past the Lange reprising her role as Constance of it all, the TCA panel also brought news of who some of the other actors will be playing in Season 8. Paulson is set to play three characters: Murder House's Billie Dean, Coven's Cordelia and a new character named Venerable. Roberts is back as Madison, Bates is Ms. Meade, Grossman is Coco St. Pierre Vanderbilt, Porter is playing Dinah Stevens, and Lourd is someone named Mallory.
Oh, and if that's enough scoop for one day, FX also announced that the series has been renewed for Season 10. That's right, there will be at least a decade of scares for AHS.
That's a whole lot of good news for one day, but nothing can top the Lange reveal. As the woman who was set to raise Michael, it's going to be interesting to see how Constance dealt with his murderous childhood years. Will she support his apocalypse agenda? Or has she come to fear her grandson? Whatever AHS has in store for the character, you can bet Lange will steal the show.