Jessica Simpson's Latest Pregnancy Photos Hilariously Show She's So Over This Time In Her Life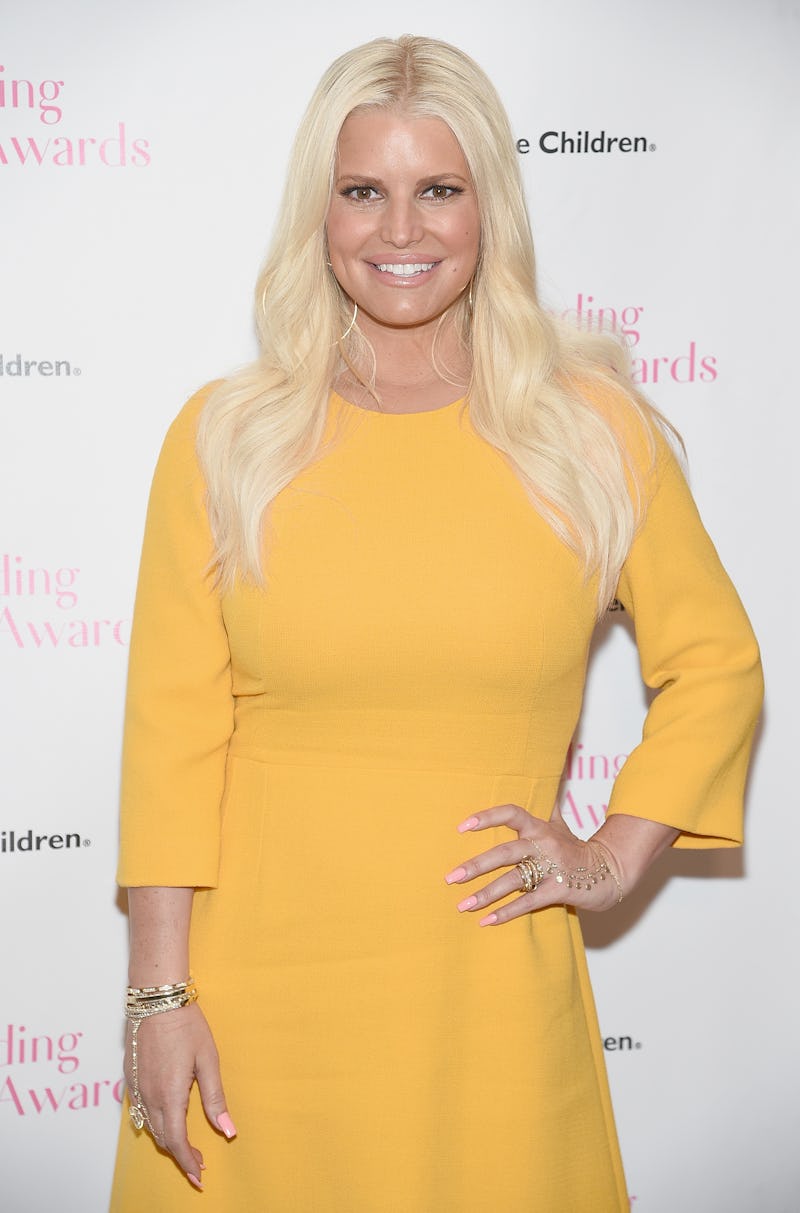 Dimitrios Kambouris/Getty Images Entertainment/Getty Images
Pregnancy can sometimes become uncomfortable for many expectant mothers. Even Jessica Simpson poked fun at her pregnant self in two new photos that she shared on Instagram on Tuesday, all while showing how ready she is to welcome her second daughter. Last September, Simpson announced she was expecting her third child with husband Eric Johnson. Ever since revealing her exciting news, the former singer has been extremely open about her pregnancy and the frustrations that have come with it.
For example, on Feb. 12, Simpson posted pictures that will most certainly make you laugh. Not to mention, many other women who have been pregnant at one time or another will probably find the Instagrams totally relatable. The first photo, as you can see below, shows the Jessica Simpson Collection founder holding a toilet seat lid in her bathroom. She captioned it,
"Warning...Don't lean back on the toilet when pregnant."
If that isn't funny enough, Simpson also shared another image that same day of herself lounging in a recliner. Next to it, the 38-year-old wrote,
"Severe pregnancy acid reflux has led to the purchase of my very own sleep recline."
As Hilary Duff commented on the Instagram, "Boss." Preach, Hilary. Preach. Simpson truly is a boss for attempting to make herself feel better and ensuring she's taking care of herself during the end of her pregnancy.
Like all mothers, Simpson absolutely deserves to treat herself and try to relax/control her acid reflux the best way she knows how. Similar to Duff, Kyle Richards also commented on Simpson's post, because as a mother of four, the Real Housewives of Beverly Hills star gets it.
Richards commented on Simpson's toilet lid post, "I think I should post a picture of my pregnant self in honor of you."
Well, that's exactly what Richards did. She shared a throwback image from 1996 when she was pregnant with her second eldest daughter, Alexia Umansky.
The Bravolebrity captioned her unforgettable photo,
"Lots of surprises on this season of #RHOBH this isn't one of them . Following @jessicasimpson & feeling her pregnancy pain . This is in honor of you Jessica. NOT a @fruitoftheloom ad #killingit #1996 #sexy #why."
This isn't the first time Simpson has shared how her pregnancy is affecting her the third time around. On Jan. 10, she posted an Instagram of her swollen feet asking for remedies. Then, on Jan. 17, she once again made fun of herself by participating in the 10-year challenge. Simpson shared a side-by-side Instagram of her foot pre-pregnancy compared to her swollen foot. How hilarious is that?
All that said, Simpson's daughter, Maxwell Drew, and son, Ace Knute, are her beaming lights during this agonizing time. Next to a Feb. 6 Instagram of her kids, she wrote, "The one thing that gets me through this pregnancy is knowing I will get another one of these cuties."
Simpson's ability to poke fun at herself and share it with the world on social media speaks volumes about her. There's no denying she's a good sport and is doing anything she can to make herself laugh throughout this uncomfortable pregnancy stage. Simpson definitely deserves an award — and a comfortable new toilet.