Jill Zarin From 'RHONY' Set The Record Straight On All Those Dating Rumors Circulating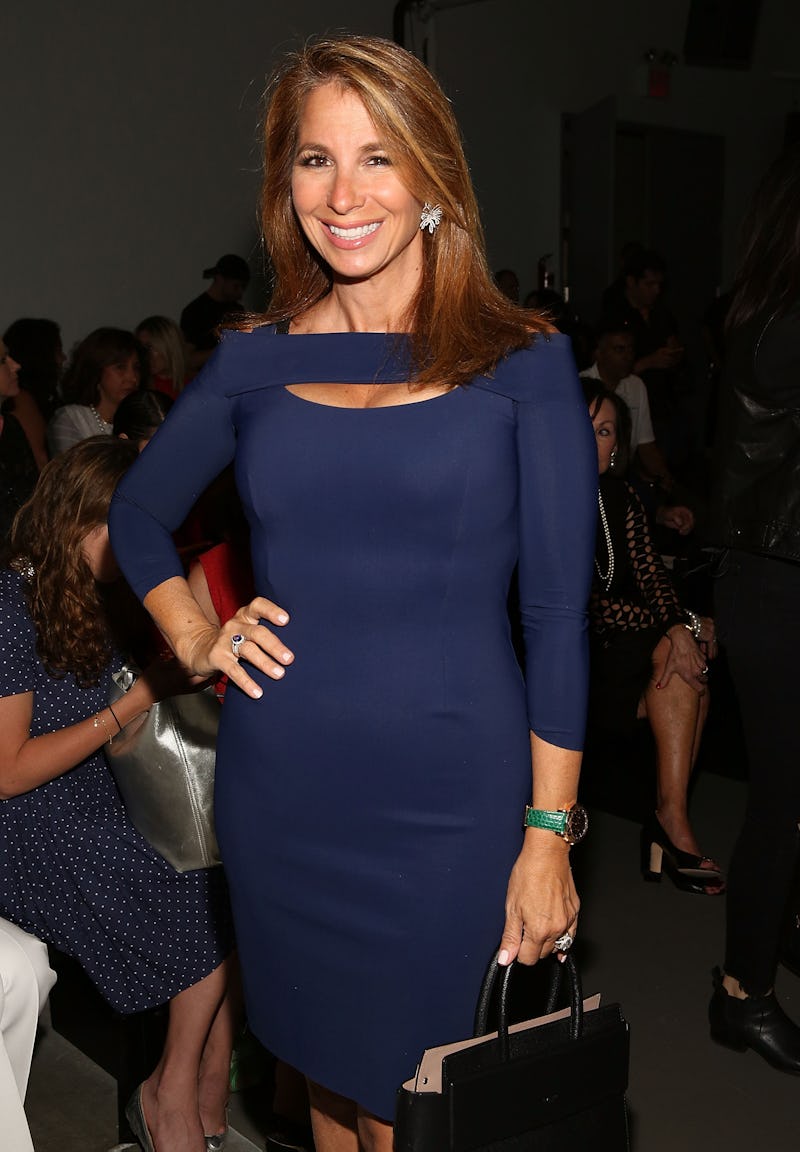 Robin Marchant/Getty Images Entertainment/Getty Images
Former Real Housewives of New York City star Jill Zarin is shedding more light on those dating rumors that are currently circulating about her. It's been almost six months since Bobby Zarin died at the age of 71 after battling cancer and there have been multiple reports stating the Bravolebrity is dating again. Well, Jill is now setting the record straight.
After being spotted with a man named Gary Brody at Wimbledon and E! News reporting on July 6 Jill is dating Brody, reports quickly spiraled detailing her supposed new romance. A source even told E! News, "She is very happy. They are old friends and [her daughter] Ally [Shapiro] loves him."
Well, on Monday, the 54-year-old reality star opened up about Brody to Us Weekly. "Gary very much respects the grieving process I am going through and has been an incredible friend to talk to," she said, before adding, "He only wants the best for me and my daughter."
Jill also discussed the sitatuion with People on July 7. In addition to clarifying she and Brody have not been dating since Bobby's death in January, she revealed, "I don't typically comment on tabloid stories but I felt it was important to set the record straight and let you all know I haven't been dating anyone for six months." Her statement continued, "I just started accepting a few dinner dates after much thought and support from my close friends and family. I felt Bobby would want me to start to live again."
Jill also made it clear in May that Bobby would want her to pursue love again. She told People, "He wants me to move forward, he does. He wants me to get married again, he wants me to find love again, he wants me to be taken care of, he wants me to be happy, yes he does. Very much so."
As for when she'll be ready to begin dating, she said, "I think I'll know when I know." Jill added, "The gut will tell me and Bobby will tell me — he'll bring someone into my life." She even admitted she was looking at dating apps, but it wasn't anything serious.
Exactly when Jill decides it's best for her to start dating again, well, that's completely up to her. Many might believe they know what is best for Jill regarding a dating timeline, but this is her life. If or when Jill is ready to to go on a date, that's up to her. Like Twitter user @4EverMarilyn26 tweeted on July 9, "We never know how any of us would act if we lost our partner in life. @Jillzarin is open & honest, besides, who's business is it anyway. Live your life Jill...at your pace."
After Patton Oswalt got engaged to Meredith Salenger in July 2017 (they got married in November 2017), he faced a lot of criticism for wanting to get married again so soon after his late wife, Michelle McNamara, died unexpectedly in her sleep in April 2016. On July 7, 2017, blogger Erica Roman defended Oswalt and Salenger, because, she, like the comedian, lost her spouse around the same time he did.
"You aren't entitled to an opinion," she wrote to those judging Oswalt. "You don't get to comment on the choices of a widower while you sit happily next to your own living spouse. You didn't have to stand and watch your mundane morning turn into your absolute worst nightmare."
Oswalt thanked Roman for her defense. "This is so amazing," he wrote on Facebook. "And SO well-written. I expected some bitter grub worms to weigh in (anonymously, always always always) with their much-needed opinions when I announced my engagement last week. And I decided to ignore them. But yeah, I felt this rage. And Erica articulated it better than I could have ever hoped. So there you go."
Like Oswalt, it's unfortunate Jill even has to comment on the dating rumors. Everyone deals with loss differently and if she wants to start dating, she's allowed. Also, it doesn't sound like Jill wants to jump into anything serious or marry someone else immediately, but slowly wants to get back into the dating game. She's probably also lonely without Bobby and if she wants some company, well, she's allowed that.
If she is able to find someone to ease her pain and to help her grieve, that's all that matters. None of this means she never loved Bobby, nor does it mean she'll forget him. Slowly starting to date seems to be Jill's way of grieving and moving forward in a positive way, so let's respect that.