Jim Acosta Fired Right Back At Sean Hannity For Suggesting He Deserved To Get Heckled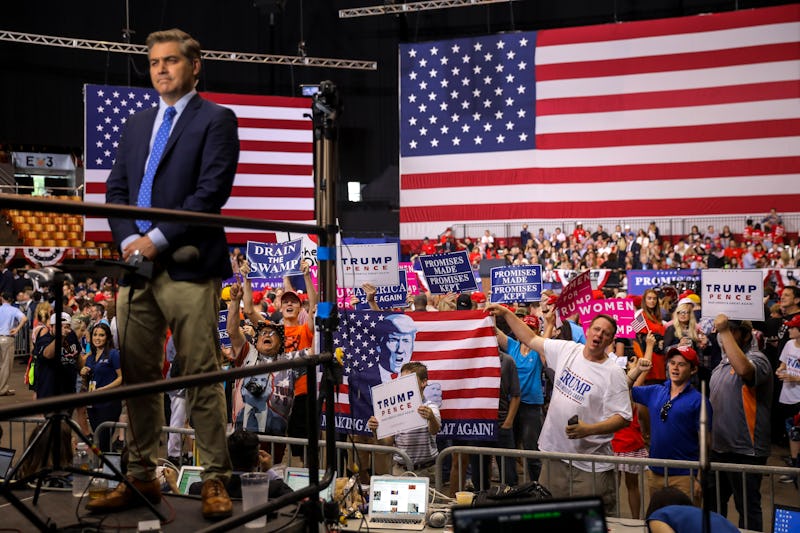 Drew Angerer/Getty Images News/Getty Images
CNN's own White House correspondent Jim Acosta had harsh words for Sean Hannity after the Fox News host berated Acosta on his show Tuesday night. Hannity personally targeted Acosta, saying the American public had reason for harassing him at Trump's rally in Tampa, Florida that day. Acosta, however, held his ground on Wednesday, calling Hannity a "propagandist for profit, peddling lies every night."
Although he was clearly angered, saying Hannity is "injecting poison into the nation's political bloodstream" through his show, Acosta managed to end on a positive note. He said he's "confident" that the "truth will prevail."
The ordeal began at the rally on Tuesday, where Trump's supporters yelled "traitor" and "fake news" at Acosta as he attempted to report live from the event. The reporter's initial reaction was sobering, as he voiced worries that the encouragement of such behavior will eventually lead to someone getting hurt. "We should not treat our fellow Americans this way," Acosta said on Twitter that evening. "The press is not the enemy."
Addressing Acosta, Hannity said on Tuesday, "The people of this country, they're screaming at you for a reason. They don't like your unfair, abusively biased treatment of the president of the United States."
His comments were then followed by a montage of Acosta's White House coverage, titled "CNN's Jim Acosta Lowlights."
President Trump, who has long been a harsh critic of the media — once tweeting a video where he appears to tackle and beat a man whose face has been replaced with the CNN logo — responded to Acosta's treatment by retweeting a video of the rally that his son, Eric Trump, posted. The caption was "#Truth."
Other journalists have warned of the potential dangers behind Trump's aggressive rhetoric, happily embraced by his supporters at the Tampa rally.
In July, The New York Times publisher A.G. Sulzberger met with President Trump at the White House to discuss press coverage. After the meeting, Trump tweeted that they "spent much time talking about the vast amounts of Fake News being put out by the media & how that Fake News has morphed into phrase, 'Enemy of the People.'"
The meeting was meant to be off the record, but with Trump breaking silence, Sulzberger followed suit. In a statement released on Sunday, Sulzberger said he told the president his language is "increasingly dangerous."
"I told him that although the phrase 'fake news' is untrue and harmful, I am far more concerned about his labeling journalists 'the enemy of the people,'" wrote Sulzberger. "I warned that this inflammatory language is contributing to a rise in threats against journalists and will lead to violence."
Sulzberger noted that the danger posed to journalists is particularly critical, as foreign regimes can use his words to justify a crackdown on the industry. Last year, The Guardian listed "supposedly freer countries" where journalists were being forced to self-censor or hide. The list includes Brazil, Turkey, Mexico, Kenya, Poland, Hungary, and Cambodia.
According to the Committee to Protect Journalists, 60 journalists around the world have been murdered since the start of 2016, and 262 journalists were imprisoned in 2017 alone. Here in the United States, five individuals were murdered at the Capital Gazette newsroom in Annapolis, Maryland just last June.
These alarming numbers and assaults close to home give reason to the worries voiced by Sulzberger and Acosta.