Jimmy Kimmel Asked Trump Fans If Hillary Clinton Should Be Impeached & It Went So Poorly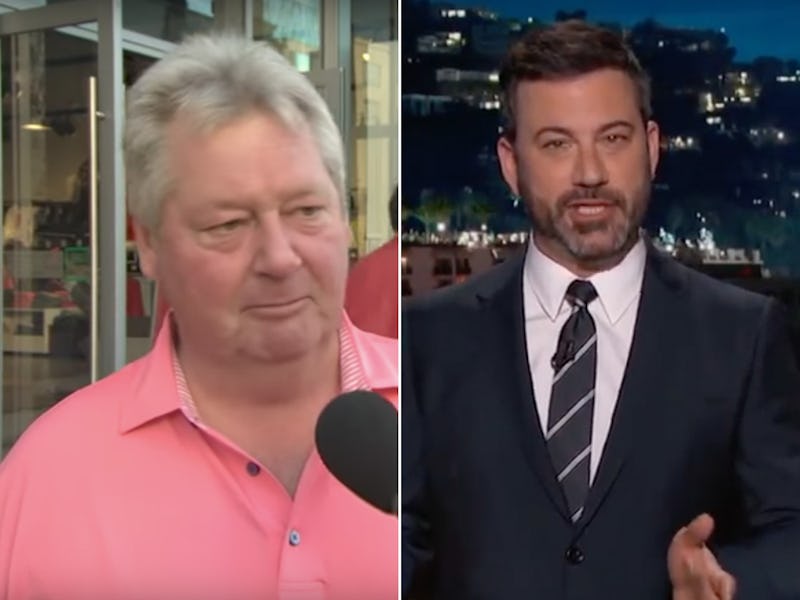 Jimmy Kimmel Live/YouTube
Despite the fact that she is not currently employed (and definitely not the president of the United States), some Trump voters think Hillary Clinton should be impeached. On a recent episode of Jimmy Kimmel Live, Trump supporters were asked a fairly straightforward question: "Should Hillary Clinton be impeached?" Despite the fact that she isn't currently in office and therefore has nothing to be impeached from, many answered, "yes."
One woman confidently answered that, "yes," Clinton should be impeached, before admitting that she is "not a political person at all" and really has "no clue" why the impeachment should take place. Others answered that Clinton's Articles of Impeachment should include "extortion, treason," and the violation of a "Benedict Arnold law."
When asked what it would take for Congress to impeach Clinton, one man passionately responded, "Well, they really haven't done anything yet," before adding that Congress should "get together and say 'We the People' should take care of the people of the United States and what she has done is wrong, and we should impeach her."
Those featured in the video were also asked whether Clinton was worse than guns, climate change, or ISIS. The woman who responded said she was worse than guns or climate change, but "about even" with ISIS.
The twist is, of course, that Clinton cannot be impeached, but it is jarring that at least a small swath of the American public believes she could be (particularly as many of them voted for the person who actually is the President). It does make for hilarious television, though, and confronting seemingly un-informed passerby with trick questions is the premise of Kimmel's "Lie Witness News" segment.
Back in 2013, Kimmel pulled a similar prank, asking pedestrians on Hollywood Boulevard to choose between Obamacare and the Affordable Care Act (which are, in fact, the same thing). In that video, several of those questioned said they supported the Affordable Care Act because Obamacare "needs to be revamped," and is "un-American," with one person saying "the name says it all."
Kimmel aired a sequel to that segment nearly four years later, in which he found that many people still don't know that Obamacare is a nickname for the Affordable Care Act.
Although Clinton was not elected president in 2016, many of Trump's supporters have continued to call for her to be investigated. In fact, Trump himself continues to Tweet about and speak about his former political rival.
Trump campaigned on promises to "lock her up," but he stepped away from those comments in the weeks following his presidential win. Nearly a year ago, he told The New York Times, "I want to move forward, I don't want to move back. I don't want to hurt the Clintons, I really don't. She went through a lot and suffered greatly in many different ways, and I am not looking to hurt them at all. The campaign was vicious."
Recently, though, as the investigation into his campaign's ties to Russia has continued to heat up, Trump has attempted to deflect by launching fresh attacks against Clinton.
Earlier this week, Attorney General Jeff Sessions raised the possibility that a special counsel could be appointed to investigate potential wrongdoing by the Clinton Foundation, specifically as it relates to the sale of a large uranium firm to Russian interests.
The news comes on the heels of a series of tweets Trump made on Nov. 3, in which he claimed that "everybody is asking" why the Justice Department and FBI aren't investigating "the dishonesty going on with Crooked Hillary & the Dems." He went on to allude to the "stolen" Democratic primary, deleted emails, uranium deal, "the Server" and Podesta as examples of Clinton's dishonesty.