Jimmy Kimmel Used Trump's Own Words To Make A Campaign Ad "For" Ted Cruz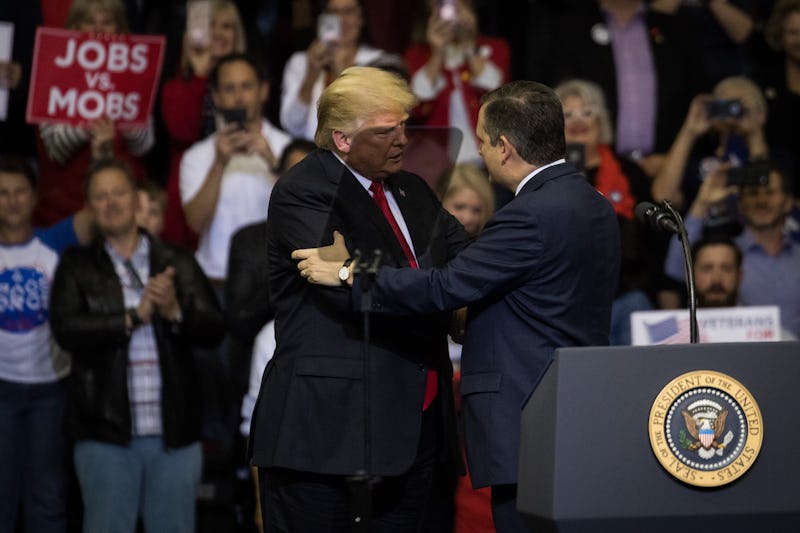 Loren Elliott/Getty Images News/Getty Images
Texas Sen. Ted Cruz isn't known as the most popular member of Congress. In fact, many of his colleagues have said that they don't like him very much at all. When it comes time to get endorsements for a tight midterm campaign, though, that makes things a bit complicated. While it might not help with the candidate's fight for reelection, Jimmy Kimmel made Ted Cruz an ad with Trump, full of all the comments the president made while the two were running against each other in 2016 — and it doesn't quite jive with Donald Trump's more recent endorsement of Cruz.
On Monday, Trump called Cruz "Beautiful Ted," which is a sharp departure from "Lyin' Ted," the nickname that he popularized for his opponent in 2016. The president's endorsement, though, was a necessary boost for Cruz, who, as CNBC wrote, is in an unusually tight race with his Democratic competitor, Beto O'Rourke, in a state where statewide office almost always goes to the Republican candidate. As Kimmel noted, asking for an endorsement from the president probably wasn't the easiest thing for Cruz to do.
"Imagine if your neighbor insulted your wife's face, and then you had to ask him to loan you a weed-whacker," Kimmel said in the clip. "That's Ted Cruz's life right now."
Trump did, after all, directly insult the appearance of Cruz's wife, Heidi, on Twitter during the 2016 presidential election, which led to a media outcry. As Kimmel went on to show in the fake ad, though, that was far from the only time that Trump directed harsh words at Cruz.
"Sen. Ted Cruz — Lyin' Ted!" then-candidate Donald Trump said, in the first clip of him that Kimmel included in the video. It then went on to highlight several other instances of Trump going after Cruz in various ways. One notable moment was when Trump referred to the entirely made-up conspiracy theory that Ted Cruz's Cuban father was connected to the JFK assassination on Fox News. On Monday, then, Trump told a reported that he did not regret having made that false claim, CNN wrote.
"I don't regret anything," Trump said on Monday. "It all worked out nicely."
Kimmel's ad, though, will bring you back to Trump's earlier comments. "He's a nasty guy, nobody likes him, nobody in Congress likes him, nobody likes him anywhere once they get to know him," Trump said in a clip included in the video (and there are, as Rolling Stone laid out, numerous people who have publicly said that they dislike Ted Cruz).
"This guy's a liar," Trump said in another clip, pointing to Cruz on a debate state. "He doesn't know how to tell the truth."
Despite the way the two have been interacting now, though, the insults between them didn't just come from Trump. "Donald is a bully," Cruz said of Trump in a set of clips that MSNBC put together. "The man is utterly amoral."
"This man is a pathological liar," Cruz said in a different clip. "A narcissist at a level that I don't think this country's ever seen."
On Monday, though, it was clear that the two have let bygones be bygones. "God bless Texas, and God bless President Donald Trump," Cruz said at the rally.