Why You Shouldn't Expect Jimmy Kimmel's Oscars Monologue To Have A #MeToo Moment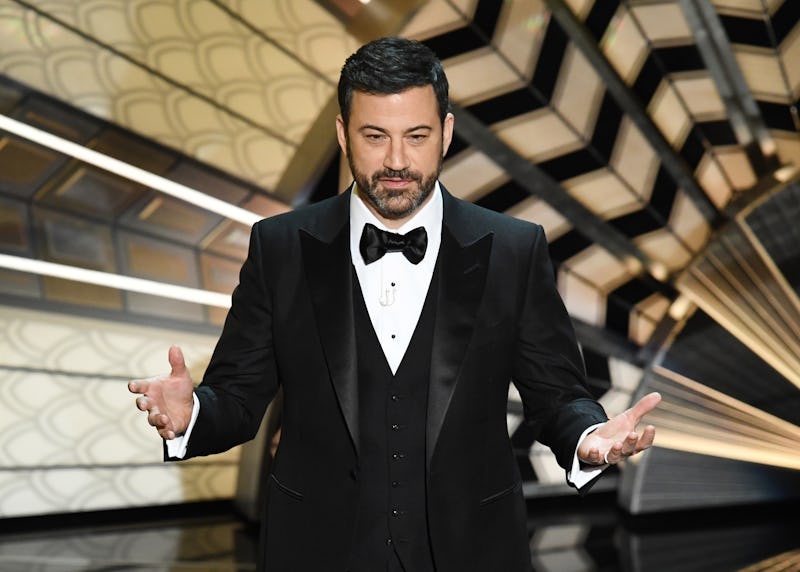 Kevin Winter/Getty Images Entertainment/Getty Images
When it comes to Jimmy Kimmel hosting the 2018 Oscars, there will be one thing missing. Kimmel's Oscars monologue won't have a #MeToo moment, according to the host himself. Some may be surprised, being that it's the first Academy Awards following the sexual misconduct allegations against Harvey Weinstein, which resulted in the producer being kicked out of the the Academy. (Weinstein has denied all allegations of non-consensual sex.) Others might remember that Kimmel previously said he might mention Weinstein during his second hosting gig. But, Kimmel recently clarified he'll forgo mentioning #MeToo or #TimesUp for one very important reason: respect for the victims.
In an interview that aired on Good Morning America, Kimmel said the Oscars is "not about reliving people's sexual assaults." Instead, he explained, "It's an awards show for people who have been dreaming about maybe winning an Oscar for their whole lives."
Knowing this, Kimmel wants to make sure the awards show is a celebration for everyone. "The last thing I want to do is ruin that for someone who is, you know, nominated for... best leading actress or best supporting or best director or cinematographer, or whatever, by making it unpleasant," Kimmel said in regard to speaking about Hollywood's sexual misconduct problem. "I'm not going to ... stop any bad behavior with my jokes."
Kimmel's latest statement is a little different than the one he gave Vulture in October. Back then he said he "probably" would mention Weinstein in his monologue, but wouldn't take things too far. Kimmel said at the time,
"It's not really a laughing matter. There'll be a lot of people in that room who maybe have been through experiences with him, and that's not something I want them to relive on the night they get their Oscar."
That doesn't mean he's going to forgo any controversial topics during his second times hosting the awards. Kimmel told ABC News' Paula Faris that it's "almost necessary now" for him and other comedians to speak out about "serious subjects." A sign that just because Kimmel won't be talking about #MeToo in his monologue doesn't mean there won't be a moment in the show when others decide to bring it up.
After all, Grammys host James Corden didn't mention #MeToo during his monologue — mainly, because he didn't perform one — but the show was still filled with empowering moments including presenter Janelle Monaé's #TimesUp speech and Kesha's emotional show-stopping performance of "Praying."
Kimmel told Faris that he doesn't plan to stray away from jokes about Donald Trump, even if there are people who think celebrities shouldn't talk about politics. He thinks that's rather funny, being who America elected to run the country. "They elected Donald Trump the president of the United States," Kimmel joked. "So I think that argument has pretty well jumped out the window."
Over the past year, Kimmel has been both criticized, and more often than not, celebrated, for speaking out against Trump and other politicians in his late night monologues. Kimmel took on health care after his baby boy Billy needed heart surgery, even taking on Republican Sen. Bill Cassidy who promised he would do something to help other families have affordable coverage. More recently, he tearfully pleaded with Trump to do something about gun control in America.
As for any worries that he'll go too far on Oscars night, Kimmel said he is thinking about that, but knows there's one way he'll know if he has or not. "I'm sure the internet will tell me," he said. "Almost immediately."
While some may have hoped the Oscars host would tackle the #MeToo movement head-on, Kimmel's reason for choosing not to makes sense. At Hollywood's biggest night in film, Kimmel just wants everyone to have a good time and escape into the show. After all, that's what the movies are for.
If you or someone you know has been sexually assaulted, call the National Sexual Assault Telephone Hotline at 800-656-HOPE (4673) or visit online.rainn.org.