This One Tweet Proves Why Kesha's Grammys Performance Was So Brave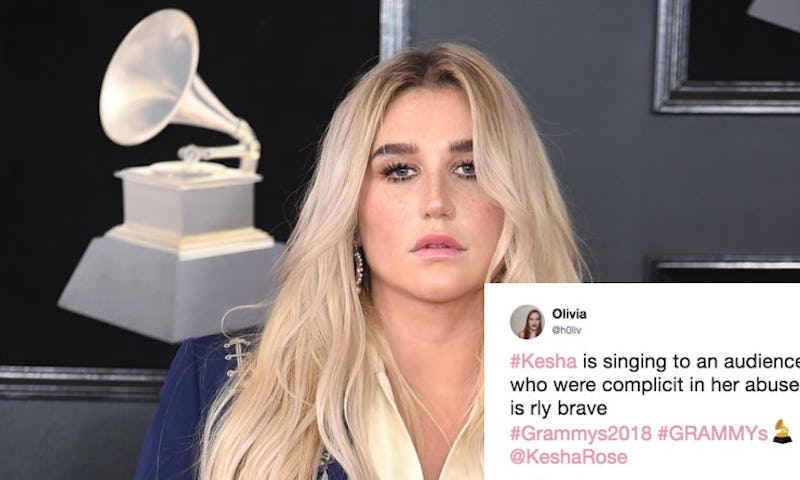 Jamie McCarthy/Getty Images Entertainment/Getty Images; h0liv/Twitter
The world just stopped if you were watching the 2018 Grammys. Kesha's performance of "Praying" at the Grammys was a moving, emotional show-stopper that was extremely impactful in so many ways, but one tweet (below) sums it up rather well.
In a moment that will go down in Grammys history, female artists Cyndi Lauper, Andra Day, Camila Cabello, Bebe Rexha, and Julia Michaels joined Kesha to perform her personal, Grammy-nominated hit. In the midst of the Time's Up revolution, the powerful performance supporting the #MeToo movement took on a life of its own, especially considering the people watching it in that very room.
After a lengthy legal battle with producer Dr. Luke over multiple sexual assault allegations, Kesha's "Praying" (released in summer 2017) was an anthem for survivors. In the highly anticipated performance, the women were unified by wearing white, perhaps to join celebrities wearing white roses at the Grammys in support of Time's Up. (Dr. Luke, real name Lukasz Gottwald, "vigorously disputes and denies" Kesha's allegations against him and filed a defamation lawsuit, but that lawsuit was recently dismissed.)
Per Billboard, Kesha's allegations against him included: Allegedly forcing her to snort illegal drugs, allegedly giving her "sober pills" (a form of the date rape drug), alleged rape, and alleged threats to destroy her career if she spoke up. Kesha also fought to get out of her contract with Dr. Luke and Sony in order to continue making music. She eventually dropped her California lawsuit.
Sony told Bustle at the time that they had no comment. Dr. Luke's rep released the following statement to Bustle:
If Kesha is voluntarily dismissing her claims in the California case, it is because she has no chance of winning them. Earlier this year, she lost her meritless counterclaims against Dr. Luke in the New York Action. Recently, the California Court invited Dr. Luke and the other defendants to move to dismiss Kesha's claims in that action. Kesha never should have brought her false and meritless claims against Dr. Luke in any court. Dr. Luke's defamation and other claims against Kesha are still proceeding
Of a separate New York lawsuit, Bustle's Rachel Simon reported:
Kesha was denied permission by a New York judge to be released from her current contract, and was forced to remain under contract with Sony, despite her claims that she would suffer damage to her career if she were made to continue working with Dr. Luke ... (Sony has maintained that they support Kesha's music).
Her album Rainbow, containing the song "Praying" is Kesha's first album since 2012.
Now, Kesha taking the stage for the Grammys to sing her survival anthem comes at a perfect time. It's a moment when abuse and imbalance of power in the workplace is dominating cultural conversation. For Kesha to perform "Praying" in a room with powerful people in the industry who likely worked with Dr. Luke, perhaps knew about his alleged behavior, and possibly never spoke up is extremely inspirational and brave.
Regardless of the outcomes of her legal battles, she fought and spoke out when people didn't support or believe her. Her story has the ability to touch so many lives and she's truly a pioneer of the Time's Up movement. Her personal battle seeped throughout the entire song. Fighting through tears for a majority of the performance, her emotion, anger, fearlessness, and strength was captivating. Audience members were left stunned. Bruno Mars was seen saying, "That was beautiful" and Hailee Steinfeld was left in tears (probably like the majority of people watching).
But the solidarity of Kesha and women on stage, who emotionally grabbed each other for hugs when the song ended, proved to the music industry and all industries, that women will no longer be silenced.
If you or someone you know has been sexually assaulted, call the National Sexual Assault Telephone Hotline at 800-656-HOPE (4673) or visit online.rainn.org.