Jimmy Kimmel Is Hosting The Oscars Again & Here's What You Can Expect This Time Around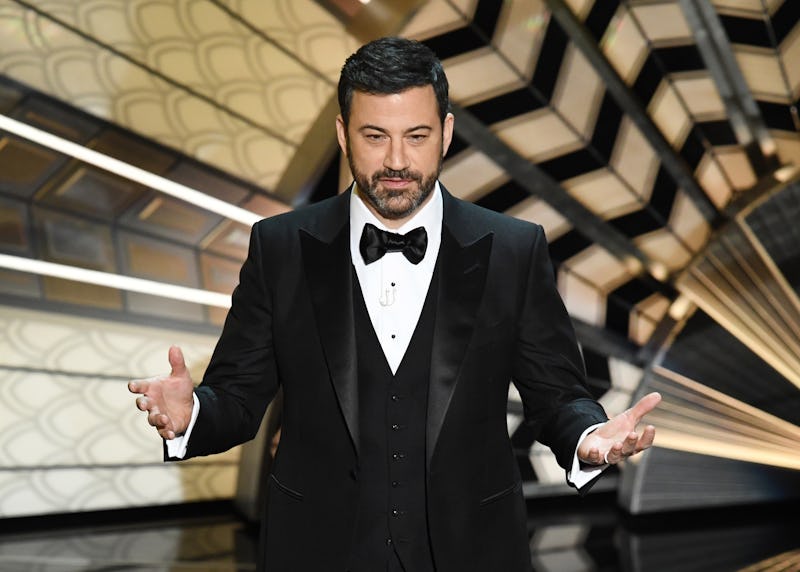 Kevin Winter/Getty Images Entertainment/Getty Images
After last year's major mix-up, which resulted in the wrong film being called for Best Picture Award, fans probably wondered who would be up for the challenge of being the host of the 2018 Oscars. That said, it seems that the Academy didn't have to look too far to find someone for the job, as they've announced that Jimmy Kimmel will be back to host the Oscars all over again.
Last May, the Academy made the announcement that the late-night talk show personality would return for the second year in a row, taking on the task of hosting the 90th Oscars ceremony at Dolby Theatre in Los Angeles on Sunday, March 4, 2018. After the announcement, Kimmel jumped to make light of the 2017 Envelopegate debacle. According to Variety, he joked, "If you think we screwed up the ending this year, wait until you see what we have planned for the 90th anniversary show!"
Fans should be prepped for plenty of potential controversial on-stage antics after last year's politically charged commentary from Kimmel, which was notably directed at the newly elected President Trump. During his 2017 Oscars stage performance that included a joking "Hey @realDonaldTrump u up?" tweet, Kimmel quipped:
"See, it's so easy to reach out and heal. And I want to say, maybe this is not a popular thing to say, but I want to say thank you to President Trump. I mean, remember last year when it seemed like the Oscars were racist? That's gone, thanks to him."
The diatribe also added fuel to the fire of his ongoing frenemy feud with actor Matt Damon, as Kimmel jokingly took jabs at some of Damon's recent accomplishments. He later introduced the actor as Ben Affleck's "guest" when it came time for him to take the stage to present the award for Best Original Screenplay.
Given the tone of this year's Golden Globes, which was notably focused on the Time's Up movement, which supports women who have been affected by sexual harassment, assault, or abuse in the workplace, it's safe to assume that the Oscars will also reflect the recent stand against inappropriate behavior.
As for the direction of his upcoming hosting gig, Kimmel's monologue will most likely mention Harvey Weinstein in some capacity, though he's not expected to go too far. He explained to Vulture,
"I probably will. It's not really a laughing matter. There'll be a lot of people in that room who maybe have been through experiences with him, and that's not something I want them to relive on the night they get their Oscar."
It seems that fans of Kimmel's late-night fodder took issue with his response, or lack thereof, to the Weinstein scandal when it broke late last year, according to Variety. (Through a spokesperson, Weinstein has denied all allegations of non-consensual sex.) However, Kimmel, no stranger to the uncomfortable topics of conversation, insisted that he is in no way interested in protecting the former film mogul. Near the end of October, Kimmel told Vulture,
"I didn't see the Weinstein story break 'til shortly before the show started on a Thursday night, and then we had a rerun on Friday, so that's why it wasn't mentioned in our monologue. We would've had to go back and rewrite the whole show, and we're not going to do that for someone who was then not even known to 90 percent of the country. I have no interest in protecting Harvey Weinstein. I couldn't care less about Harvey Weinstein. Hopefully, he will get what he deserves and we'll all move on with our lives."
It goes without saying that Kimmel tends to do an amazing job at commanding a live audience in just about any capacity. With one Oscar hosting gig now under his belt and a consecutive year soon underway, Kimmel is solidifying his spot on the awards circuit.
If you or someone you know has been sexually assaulted, call the National Sexual Assault Telephone Hotline at 800-656-HOPE (4673) or visit online.rainn.org.