JJ Abrams' First Tweet Is About Carrie Fisher & 'Star Wars: Episode 9' In A Touching Tribute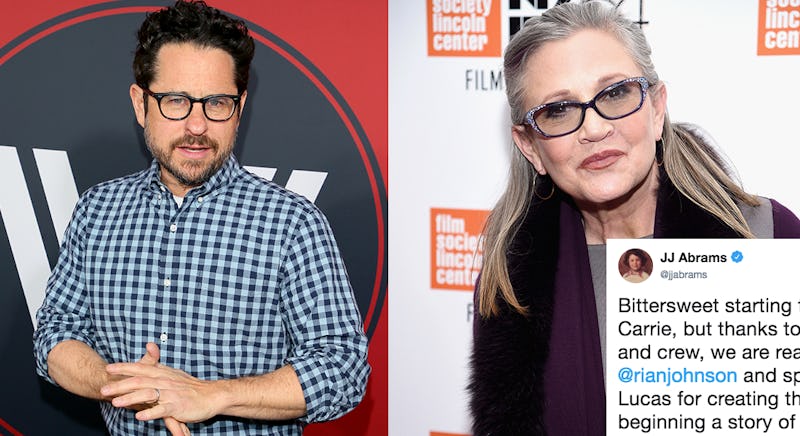 Jean Baptiste Lacroix/Getty Images Entertainment/Getty Images; Dimitrios Kambouris/Getty Images Entertainment/Getty Images; JJAbrams/Twitter; Bustle/Screenshot
While announcing the start of production for the final chapter of the Skywalker series, Star Wars: Episode IX, filmmaker J.J. Abrams posted his first tweet— and it's about Carrie Fisher. The tweet is sure to break and warm your heart at the same time. In his first and, thus far, only Twitter post, which was shared on Wednesday, August 1, the producer/director expressed his heartfelt sentiments about moving into the film's next installment without Fisher's presence, writing:
"Bittersweet starting this next chapter without Carrie, but thanks to an extraordinary cast and crew, we are ready to go. Grateful for @rianjohnson and special thanks to George Lucas for creating this incredible world and beginning a story of which we are lucky to be a part. #IX"
His touching message comes on the heels of a July 27 casting announcement in which he revealed plans to use previously unreleased footage of Fisher for the upcoming film installment that would allow her to reprise the beloved role of Princess Leia Organa.
In a statement, which was posted on the official Star Wars website, Abrams shared:
"We desperately loved Carrie Fisher. Finding a truly satisfying conclusion to the Skywalker saga without her eluded us. We were never going to recast, or use a CG character. With the support and blessing from her daughter, Billie, we have found a way to honor Carrie's legacy and role as Leia in Episode IX by using unseen footage we shot together in Episode VII."
Fisher's Star Wars co-star and longtime friend Mark Hamill also recently commented on Fisher's upcoming appearance in Star Wars Episode IX, indicating how hard it has been for him to move on with filming without Fisher by his side.
On July 29, the actor posted a few pictures of he and Fisher on Twitter with the caption:
"It's bittersweet facing my final chapter without her-She is simply irreplaceable. I'm finding solace in the fact that she won't BE replaced & would love the worldwide outpouring of affection from those who loved her when they heard the news. #CarrieOnForever"
The love and admiration for Fisher and her work runs deep in the entertainment world, particularly within the Star Wars family.
Of Fisher's pre-recorded, post-mortem role, Last Jedi director Rian Johnson told the New York Times,
"I felt very strongly that we don't try to change her performance. We don't adjust what happens to her in this movie. Emotionally, you can't help recontextualize it, now that she's gone. It's almost eerie how there are scenes that have an emotional resonance and a meaning, especially now. She gives a beautiful and complete performance in this film."
The franchise's inclusion of Fisher has also earned the blessing of Fisher's daughter, actor Billie Lourd, and Fisher's brother Todd who both have publicly approved of Abrams' decision to pay homage to Fisher's legacy.
The film, which is currently slated for a December 2019 release, is certain to become a box office smash. Not just for its legendary narrative, but for its huge dedication to bringing Carrie Fisher's final performance to fans who continue to love and miss her dearly.