Here's The Name Of J.K. Rowling's Next Novel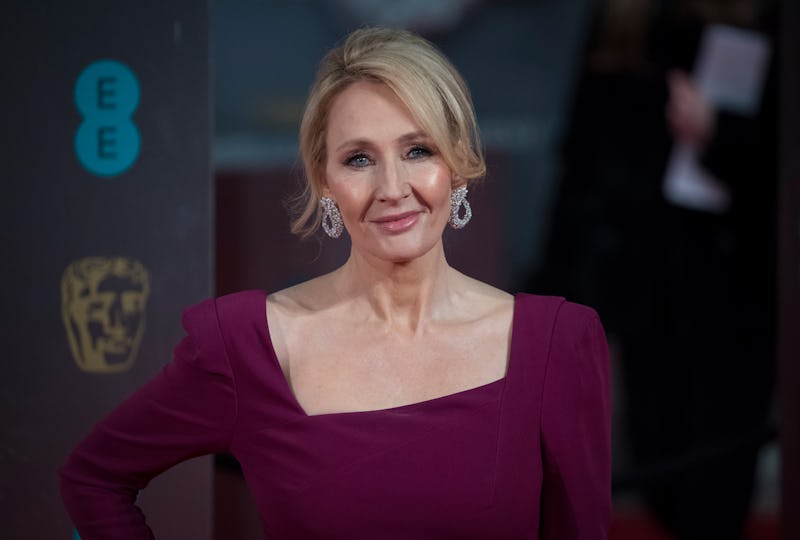 John Phillips/Getty Images Entertainment/Getty Images
Fans of Robert Galbraith, get your detective hats on: J.K. Rowling has just announced what the fourth Cormoran Strike novel will be called through a Twitter puzzle. The novel is predicted to come out later this year, but until today, we knew next to nothing about it. But here's what we do know: the next novel will be called Lethal White.
The last three Cormoran Strike books have been The Cuckoo's Calling, The Silkworm, and Career of Evil — so there was never a noticeable pattern for fans to guess at. But on Tuesday morning, Rowling gave us a major hint — revealing that the title of the fourth Cormoran Strike novel will look like this: "_ _ _ H _ _ _ H _ _ _."
Of course, Rowling fans were quick to begin speculating on Twitter what the full title might be, with guesses ranging from Rather Sharp and Eighth Child, to less serious options like Fishen Chips or Mighty Rhino. Even some of the sillier suggestions caught Rowling's attention, and she confirmed that she would love to read books called Eighty Shoes or Mashed Chips, but that neither of those were the name of her novel. (Quick, somebody write those books and Queen J.K. Rowling herself will read them!)
But then things got really exciting. After masses of false guesses, somebody got very close — by mistake.
Fans went into overdrive trying to solve this riddle, and some of the suggestions were so great that Rowling admitted she was almost tempted to change the title...
Let's be honest, if J.K. Rowling wrote a book called Woohoo, Chips, we would all buy it.
At last, one fan guessed the right answer: Lethal White. (The joke answer that nearly cracked the code had an 'S' in place of the 'W' — which sounds like a whole different type of book.)
The lucky winner has been promised a signed copy of the finished book — and I don't blame you if you're green with envy right now. Lethal White should be on bookshelves by the end of 2017, but for now, J.K. Rowling still has to finish Chapter 23.
As for us fans, now we just have to guess what J.K. Rowling's Lethal White is all about. Great white sharks? Cocaine? The family from Get Out? Only time will tell.