J.K. Rowling Is Suing Her Former Assistant & The Reason Why Is Truly Wild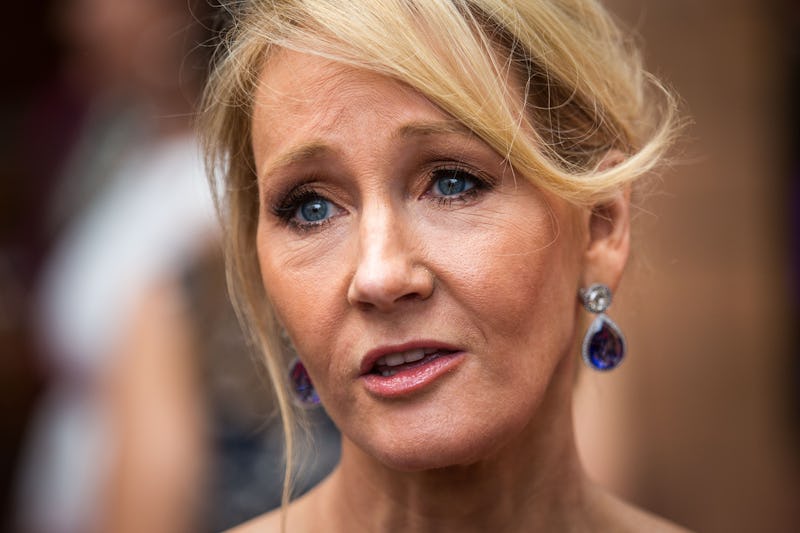 Rob Stothard/Getty Images Entertainment/Getty Images
As a Harry Potter fan and someone who exists in the world, I expect to see news about the series or about its author, J.K. Rowling, at least once a week. Rowling is pretty prolific on Twitter — writing updates, sharing her thoughts, answering old fan letters — and the Wizarding World is still in a constant state of expansion and examination by both its creator and her readers. Of course, Rowling has not been without her controversies, but they have never spilled over into the author's personal life. That is no longer the case this week, as news has broken that Rowling is suing her former assistant, Amanda Donaldson, to the tune of about $31,000 (£23,696.32, to be precise) and the reason why is totally shocking.
Here's what we know: Donaldson worked for Rowling from Feb. 2014 to April 2017. Rowling has accused Donaldson of making a series of unauthorized purchases using Rowling's estimated $650 million fortune — and if you're anything like me, when you see how much money she is alleged to have spent and on what, your eyes will threaten to pop right out of your head.
According to the BBC, Donaldson is accused of spending a whopping $4,756 on luxury skincare brand Molton Brown, buying $1,900 worth of Jo Malone candles, handing over $2,100 on Starbucks, and even dropping $1,577 on two cats. Rowling also alleges that Donaldson, who controlled memorabilia requests from fans, stole a Harry Potter motorized Hogwarts Express worth $612, a Harry Potter Tales of Beedle the Bard set worth $517 and a Harry Potter Wizard Collection worth a staggering $2924. Apparently, Donaldson has denied all claims and stated that Rowling has "not suffered any loss and is not entitled to damages."
Now, I'm sure, like me, you have a lot of questions. How exactly can one person use almost $5,000 worth of Molton Brown products? I mean, I love a vanity stocked with lotions and potions as much as the next person, but I'm still working through that one pot of pricey moisturizer I bought with a gift card at Sephora last Christmas. And, more importantly, why the cats? Why two cats and not one? And why not just adopt a cat for the usual modest fee you can find at pretty much any animal shelter rather than drop nearly $2,000 on ones from a pet shop? And should anyone really be spending over $2,000 on Starbucks?
Rowling has so far stayed mum on the subject on social media, though a spokeswoman for the author released a statement: "I can confirm JK Rowling has taken legal action against her former personal assistant, Amanda Donaldson, following her dismissal for gross misconduct involving a substantial breach of trust. As the case is not yet concluded we are not able to comment further and there won't be any comment from JK Rowling."
Here's hoping this is resolved quickly for the benefit of all involved. The case will reportedly be heard in court later this year.