J.K. Rowling's Response To The Nagini Controversy Isn't Going Over Well With Fans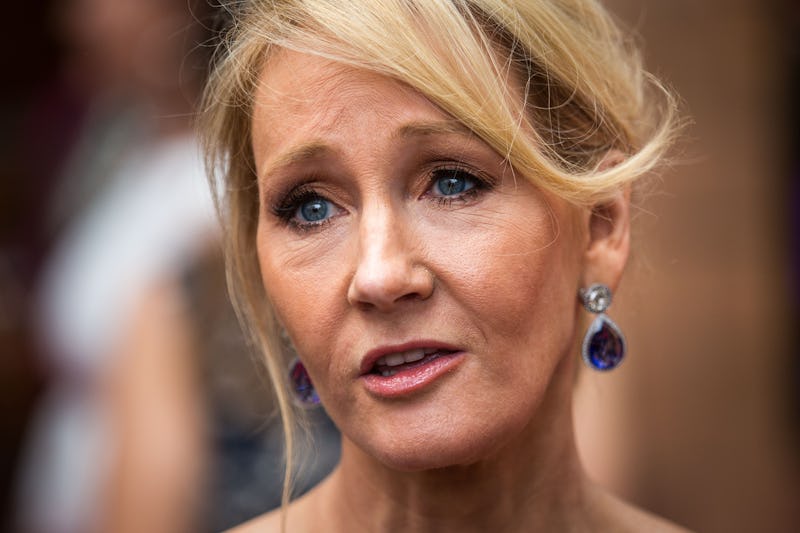 Rob Stothard/Getty Images Entertainment/Getty Images
The Fantastic Beasts film franchise, a spin-off of J.K. Rowling's original Harry Potter series, has hit yet another controversial casting snag — and fans are once again disappointed with the author's response to criticism.
If you haven't been caught up, here's a little background: the Fantastic Beasts film sequel The Crimes of Grindelwald, which is due to hit theaters on Nov. 16, has been steeped in controversy since it was announced, thanks initially to the casting of actor Johnny Depp, who was accused of domestic violence by his ex-wife Amber Heard, as Grindelwald. Later, it became known that director David Yates chose to keep Dumbledore's gay identity off-screen. Sadly, the controversies did not end there.
This week, when the final trailer for the film dropped, it was revealed that Voldemort's snake companion Nagini is actually a woman. More specifically, she is a Maledictus — a person cursed to transform into an animal for increasingly long periods of time, until the transformation eventually becomes permanent — and she is being played by South Korean actress Claudia Kim. This didn't go over well with many Harry Potter fans on Twitter, including We Need Diverse Books founder and author Ellen Oh, who tweeted, "I feel like this is the problem when white people want to diversify and don't actually ask POC how to do so. They don't make the connection between making Nagini an Asian woman who later on is the pet of a white man. So I'm going to say it right now. That shit is racist."
On Wednesday, J.K. Rowling responded to the controversy in a tweet: The Naga are snake-like mythical creatures of Indonesian mythology, hence the name 'Nagini.' They are sometimes depicted as winged, sometimes as half-human, half-snake. Indonesia comprises a few hundred ethnic groups, including Javanese, Chinese and Betawi," she wrote.
Rowling's response had fans further distressed at the idea of a South Korean woman being tapped to play what Rowling says was a role inspired by Indonesian mythology, especially because "Nagini" is actually the Sanskrit word for a powerful female deity in the form of a snake, the mythology of which originated in India, and is found in the religions of Hinduism, Buddhism and Jainism. Futhermore, Nagini had been described in the original text as Albanian (Voldemort was said to have found Nagini in the woods during his exile in the country). Fans wasted no time pointed out the opposing facts in Rowling's tweet:
Fans also called out the sudden addition of the Maledictus — which had never been mentioned anywhere in the Wizarding World before Rowling's tweet — which, when paired with the rewriting of Nagini's origin story, sparked many questions about the author's insistence that she had been sitting on the information for 20 years:
Many have pointed to Rowling's pervasive use of retcon (introducing a piece of new information that imposes a different interpretation on previously described events) as evidence of the unlikeliness of Nagini's Maledictus identity having been part of any master plan:
This isn't the first time J.K. Rowling has been accused of poorly researched representation. In 2016, she introduced a school of magic in the United States called Ilvermorny Wizarding School, which many criticized as appropriative of Native American culture. And this latest controversy has led to a revival of the wide-reaching debate over the series among fans on social media and beyond:
It is unclear whether this latest uproar will affect the monetary success of The Crimes of Grindelwald — or the legacy of Harry Potter as a whole — but fans' insistence as speaking out makes it clear that most will never stop fighting for the Wizarding World that has come to mean so much to them, even if it means grappling with the creator herself.