Joe Alwyn Made His Instagram Public & Of Course, There's A Reference To Taylor Swift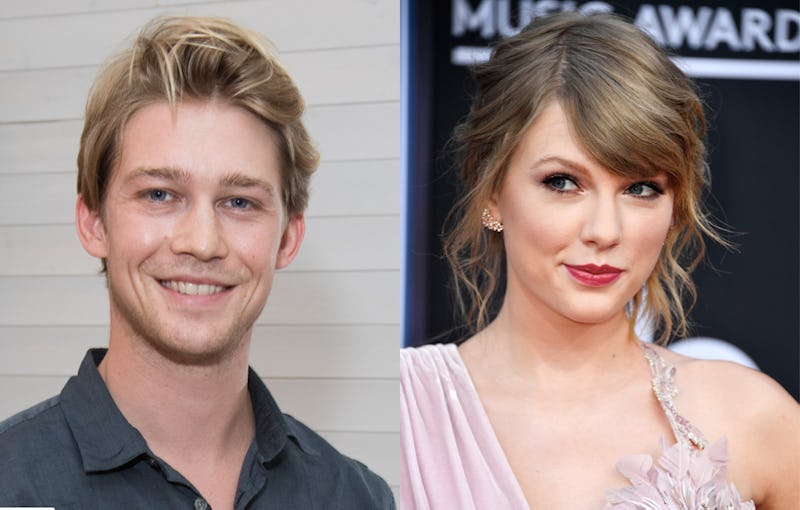 Jeff Spicer/Getty Images Entertainment/Getty Images; Frazer Harrison/Getty Images Entertainment/Getty Images
If you're a Taylor Swift fan, chances are you're rooting for her relationship with Joe Alwyn — but it's also been her most low-key, which means she's not talking about him on social media or sharing couple-y photos. But now, Joe Alwyn's Instagram is public, giving fans a bit more insight into who Swift's BF might be. And as it turns out, one of his past posts included a small nod to his very famous girlfriend.
Although Alywn himself is an actor, he's never been open about his private life, and during this era of her career, Swift has taken a far more closed-door approach when it comes to her relationship. But now, fans have just the smallest new detail about time that Swift and Alwyn spent together, and let's face it: Isn't that better than nothing?
As People pointed out, on May 8, Swift posted a photo right as her Reputation tour was about to begin, writing about how excited she was about it. In the photo, Swift is posing next to a massive cactus (which makes sense, since her first tour stop was in Arizona, a state that tends to have a lot of those). Here's that picture:
And now that Alwyn's Instagram is public, you can see that he posted a similar picture in the same location on the same day, keeping his caption simple with a cactus emoji.
Obviously, they were together that day in Arizona — a fact that fans already knew, being that he was spotted in the crowd at the Reputation tour's opening night, as Elle reported. Pretty supportive of him to be there to support Swift, right? And it's cool to know that they got to do a little sightseeing ahead of time, because going on tour, even when the person you're dating gets to come along, seems like it could be very stressful.
This isn't the only thing that can be gleaned about Alwyn's personal life from his Instagram posts... although, even though his account was previously private, it does seem like he limits what he shares. After all, there are only 11 photos on his Instagram, many of them are from times he was traveling, and his face is rarely the focus of his photos, if he's even in them at all.
Exhibit A: This photo he shared from France. There's the Eiffel Tower, there's Alwyn, but he's more shadow than human in this photo.
And there's Exhibit B, which is a slightly out of focus Polaroid — which fans all know is one of Swift's favorite mediums.
His most recent post, shared Sunday night, is from the set of The Favourite, a movie he filmed earlier this year with Emma Stone and Nicholas Hoult.
Maybe now that Alwyn's public, he'll share a little more about his life with his fans and followers... and maybe some of that can include a little glimpse into his relationship with Swift. Probably not, but we can all dream, can't we?