Joe Alwyn Doesn't Let Public Opinions Impact His Relationship With Taylor Swift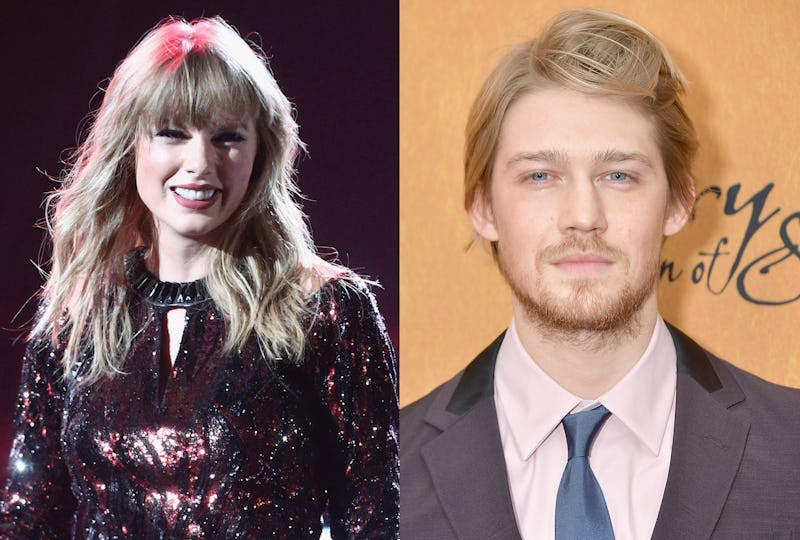 Frederick M. Brown/Getty Images Entertainment/Getty Images; Michael Loccisano/Getty Images Entertainment/Getty Images
Joe Alwyn appears in several Oscar-hopeful movies in theaters right now, but what some fans seem to care most about is the British actor's relationship with a certain pop superstar. However, Alwyn's new comments about Taylor Swift show that he's not overly concerned with the public's perception of their relationship. But he's not exactly dying to share many details about it either.
During an Esquire interview, Alwyn gave thoughtful but guarded responses about his girlfriend. Interviewer Emily Poenisch asked Alwyn whether he'd asked others for "guidance" about his relationship, to which he responded,
"I didn't seek out advice on that. Because I know what I feel about it. I think there's a very clear line as to what somebody should share, or feel like they have to share, and what they don't want to and shouldn't have to."
Alwyn's comments represent one of the few times he's talked about his girlfriend at all. Before the new Esquire profile, Alwyn briefly mentioned Swift to British GQ for its November issue. But all he shared with the magazine was that it was an accident that he and Swift posed with the same cactus in matching Instagram posts.
"I didn't even think of that until I was in New York and someone else mentioned it," Alwyn told British GQ of the cactus photos. "It wasn't purposeful at all!"
Swift, likewise, hasn't shared much about her relationship with Alwyn, though she has supported his acting projects. The "Delicate" singer's most recent Instagram post is a trailer for The Favourite, one of Alwyn's movies that's currently in theaters. Swift also attended the movie's New York City premiere in September, Us Weekly noted.
Swift and Alwyn don't tend to post photos of each other, though, but it's for good reason. Alwyn's comments to Esquire are a reminder that celebrities' relationships don't exist for public consumption — even if fans want to know every single detail about their favorite stars' personal lives.
Reports that Alwyn and Swift were dating first started in May 2017, a year after they met at the 2016 Met Gala. Since then, the two of them have been seen together in New York, Us Weekly noted, as well as in Nashville, where Swift recorded the Reputation album. And during private Reputation listening sessions last year, Swift reportedly told fans that the album's songs were about Alwyn.
So even though these two prefer to keep their romance under wraps, it sounds like they're super happy with the state of their relationship. An unnamed source told Us Weekly in November that Alwyn "unconditionally supports" Swift.
"Taylor is so much happier without her personal life in the open," the source told Us Weekly. "She credits Joe for that and realizes how much better off she is."
It sounds like these two are on the same page about keeping their love life to themselves, and the policy seems to be working out for both. Alwyn is having a moment on the big screen, while Swift is likely on to bigger and better things after the end of her Reputation tour. It's clear that the actor and singer support each other through it all, even if they don't always share every aspect with fans.