Joe Alwyn Just Opened Up About *That* Nod To Taylor Swift On Instagram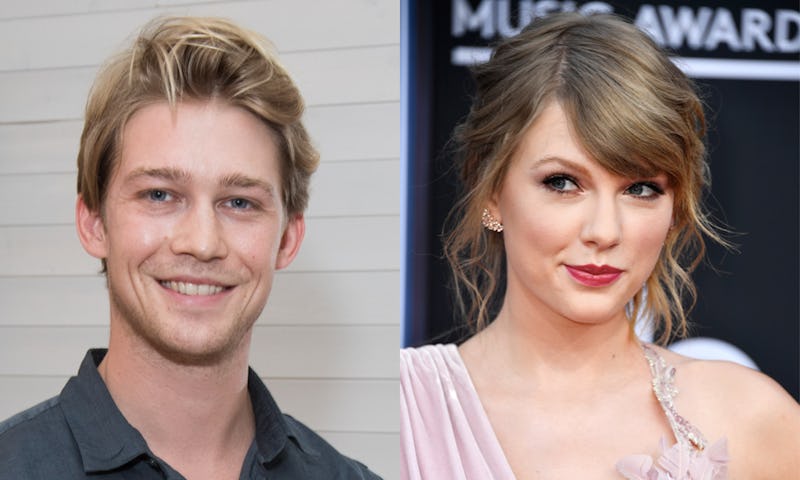 Jeff Spicer/Getty Images Entertainment/Getty Images; Frazer Harrison/Getty Images Entertainment/Getty Images
If you're dating Taylor Swift, her fans are going to investigate your every move. Well, here's a new detail for Swifties to analyze: Joe Alwyn's nod to Swift on Instagram was accidental. In an interview with British GQ (via Entertainment Tonight) for the November issue, The Favourite actor surprisingly opened up, albeit briefly, about the matching pictures he and Swift shared separately on Instagram in May that shed a small light on their extremely private relationship.
"I didn't even think of that until I was in New York and someone else mentioned it," Alwyn said of their photos that received a big response from fans. "It wasn't purposeful at all!"
They were both simply posting photos of themselves on their own accounts, because, well, that's what Instagram users do. They didn't do it to tease fans or to give any clues about their romance.
If you're behind in this T. Swift/Alywn news, here's a brief background on the situation. About five months ago, the Reputation artist and the actor, who first made headlines as a couple in May 2017, both posted a picture on their separate accounts that caught the attention of Swifties in August, after Alwyn made his Instagram public.
As People reported, the "Look What You Made Me Do" singer shared an image of herself standing next to a huge cactus. She captioned the Instagram, "Fact: I've never been more excited about a tour than I am about this one. And it starts TOMORROW. Also, not even remotely tour related, but today I met a cactus." FYI, she started her U.S. Reputation tour in Arizona, which, obviously, has a lot of cacti.
Well, after the Boy Erased actor set his social media account to public, fans couldn't help but notice there was also a photo of Alwyn from May standing next to the same exact cactus as Swift. They also shared their photos on the same exact day, meaning they were totally hanging out together before the first show of her tour. Speaking of Swift's first show, Alwyn was also spotted in the crowd during opening night.
Fans should be happy with this fresh piece of information, because Swift and Alwyn rarely discuss each other publicly. The first time the 27-year-old addressed his relationship with Swift was in September. He made it clear she wasn't a topic he'd be talking about openly and freely.
He told British Vogue of their romance,
"I'm aware people want to know about that side of things. I think we have been successfully very private, and that has now sunk in for people. But I really prefer to talk about work."
Alwyn also told British GQ,
"Someone's private life is by definition private. No one is obliged to share their personal life."
There are many celebrity couples who have chosen to keep their relationships private, like Riverdale's Lili Reinhart and Cole Sprouse. So, even if you want to know all there is about Swift and Alwyn, well, that probably won't happen anytime soon. Let's all just be happy with Alwyn making his Instagram public and learning that the two have fun hanging out by posing next to a massive cactus.