Joe Biden Called Out The Trump Administration For A Spike In Anti-Semitic Incidents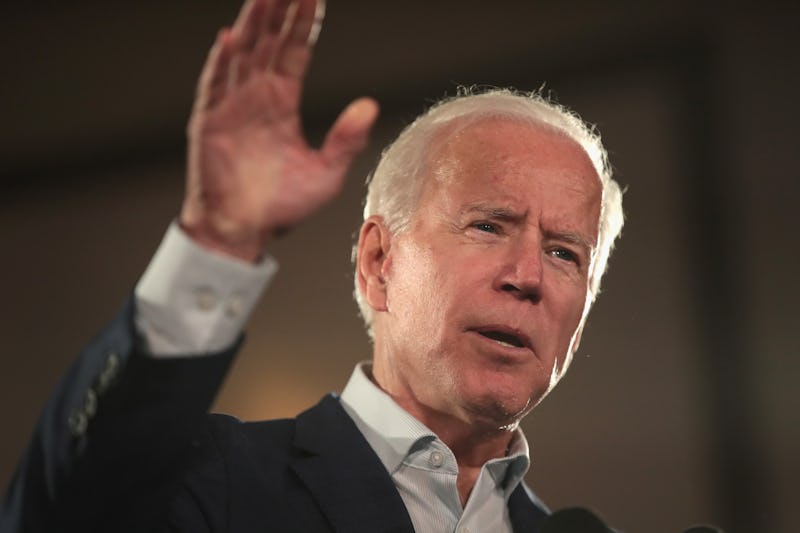 Scott Olson/Getty Images News/Getty Images
Without going so far as to use his name, former Vice President Joe Biden linked a rise in anti-Semitic incidents to Trump during a speech at the Lantos Foundation annual gala on Wednesday night. "We are in a battle for the soul of this nation. We have to recognize trend lines are moving in the wrong direction," Biden said of anti-Semitism, according to the Huffington Post.
In February, the Anti-Defamation League released an analysis that showed that the number of anti-Semitic incidents — including harassment, vandalism, and assault — were nearly 60 percent higher in 2017 than in 2016. This increase represented "the largest one-year increase since they started keeping records in 1970," Biden told the crowd celebrating a group that advocates for dignity and human rights. "That's not an accident. It's not an accident."
Then Biden pivoted toward Donald Trump — sort of. "Our leadership is giving license, giving license to this prejudice," Biden said.
Biden was accepting the Decennial Lantos Legacy Award for his commitment to human rights during his time in government service, where House Minority Leader (and likely incoming House Speaker) Nancy Pelosi introduced the former veep. "Joe has stared down dictators and stood up for justice around the world, leading the charge to end violence in the Balkans, championing the rights of LGBTQ people facing persecution wherever, working to end the scourge of violence against women — he is our champion on that front," Pelosi said of Biden, according to The Hill.
The Lantos Foundation was started by late former Democratic Californian Rep. Tom Lantos, who was the only Holocaust survivor elected to Congress, according to The Washington Post. Biden said Lantos "gave me a glimpse of what it was like in the '30s and '40s."
Biden said he admired Lantos. "He was always first in the fray to speak out against injustice," he said of the late congressman.
This speech — which links the president with the rise of anti-Semitism and discrimination in a very roundabout way — isn't the only time Biden was in the news this week. On Monday evening, Biden made headlines when he suggested, again, that he'll likely run for president in 2020.
"I'll be as straight with you as I can. I think I'm the most qualified person in the country to be president," Biden said at a stop to promote his book Promise Me, Dad at the University of Montana, according to MSNBC. "The issues that we face as a country today are the issues that have been in my wheelhouse, that I've worked on my whole life."
Biden said his entire adult life is preparing him for the presidency. It's very likely the Democratic primary will be extremely crowded. "No one should run for the job unless they believe that they would be qualified doing the job. I've been doing this my whole adult life, and the issues that are the most consequential relating to the plight of the middle class and our foreign policy are things that I have," Biden said. "Even my critics would acknowledge, I may not be right but I know a great deal about it."