Joe Biden Said Trump Is Putting Himself Before The Country In A Powerful Speech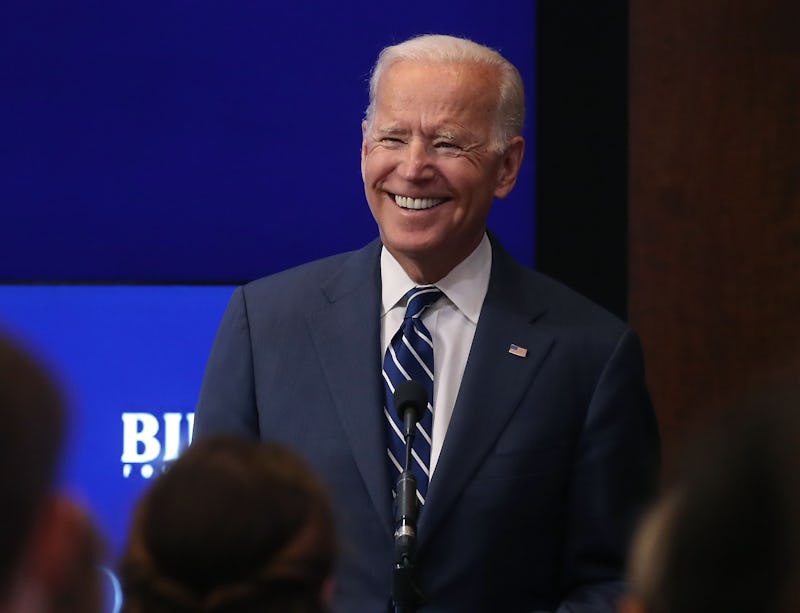 Mark Wilson/Getty Images News/Getty Images
Former vice president Joe Biden did not mince words about President Donald Trump in a speech he gave at a rally in Kentucky on Friday. As part of a far-ranging criticism of Trump's foreign policy, Biden said that Trump is putting himself before America — a criticism which, of course, isn't exactly new when it comes to Trump.
"The example we're showing the rest of the world is sad," Biden said on Saturday, according to The Washington Post. "Our values are being shredded. Our democracy's under assault. A president has put his own interest before those of our ideals."
Biden was visiting Kentucky's sixth district to campaign for Lt. Col. Amy McGrath. While the Post's polling shows that McGrath faces an uphill battle against Republican incumbent Andy Barr in a district that Trump won by 15 points in the 2016 election, Biden's presence is only one sign that it's become extremely competitive in this year's midterms.
"The question is not who Donald Trump is. America knows who he is," Biden said in the speech. "The question is, 'Who are we?'"
The crowd, according to the Post's description, was very excited for the speech before Biden began, chanting, "Run, Joe, run."
Biden hasn't made any sort of concrete decision about whether he will run for president in 2020, according to The Atlantic. However, he also hasn't ruled it out — and campaign speeches like this one give him the chance to both support candidates like McGrath in the midterms and also hone his message against his potential Republican opponent.
His speech featured some of his strongest words against the president, focusing in particular on Trump's foreign policy. Biden, according to the Post, said that Trump had "debased" American values and "ceded global leadership to tyrants and thugs," which is likely a thinly veiled reference to Trump's penchant for complimenting authoritarian leaders like Russia's Vladimir Putin or Turkey's Recep Tayyip Erdogan. Trump has also, of course, worked on cultivating a chummy relationship with North Korean dictator Kim Jong Un, for example.
Biden's comment about Trump putting his own interests in front of the nation's ideals is also a salient one at the moment, in light of the alleged murder of Saudi journalist Jamal Khashoggi. While Saudi Arabia denies having anything to do with Khashoggi's disappearance, CNN reported that evidence points to Saudi authorities essentially carrying out a hit job — and Trump has been slow to promise any retribution, despite the fact that Khashoggi was an American resident and had two American citizen children.
Many, including Vox, have publicly wondered if Trump's reluctance to censure the Saudis for what many are alleging was a brutal murder has less to do with the arms deal that Trump mentioned, and more to do with the Saudi money that has long flowed into the Trump organization, as The Washington Post reported on. The world has looked at the U.S. as a defender of the free press for a long time, so Trump's failure to react quickly to Khashoggi's disappearance is a good example of what Biden might have been referring to in his speech.