Biden Writes A Powerful Op-Ed & Blames Trump For Emboldening White Supremacists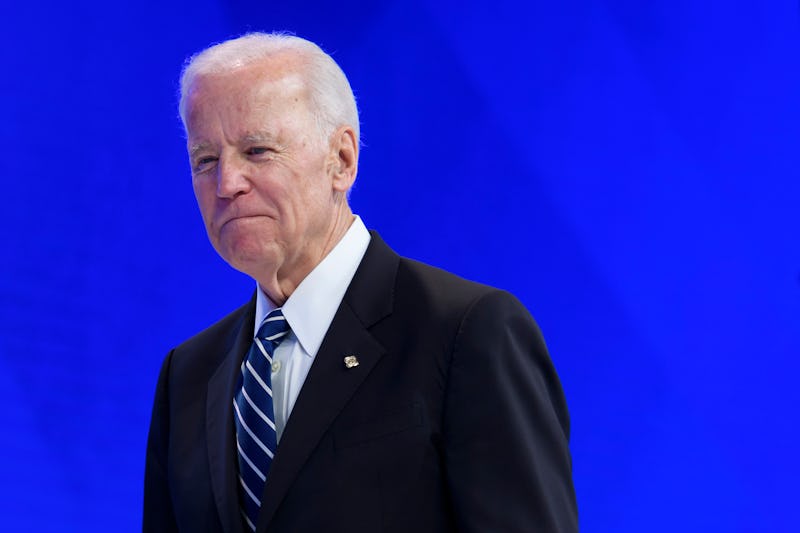 FABRICE COFFRINI/AFP/Getty Images
Former Vice President Joe Biden is not here for President Trump's rhetoric. In a bold column for The Atlantic, Biden addressed the recent violence in Charlottesville, Virginia, and the wave of tension that has coursed through the country in its aftermath. Specifically, Biden criticized Trump after the Charlottesville violence, calling him a "special challenge" to the country.
The Atlantic published Biden's column online early on Sunday. In it, the former vice president recalled the violence he saw in his hometown of Wilmington, Delaware, during the civil rights movement of the 1960s. He also recalled the moment he awaited President Obama's arrival on the day of their first inauguration in 2009, painting a stark contrast between the two memories. Reflecting on the violence in Charlottesville earlier this month, Biden came to a realization: "We are living through a battle for the soul of this nation," he wrote.
The giant forward steps we have taken in recent years on civil liberties and civil rights and human rights are being met by a ferocious pushback from the oldest and darkest forces in America. Are we really surprised they rose up? Are we really surprised they lashed back? Did we really think they would be extinguished with a whimper rather than a fight?
"We have fought this battle before," Biden continued, "but today we have a special challenge." That challenge, according to the next several lines of the column, is none other than President Trump. Biden sharply condemned and criticized the current president's controversial rhetoric.
Today we have an American president who has publicly proclaimed a moral equivalency between neo-Nazis and Klansmen and those who would oppose their venom and hate.
We have an American president who has emboldened white supremacists with messages of comfort and support.
The former vice president gives Americans a call to action. Biden called on the American people to declare that there is no place for hate groups in the U.S., or in other words, "to declare what the president can't." His criticism of Trump continued by condemning Trump's decision to pardon former Arizona Sheriff Joe Arpaio. Trump's pardon was announced on Friday via Twitter, amid a series of tweets about the ongoing hurricane situation in Texas.
His contempt for the U.S. Constitution and willingness to divide this nation knows no bounds. Now he's pardoned a law-enforcement official who terrorized the Latino community, violated its constitutional rights, defied a federal court order to stop, and ran a prison system so rife with torture and abuse he himself called it a "concentration camp."
Sunday's Atlantic column wasn't the first time that Biden has been critical of Trump's rhetoric. Back in January, shortly before Trump's inauguration, Biden criticized Trump's notorious tweets as juvenile: "Grow up, Donald," Biden told PBS NewsHour. "Time to be an adult."
Now, it seems the former vice president doesn't just see Trump's tweets as childish, but rather, as dangerous and challenging to the country.