17 Horrifying Reasons Joe Arpaio Never Should Have Been Pardoned By Trump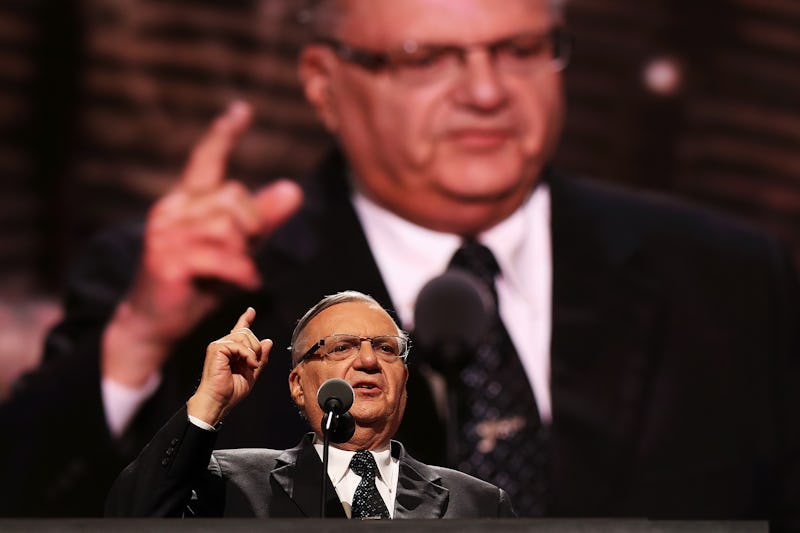 John Moore/Getty Images News/Getty Images
On Friday, President Donald Trump issued the first pardon of his presidency, and it was about as controversial as it gets. Namely, he pardoned Joe Arpaio, the former longtime sheriff of Maricopa County, Arizona an infamous figure for his draconian, inhumane, and demagogic treatment of the local immigrant population. Trump made the decision amid a couple weeks worth of criticism on his equivocating responses to white supremacist violence. Suffice to say plenty of people are outraged, and it's easy to see why; here are 17 reasons Arpaio should not have been pardoned, a slew of objectionable reported actions and statements from throughout his law enforcement career.
Make no mistake, there's a lot to work from. Arpaio was the sheriff of Maricopa County, the most populous county in all of Arizona and home to the state capital of Phoenix, for 24 straight years. He first won election in 1993, and departing on New Year's Day, 2017.
While Arpaio was ultimately convicted of criminal contempt of court, for flatly violating an order to halt immigration raids that were found to be unconstitutional, that's far from the only offense on his record, whether criminal or not. And given that presidents don't have to pardon anyone ― rather, they get to pick and choose who they consider most deserving ― a look back at his career shows just how awful Trump's decision truly was. Here are TK things about Arpaio nobody should forget.
1. He Ran A Self-Identified "Concentration Camp"
Back in 2008, Arpaio reportedly told a group of people at the Arizona American Italian Club that he was running a "concentration camp" for undocumented immigrants.
2. It Was Called "Tent City," And The Conditions Were Dangerous
Reports from people formerly detained in Arpaio's outdoor detention camp describe it as a veritable hell on Earth. According to Francisco Chairez, who was detained at the facility for a year, temperatures in the summer would approach 120 degrees, and occasionally people would pass out from the scorching heat. At least one person died during his stay.
3. He Forced Detainees To Wear Pink Underwear
Not that there's anything wrong with pink underwear, but Arpaio reportedly forced male detainees to wear it in an attempt to emasculate and humiliate them.
4. He Had Racist Beliefs About Mexicans
During an appearance on Glenn Beck's Fox News show back in 2009, Arpaio reportedly claimed that Mexicans "like to fight each other."
5. He Had A Webcam In The Women's Bathroom
Arpaio's jail facilities including webcams that streamed the day-to-day lives of his inmates in a deeply violation and inappropriate way, including one placed in the women's bathroom that was publicized in 2001 amid a legal challenge.
6. He Removed All The Meat From Inmates' Meals
Voluntary vegetarianism may be one thing, but Arpaio's decision to strip caloric and nutritional value from the meals of his detainees was dire in light of the extreme temperatures and risk of malnutrition they had to endure.
7. He Kept A Pregnant Inmate Restrained While In A Hospital
8. He Denied He's Racist Because Of His Grandchildren
According to The Phoenix New Times, Arpaio was quoted in a 2009 GQ profile insisting he wasn't racist because his daughter had adopted non-white children.
My daughter has adopted children of various ethnicities... I got a black, a Mexican with Down syndrome even. And yet I'm the racist, I'm the fascist, I'm the Hitler!
9. He Thought Being Called "KKK" Was A Good Sign
Speaking to the notoriously anti-immigration cable news host Lou Dobbs back in 2007, Arpaio suggested it was an "honor" that his critics compared him to the Ku Klux Klan.
Well, you know, they call you KKK, they did me, I think it's an honor, right? It means we're doing something.
10. He Spread The Birther Conspiracy Theory
Don't let anyone tell you Arpaio and Trump have nothing in common. To the contrary, both were big time birthers during the Obama years, with Arpaio putting together a "cold case posse" to investigate the matter. Needless to say, neither Trump nor Arpaio ever produced any evidence to support their racist conspiracy theory.
11. He Failed To Investigate Hundreds Of Sex Crimes
Back in 2011, the Associated Press reported that Arpaio's office failed to adequately investigate, or in some cases neglected, more than 400 reported sex crimes in Maricopa County over a three-year period.
12. His Inmates Killed Themselves At A Shocking Rate
According to yet another report from The Phoenix New Times, which has done a wealth of critical journalism on Arpaio throughout the years, his jail played host to a staggering number of inmate suicides. According to journalist Michael Lacey's analysis, 39 or of 157 deaths in Arpaio's jail between 1996 and 2015 were from inmates hanging themselves.
13. Health Conditions In His Camp Were Reportedly Bad
In 2014, a federal judge extended a 2008 order demanding that Arpaio's office improve the health conditions in his jail. The order came the same year that Maricopa County had to pay out $5 million in wrongful death lawsuits, according to ThinkProgress.
14. And Mentally Ill Inmates Were Allegedly Treated Awfully
The details of a 2016 lawsuit against Arpaio, relating to his office's treatment of mentally ill inmates and detainees, is just about as harrowing as it gets. Specifically, the suit alleged that such inmates were deprived of essential care, and for the most part were left to languish in excruciating heat and squalor.
15. Inmates Were Served Moldy Food
The food in Arpaio's jails was notoriously bad, according to people who experienced it. In fact, while ruling against Arpaio in 2008, a judge noted that some inmates were forced to eat moldy bread and rotten fruit while under his care.
16. He Called Immigrants Dirty And Diseased
In that aforementioned 2009 GQ profile, according to The Phoenix New Times, Arpaio launched a racist broadside against Latino immigrants, calling them dirty and diseased.
All these people that come over, they could come with disease. There's no control, no health checks or anything. They check fruits and vegetables. How come they don't check people? No one talks about that! They're all dirty. I sent out 200 inmates into the desert, they picked up 18 tons of garbage that they bring in -- the baby diapers and all that. Where's everybody who wants to preserve the desert?
17. He Flagrantly Violated A Federal Court Order
And, of course, the thing he actually got slapped with criminal contempt of court over. Arpaio was explicitly ordered to stop detaining people solely on suspicion that they were undocumented immigrants, requiring them to be suspected of a state crime as well.
He decided to ignore that order, and keep doing the sweeping immigration raids and detentions the way he always had, which earned him the criminal contempt conviction. Of course, thanks to Trump deciding to pardon him, he'll no longer face any legal consequences for his actions. And as the list above shows, the thing he actually got convicted for barely amounts to a fraction of the awful impact he had on the Latino communities of Maricopa County.