Joe Jonas Is Just As Happy About Nick Jonas & Priyanka Chopra's Wedding As They Are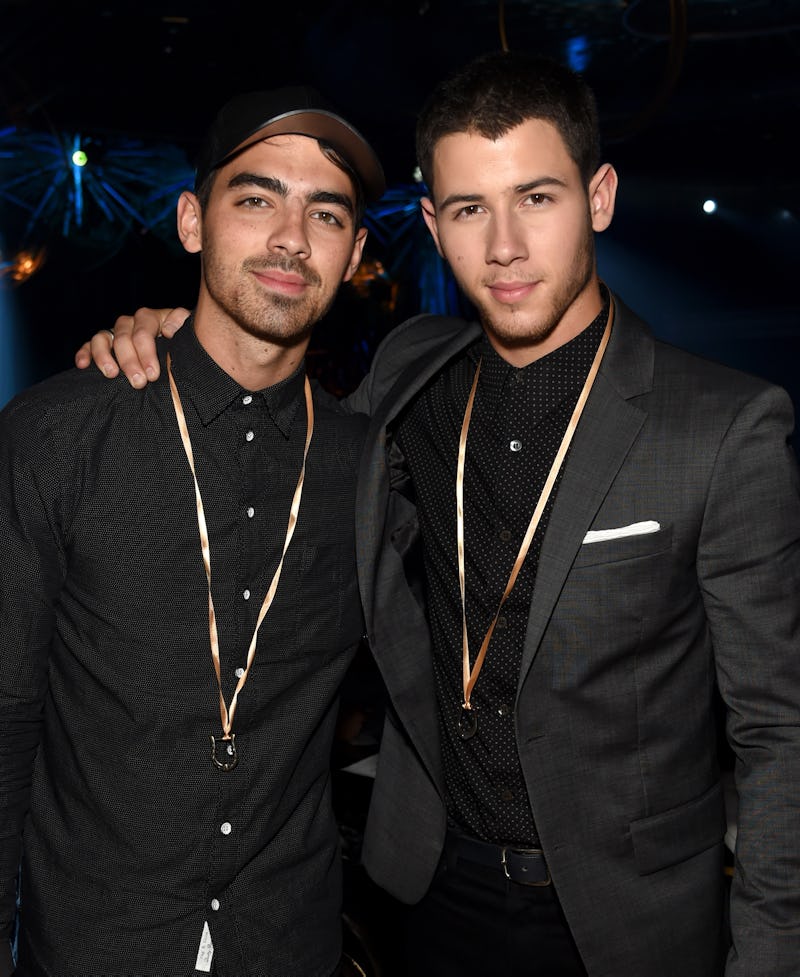 Jamie McCarthy/Getty Images Entertainment/Getty Images
Watching your family member get married can be an emotional time, but just wait until you hear Joe Jonas' comments about Nick Jonas' wedding to Priyanka Chopra. While appearing on Thursday's Today show, Joe opened up about his brother's big day, in which he married Chorpa over the weekend of Dec. 1 in India. Joe served as Nicks' best man and not only did he take his duties seriously, but the entire celebration hit him right in the feels.
"It's been a pretty big week. It's been amazing," he said. "Marrying Nick off to Priyanka, it's been fantastic. Obviously, this has been one of the most beautiful weddings I've ever seen and to be a part of it was a dream."
He didn't stop there and added some truly sweet words about watching his baby brother get married to the love of his life, in addition to discussing his best man speech. Joe said about the words he delivered to Nick and his new partner,
"I think it was pretty good. I kind of blacked out for a minute because I was just overwhelmed with emotion. This is not only my brother, best friend, and to see him marrying his dream girl, there was a lot of tears the whole weekend, and a lot of smiles. So I have it on paper, which was the most important part. It was a special week."
As for his best man responsibilities, the DNCE singer said he "had a lot," including "trying to figure out what and where to be at different times and kind of collecting, he had about 12 groomsmen, so a lot of wrangles."
Joe previously made it clear how overjoyed he is for his brother and the former Quantico star. After the two said "I do," Joe shared a photo of the newlyweds on Instagram and wrote, "Super Married! I Love You Both! Welcome to the Family Pri! Congratulations! My face hurts from all the smiling this week. [heart emoji]."
While appearing on Today, the former Jonas Brothers singer also revealed some other details about the lengthy event, including how there were a "few dance offs." He even touched upon the special Sangeet tradition they all participated in as part of the wedding celebration.
As explained by Joe, the Sangeet is a "beautiful Indian tradition," in which family and friends put on a 30-minute performance. As talented as the Jonas family is, Joe admitted Chopra's loved ones were unbeatable in their acts, so much so, he declared them the winners of the Sangeet.
He said,
"And they have the most incredible performers in her family and a lot of friends and family that are Bollywood stars, so for us to go out there and think we know what we're doing, even though we had some songs that we could sing from our past, there still was a lot of dancing that we were trying to pick up in a week's time."
Nick and Chopra's marriage was definitely a memorable time for everyone in attendance. So now that one epic wedding is down, and seeing as Joe is engaged to Sophie Turner, does this mean their nuptials are next? Well, not exactly, but Joe did take some notes from his brother's wedding. That said, he and Turner have been completely focused on Chopra and Nick during all of the planning and ceremonies.
"I definitely took some notes but that week was all about them, just celebrating the two of them, and that's what it was about for us, and experiencing it and looking back and you're just in awe," Joe told Today. "My time will come but I'm thrilled for the two of them."
His response is further proof that not only is he an amazing big brother, but that he made sure Nick had the most special wedding possible.