A Few Of Nick Jonas' Groomsmen Have Been Revealed, Along With Their Fun Wedding Gift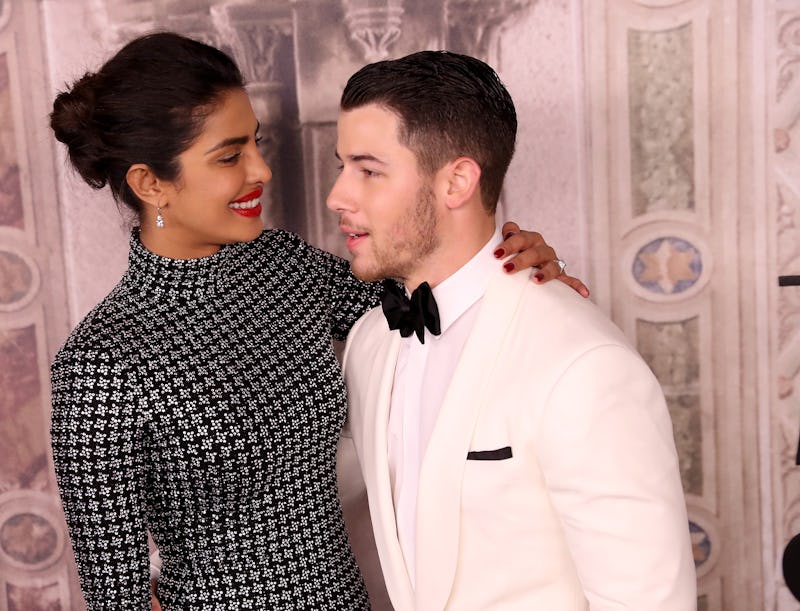 Rob Kim/Getty Images Entertainment/Getty Images
Nick Jonas and Priyanka Chopra's wedding date is getting closer every day, and it looks like the couple is super busy with wedding planning. Jonas shared a photo of his groomsmen's gift on Instagram, tagging the six people who'd be receiving it. It looks like Nick Jonas' groomsmen will be getting lime-green scooters ahead of the big day. And, of course, the bridal party is led by none other than Jonas' brothers.
Jonas captioned the photo,
"I was searching for a fun way for my groomsmen to be mobile and ready to roll – so I called up my friends at @Limebike for some help… #groomsmengift #CitrusGotReal"
He tagged Joe, Kevin, and Frankie Jonas in the post, along with actor Jonathan Tucker and Siddharth Chopra, whom E! News reported is Priyanka's brother. According to E! News' sources, Jonas will have 11 groomsmen, so it's not clear who the others might be, or if there are more scooters not pictured. The photo shows six scooters, one of which is presumably for Jonas himself.
The other three Jonas brothers, along with Tucker and Chopra, will likely be joining in the wedding festivities within the next few months. Jonas and Chopra reportedly got their marriage license last week. Marriage licenses are valid for 90 days in California, which means the two of them could be planning to get married very soon. The couple hasn't shared their planned wedding date with fans. But The Blast reported that Jonas and Chopra will be married in December in India.
During the early stages of their relationship, Jonas and Chopra didn't post much about each other on social media. But ever since the two of them got engaged, they've been sharing plenty of sweet details about their romance with their fans.
Chopra, for instance, recently celebrated her bachelorette party, another clue that the wedding is on the horizon. During the bachelorette weekend, Chopra even debuted a nickname for herself and Sophie Turner, who's engaged to Joe Jonas. Chopra dubbed herself and Turner "The J Sisters," a clear reference to the Jonas brothers' band.
Chopra also shared several other photos from her bachelorette weekend in Amsterdam, and it looks like the ladies had a great time relaxing together. The Quantico star hasn't revealed an official list of who her bridal party will be, as Jonas has. But it's safe to guess that it will include at least some of the people who celebrated her bachelorette weekend with her.
Aside from Turner, Chopra's bachelorette party guest list included her friends Dana Supnick-Guidoni, Natasha Pal, Isha Ambani, Elizabeth Chambers, Chanchal Dsouza, and her cousin Parineeti Chopra, all of whom she tagged in an Instagram post. It's also possible that Kevin Jonas' wife, Danielle Jonas, will be a member of the bridal party, too. Chopra tagged her in a post about the bachelorette weekend, noting that she and Chopra's friend Mubina Rattonsey were "missed" at the event.
Regardless of who's an official member of the bridal party, it looks like Jonas and Chopra have plenty of friends and family members who are super eager to share in their big day. When the two of them do tie the knot, they'll be surrounded by loved ones who are eager to witness their commitment to one another. And if some of the Jonas brothers, or even the "J sisters," happen to ride around on green scooters after the ceremony, that's even better.