The Meaning Behind Joe Jonas & Sophie Turner's New Tattoos Will Make Your Heart Melt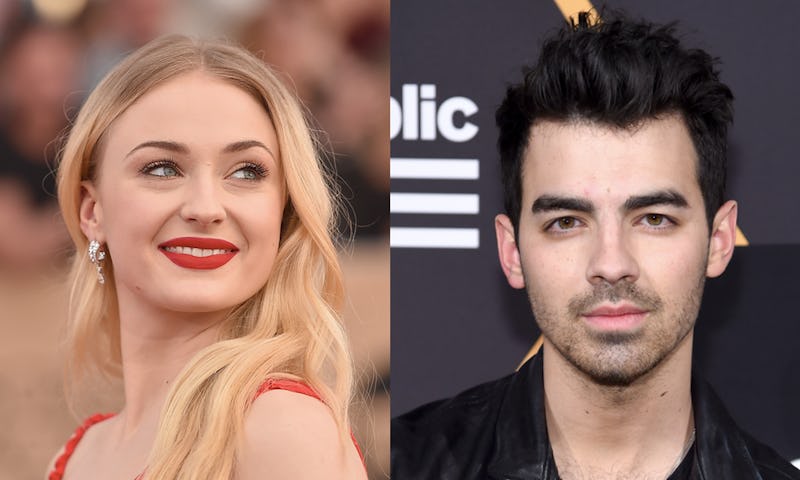 Alberto E. Rodriguez/Getty Images Entertainment/Getty Images; Jamie McCarthy/Getty Images Entertainment/Getty Images
Just when you think Sophie Turner and Joe Jonas couldn't get any more adorable, they go and further exceed all of our expectations — this time in the form of artistic ink. That's right, folks — Sophie Turner and Joe Jonas got new tattoos together, and the sentimental meaning behind them is guaranteed to melt your cold, dead heart. On Saturday, the couple both posted photos of their new tats on Instagram, which they had done by artist Mr. K at Bang Bang Tattoos, and explained in their captions that the ink was in honor of two people who proved to be very important in their lives: their grandfathers.
Jonas' tattoo is in the form of a postage stamp, created specifically with his grandfather's photo while dressed in his military uniform. "For PaPa Miller," the caption reads, along with a shoutout to Mr. K's impressive work. The tattoo, which appears to be placed on the singer's upper-arm, clearly proves how much his grandfather means to him and that he holds a special place in Jonas' heart.
Meanwhile, Turner opted to go for a smaller tribute by simply getting the letter "G" (written in cursive) on her pinky finger. The "G" is presumably meant to stand for her grandfather, who the actor said was her hero. "For my grandad. My hero," her caption reads.
You can see Jonas' tattoo here:
And Turner's tattoo here:
Of course, this isn't the first time Jonas and Turner have gotten heartfelt tattoos together. Earlier this year, Jonas debuted a tattoo of a naked women who many felt looked an awfully lot like Turner's Game of Thrones character, Sansa Stark. And while the inspiration behind the ink has yet to be confirmed or explained, Turner evidently liked the look so much that she ended up getting a similar tattoo on her left upper thigh, according to People, though the photo that tattoo artist Curt Montgomery shared of it has now, apparently, been deleted.
Regardless, it's clear these two love expressing themselves in the same creative way. Turner and Jonas' wedding date is still a long ways away (it reportedly won't happen until after Game of Thrones Season 8 is over, according to PopSugar), however, these matching tattoos prove that they've already committed to each other in a big way, long before any vows are ever read. "It's lovely to be engaged," Turner explained to Us Weekly during a recent interview. "Not like I achieved anything, but I found my person, like I'd find a house that I love and want to stay in forever. There's a sense of peace that comes with finding your person."
The duo began dating in 2016 and announced their engagement in October 2017 on Instagram with identical posts, though the captions were slightly different, with Jonas' reading: "She said yes," and Turner's reading: "I said yes." And while there are sure to be many Game of Thrones costars in attendance when the big day does finally come along, fans can also look forward to the fact that Maisie Williams — who plays Turner's sister, Arya Stark on Game of Thrones, and is very good friends with Turner in real life — might be one of her bridesmaids at the wedding.
But until that glorious day is here, we can all just revel in all of the adorableness Jonas and Turner continue to demonstrate as a couple. Whether they're gushing about one another on the red carpet or getting matching (or very similar) tattoos, it's clear these two are total relationship goals and the ultimate perfect match.