John Goodman Thanked Roseanne Barr For This One Surprising Reason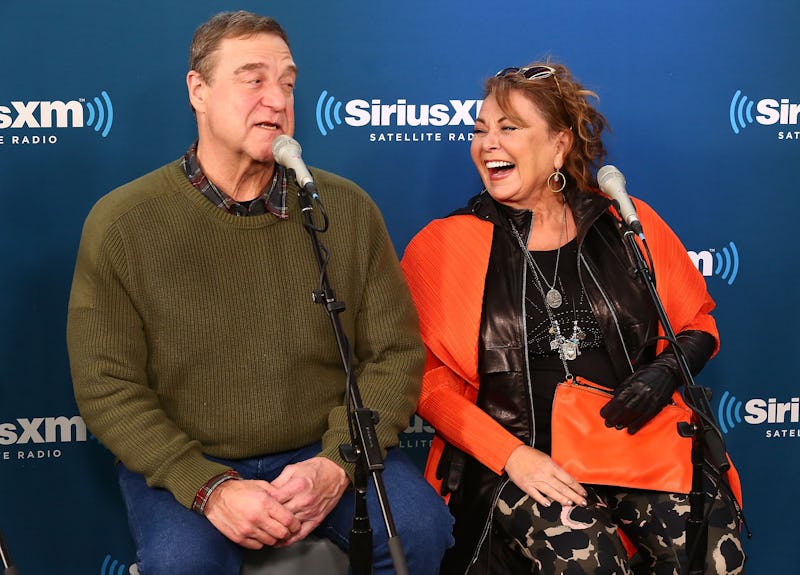 Astrid Stawiarz/Getty Images Entertainment/Getty Images
Usually on a TV show, most of the drama takes place on screen, but that's definitely not the case with the new sitcom The Conners, a spinoff of the short-lived Roseanne reboot. As you probably remember, Roseanne premiered on ABC in March to huge ratings, only to get canceled by the network in May after the titular star Roseanne Barr posted a racist tweet about President Barack Obama's former advisor, Valerie Jarrett. After parting ways with Barr ABC created The Conners, which will star the same cast from Roseanne sans the show's original creator. And, despite all the drama she caused, John Goodman thanked Roseanne Barr for making The Conners possible during a recent appearance on Jimmy Kimmel Live.
"She gave up a lot for us to be able to do this show, and I can't thank her enough," Goodman told host Jimmy Kimmel. Goodman, of course, played Barr's on-screen husband Dan Conner both in the original and the rebooted series. The Conners premieres on Oct. 16, at 8 p.m., and former Roseanne stars Sara Gilbert, Laurie Metcalf, and Lecy Goranson will all join Goodman in the new show.
Goodman told Kimmel that he'd miss Barr because she's his "buddy" and also addressed the financial sacrifice that his on-screen wife made in order to allow The Conners to get made. When Kimmel mentioned that Barr "renounced her financial stake in the show so that it could continue," Goodman responded, "She gave up a lot so that people could work." It's true that The Conners didn't just automatically happen after Barr was fired from ABC. For various reasons, it was important that Barr not be seen profiting from any potential spinoff, and so the comedian stepped away from the project.
The actual details about the financial deals and contracts that were made to facilitate The Conners' production have been kept confidential, but Goodman made it sound like it took a good deal of negotiating. Deadline previously noted that Barr was the co-creater and executive producer of Roseanne, and her ownership and backend of that show could have prevented ABC from using the same characters for the new spin-off show. And Goodman clearly sees Barr's decision to step away as a great sacrifice.
That said, even though Barr likely had to sign away her rights to Roseanne to green-light The Conners, you probably shouldn't feel sorry for her — not that you would anyway considering the comedian's abhorrent comment — because it's likely she earned a big payout. Back in 2011, when Charlie Sheen was fired from Two and a Half Men, Warner Bros. TV ended up paying Sheen $25 million in a settlement in order to continue the show without its star, according to Entertainment Weekly. And, per a report from The Hollywood Reporter, Barr likely received what a source called "go-away money."
Both Barr and Goodman have said in previous interviews that the absence of the matriarch of the Conner family will be caused by her death on the show. In September, Barr appeared on Brandon Straka's YouTube show, "Walk Away," and she said, "They have her die of an opioid overdose," though ABC has not responded to Barr's claims. On Monday night's Jimmy Kimmel Live!, Goodman joked, "In the end of last season she goes out to the liquor store to fill her vape pen, and she hasn't been back yet."
The Conners will probably require a little getting used to when it airs later this month, but it will probably have as much of the same sarcastic humor as Roseanne. Only this time, viewers won't have to face a moral conflict every time they tune in to see Metcalf and Goodman, so overall it's a win for TV.