Actor John Hurt Reportedly Dies At 77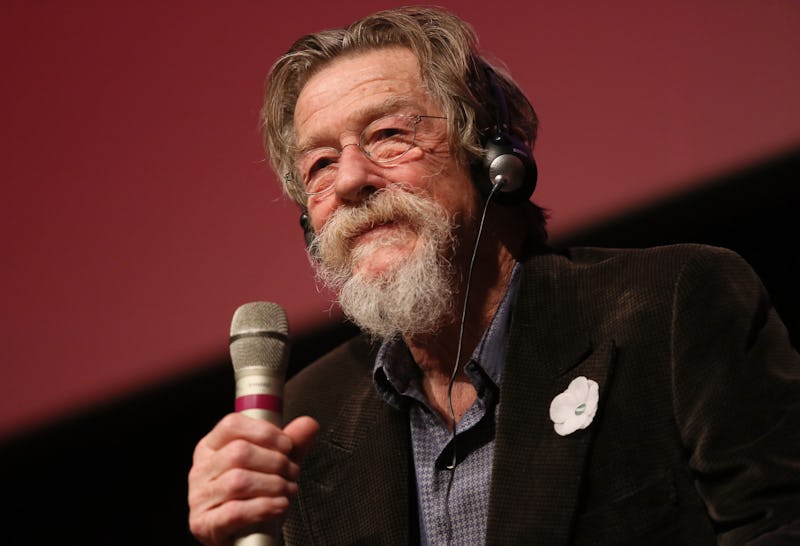 Ernesto Ruscio/Getty Images Entertainment/Getty Images
After an already sad week in the world of entertainment, news broke on Friday that John Hurt has reportedly passed away. It appears that The Mirror, as well as several other British sites, were the first to report the news. The British actor may be best known for appearing in The Elephant Man and Alien, but also starred as Mr. Ollivander in the Harry Potter films. Bustle reached out to Hurt's rep for comment, but has not received a response at the time of publication.
Update, Jan. 28, 7:31 a.m. EST: Early Saturday, Hurt's rep released the following statement to Bustle on behalf of the actor's wife, Anwen Hurt:
"It is with deep sadness that I have to confirm that my husband, John Vincent Hurt, died on Wednesday 25th January 2017 at home in Norfolk.
John was the most sublime of actors and the most gentlemanly of gentlemen with the greatest of hearts and the most generosity of spirit. He touched all our lives with joy and magic and it will be a strange world without him.
I ask that we are allowed to come to terms with our loss without further intrusion."
Update, Jan. 27, 10:06 p.m. EST: On Friday evening, Hurt's rep confirmed the news to Bustle. This article will be further updated when a full statement is received.
Earlier: Back in 2015, Hurt announced he was battling pancreatic cancer. While it's currently unclear what may have caused his death, he surely fought hard. When first breaking the news about the disease, according to The Hollywood Reporter, Hurt said he would keep working, despite the diagnosis.
Hurt's career in the film industry spanned decades. He even earned two Oscars nominations along the way — the first for Best Supporting Actor for his work in Midnight Express in 1979, and another for Best Actor for The Elephant Man in 1981. He even won a Golden Globe for Midnight Express. But what such trophies don't show is just how many movies and TV shows he helped bring to life. From 2016's Jackie to the beloved Doctor Who to V For Vendetta, Hurt appeared in it all. He truly left his mark in the entertainment industry.
While news like this is never easy to process, Hurt's legacy will live on — both on-screen and in the hearts of fans. He brought charisma to every role and surely won't be forgotten.