Chrissy Teigen Trolled John Legend With This Arthur Meme, & His Response Will Make You SCREAM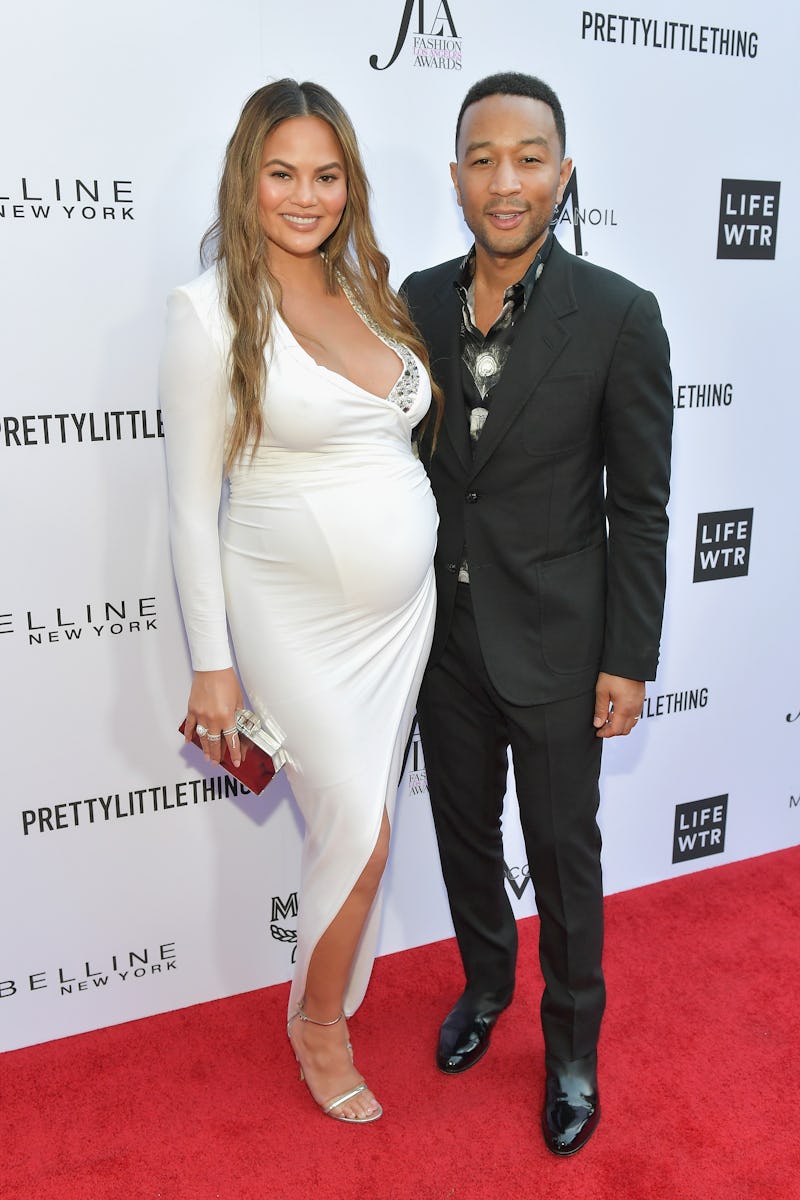 Neilson Barnard/Getty Images Entertainment/Getty Images
If you thought Chrissy Teigen was ever going to let her husband's resemblance to Arthur Read, the beloved aardvark from the PBS show Arthur, think again. In a post on Instagram, Legend referenced the Arthur jokes himself while sharing a photo of his dad with daughter Luna, and this combined with Teigen's continued trolling of Legend might just mean that the John Legend Looks Like Arthur meme is here to stay.
The photo that Legend shared late Sunday night is actually pretty adorable. In the pic, Luna's posing with her grandpa (who actually looks a bit like an older Arthur himself, to be quite honest) and her Arthur doll, which she really seems to be loving these days — maybe because it reminds her of her dad?
"Luna and Grandpa (and a stuffed animal whose name we shall not speak)," Legend wrote in his caption.
Legend might not want to bring up Arthur, but it's impossible not to notice him, since he's front and center in the photo as he gets a wagon ride from Luna. She seems pretty thrilled to be hanging out with her grandpa, and being that this isn't the first time she's been pictured with this doll, it's probably safe to assume that smile on her face is at least partially because of her new favorite aardvark.
Legend's post comes after a weekend of Teigen ribbing him on Instagram, as she shared a couple of true masterpieces made by fans. She shared a photo of Arthur a fan had altered to look even more like Legend (if that's possible), without glasses and with Legend's haircut, which she captioned with lyrics from the show's theme song.
The comments on these posts have almost been as good as the posts themselves. On the post featuring Legend's personalized Arthur logo, John Mayer commented basically what we're all thinking, writing, "Find someone who looks at you like @chrissyteigen looks at ways to take the legs out from under @johnlegend."
Karlie Kloss also chimed in, adding, "I watched Arthur EVERY DAMN DAY after school on PBS because we were the only house on the planet that didn't have cable. Such a great show... and yes I totally see the resemblance now!"
Once you see it, it's something you simply cannot unsee, so it's a good thing Kloss is now on the bandwagon. It's quite clear that Arthur and Legend were separated at birth.
And then, because it's only fair, Teigen made fun of herself a little, too, in another post. Sharing a meme about finding your cartoon soulmate, the photo included a picture of the couple from the 2016 American Music Awards — when Teigen wore a dress with a sky high slit — paired with their doppelgängers. In this case, that meant Arthur's dad and the "legs go all the way up" girl from Family Guy.
"Omggggggahhhh 'legs go all the way up' girl nooooooo," Teigen lamented in her caption.
Legend's post of Luna and his dad isn't the first time the Arthur doll has made an appearance on social media. Last week, Teigen shared a photo of Luna chilling out in their yard as she held the Arthur doll in her arms, captioning the pic "Luna and daddy." In the comments, she joked, "This is my childhood Arthur doll. My mom has kept it all this time. Maybe I've been attracted to Arthur my whole life and now I found my real life human one."
The Arthur jokes may never die, but why should they? It's so much fun to see Teigen tease Legend online — and what's that saying? The couple who mocks each other stays together? Something like that.