Chrissy Teigen's Dad Gave John Legend The Most Awkward & Funny Gift Imaginable — Seriously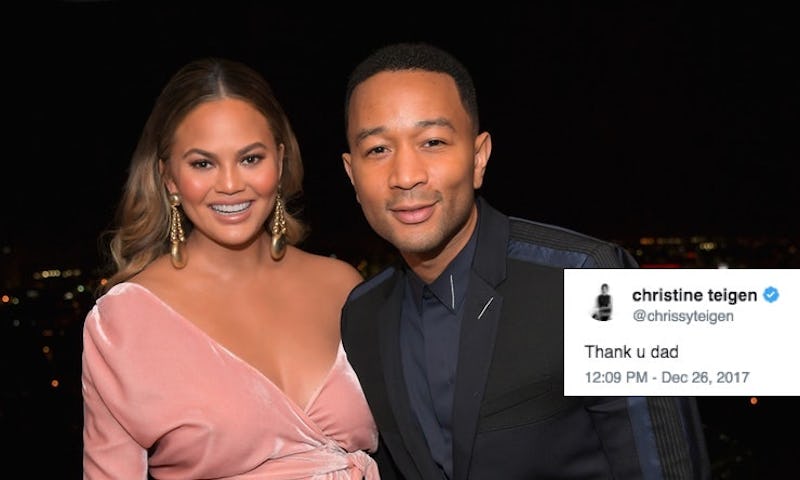 Charley Gallay/Getty Images Entertainment/Getty Images; Chrissy Teigen/Twitter
Next time you think your dad is acting bizarre around your significant other, think again. Because no matter how many egregious puns your father whipped out over this holiday season's family get-togethers, his antics probably don't hold a candle to the Christmas gift Chrissy Teigen's dad gave to John Legend. Seriously, you need to see it to believe it.
On Tuesday, Dec. 26, Teigen — whose high-profile marriage has long served as the punch line to many a quip, droll, and wisecrack on social media — posted a video to Twitter, providing fans with a glimpse into the way gift-giving is done in the Teigen family. Seems pretty run-of-the-mill, right? Well, not if Ron Teigen Sr. has anything to say about it.
In keeping with the characteristically crass, quick-witted gibes for which Teigen is famous, the 32-year-old model (who doubles as unofficial master of the well-timed social media jab) unveiled her fathers decidedly unconventional gift, ahem, to Legend. And, as far as vulgar-adjacent jokes are concerned, it seems like the apple doesn't fall too far from the tree.
"My dad got this stuff for me and John," Teigen narrated matter-of-factly, opening the 10-second video. Because, apparently, this is just a Teigen family twist on the garden variety "dad joke." And of course, it is.
In the spirit of the holidays, Teigen Sr. gifted his superstar son-in-law with a new means of keeping his extremities cozy this winter. Well, one extremity, that is. The gift, appropriately dubbed "The Willy Warmer," is exactly what it sounds like it is: a knitted sweater intended for Legend's penis. The bright red knit case — whose intricacies Teigen displayed front-and-center via Twitter on the day after Christmas — touts more puns than just one. Beneath its moniker sits the item's equally aptly-titled descriptor: "a heater for your peter!" (The manufacturer is also called Big Mouth, Inc., so do with that information what you will.)
Legend's pint-sized penis sweater wasn't the only present the couple received from Teigen's father this Christmas. Post-Willy Warmer, Teigen's now-viral video pans to her own gift, courtesy of her dad. Apparently she received a "Don't Touch" box — a glossy, shoebox-like receptacle, which is self-described as an "amazing and interesting useless box." An arguably less useful stocking stuffer — though, perhaps only time will tell. (Here's looking at you, Legend.)
Teigen's father responded to her video with a zinger you could only expect to see from the man who spawned Twitter's clapback queen. "There you go opening your sister's presents again," he joked.
Teigen's Twitter followers showed up in droves to offer their own two cents on the subject of her father's alternative Christmas presents. In the post's 100-plus comments, many titillated fans even brandished a few clever one-liners of their own.
Some fans noted the incredible wonder of the slapstick father-daughter duo, and thanked their lucky stars for the Teigen pair's hilariously crude existence.
Meanwhile, others commented on the conceivably ironic career trajectory of the unsung hero who actually created the peen sweater — and simultaneously took the opportunity to fashion some Grade A wordplay. (Get it? Fallen?) Hey, when life gives you lemons, sometimes you make penis jokes.
Comparatively less attention was paid to Teigen's "Don't Touch" box. But, then again, it wasn't giving people a whole lot to work with.
And for those wondering about Teigen's IRL reaction to her father's uniquely eccentric holiday gifts, this Twitter user might be onto something:
But, then again, if there's anyone who's bound to appreciate a vaguely inappropriate prank of a Christmas gift, it's Teigen. And judging by her father's taste in high jinks, it probably runs in the family.