John Legend Sweetly Shifted The Spotlight To Chrissy Teigen When Talking About His EGOT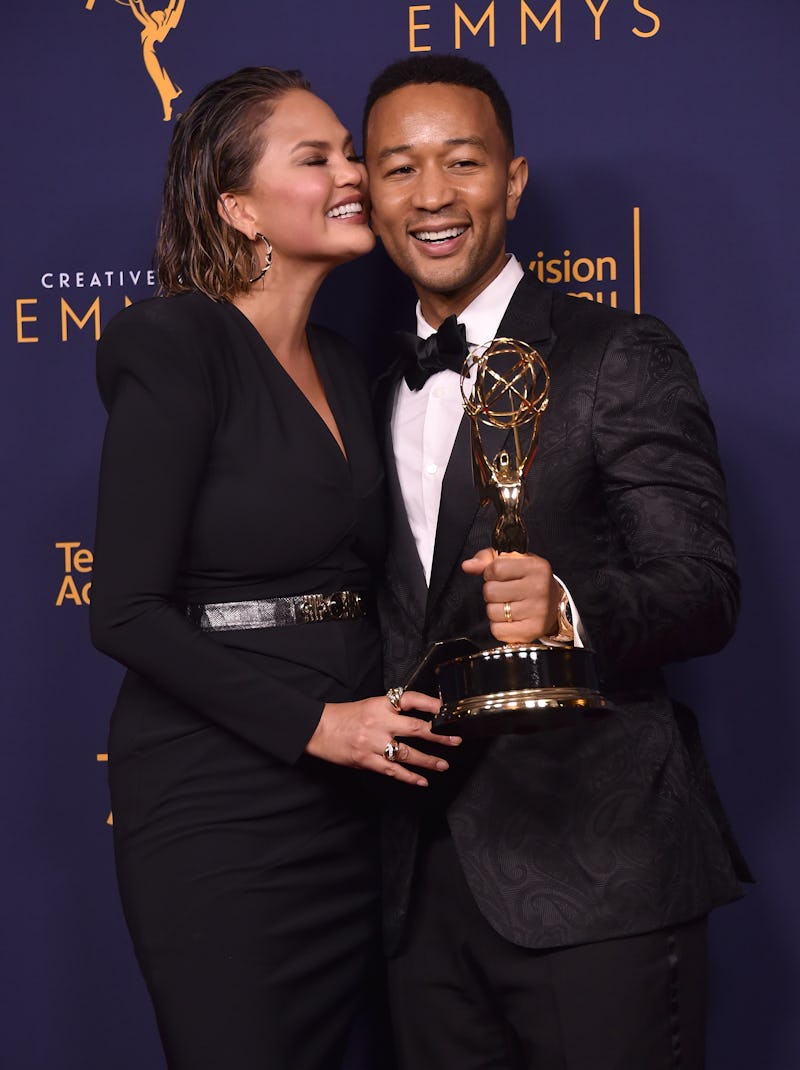 Alberto E. Rodriguez/Getty Images Entertainment/Getty Images
John Legend and Chrissy Teigen continue to prove they're Hollywood's true golden couple. And nothing is more evident of their strong connection than John Legend talking about how Chrissy Teigen inspires him, as reported by People. In light of his recent EGOT achievement (which included him earning an Emmy, Grammy, Oscar, and Tony), Legend couldn't help but turn the focus toward his wife.
After accepting his recent Emmy for co-producing Jesus Christ Superstar at the Creative Arts Emmy Awards, he told reporters about his relationship with his wife: "We inspire each other." According to People, Legend continued,
"She inspires my songs, she inspires me to want to be a better husband and a better father. We support each other fully in everything that we do. I root for her in her career and everything she's doing. And I expect that she'll be up here winning Emmys herself for all the awesome work that she does."
Um, can you think of anything sweeter? Seriously, if you didn't already know that Legend and Teigen were serious couple goals, you would know now based on his lovely comments.
Legend's EGOT achievement is a major deal, by the way. As People noted, he's one of the youngest EGOT winners ever and also the first African-American man to achieve this honor. So it was super nice that he took some time to acknowledge his biggest support system, Teigen, during this incredibly special moment.
Of course, Legend wasn't the only one who took the time to gush about their spouse. Teigen was, naturally, thrilled by her husband's Emmy and EGOT win, as she conveyed on social media. On Sept. 9, she posted a photo of her husband alongside the two other Jesus Christ Superstar producers, Andrew Lloyd Webber and Tim Rice, who also achieved the EGOT, and wrote, "EGOT GOATS."
She also posted a video of Legend placing his Emmy amongst all of his other awards. And, since this is Teigen here, she did have a little fun at her husband's expense with her caption. The Lip Sync Battle co-host wrote, "And I say hey, what a wonderful kind of day," a reference to Legend's much-joked about doppelgänger, Arthur, and the theme song for the children's show. Although, it truly was a wonderful kind of day for the fam seeing as though the "All of Me" singer earned such an impressive accolade.
But, wait, there's more where that came from. Teigen also posted a photo of the couple, with Legend's Emmy in hand, with the caption, "my incredible man. what a surreal life." One of her comments on the photo really shed some light on her thoughts about his win. When someone commented that Teigen's hair looked great in the photo, she responded, "honestly I'm super proud of him but I was also like wow my hair looks great so I posted it." You just can't help but get where she's coming from, proving once again that Teigen's one of the most relatable celebs out there.
Obviously, she's still super proud of her husband's EGOT win, though. And as for Legend, he was so glad that his always-hilarious wife could be by his side as he achieved the prestigious honor.