John Legend Is In 'Master Of None' Season 2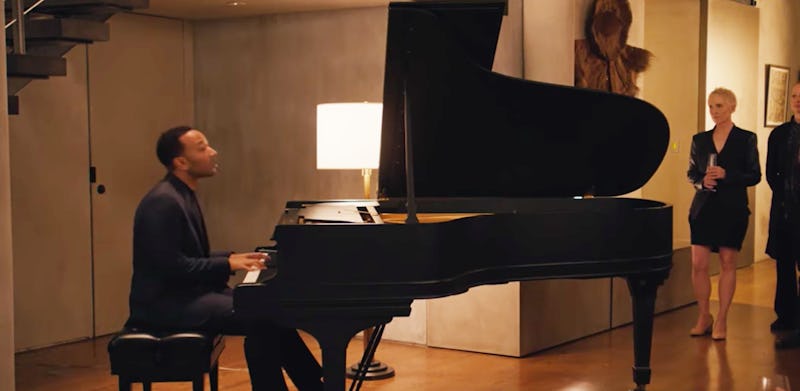 Netflix
If you're a fan of television with Aziz Ansari in it (because you have eyes, ears, and a heart, dammit), you're probably all geared up for May 12. But with the Master of None Season 2 trailer dropping, suddenly, you've been caught off guard — because none other than your favorite Chrissy Teigen fan seems to be making a cameo. So who is John Legend playing in Master Of None Season 2? Being confused is totally normal. After all, up until this point, we had no idea Legend would be starring in the series, since his iMDB has remaining mum on the exciting news.
If you were hoping for Twitter to give you more insight, think again. Legend's busy fighting for political change and calling out injustices. Pretty much business as usual, really. Still, if you're a fan of the show, you're probably rolling your eyes. What's the big deal, you might say? After all, another prominent musician appeared in the first season: Father John Misty. But while he provides excellent backing music for the weird date Dev goes on in the third episode, the musician appears in character, as himself, playing a concert. This doesn't appear to be the case so far with Legend.
If you've watched the clip, you'll have noticed that Legend isn't serenading a packed-out concert hall, but what, on first glance, appears to be a living room. There's that standing lamp for starters, and some stairs are visible in the background. It looks pretty cosy. But the way everyone is dressed and standing — formally, clutching glasses of something bubbly — makes it look as if it could be some sort of function. And it doesn't seem likely that Dev is mixing in circles moneyed enough to hire major league pop stars to serenade their events, surely.
We then see Dev outside, toasting the evening with his friends. So, is Legend just the piano player at a particularly fancy bar? Or is this just the customary clever video editing of a teaser?
In the musician's most recent outing in the acting world in La La Land, he plays himself, but through the looking glass. He still plays a musician, Keith, but Ryan Gosling gets to be the pianist, not him. Instead he plays guitar, an instrument he had to master the basics of just for the film.
Given that we've only just heard about Legend appearing in the Netflix series; given how active the singer is on social media, and how closely-documented his life is, I'm going to assume this is a one-episode cameo, not a recurring role. After all, if he'd been away from Teigen for long, I think we would have heard more about it. So will Legend just play a musician, like in La La Land? Is this Ansari's way of telling us exactly how amazing Italy is, that at any casual function you'll find a musician of Legend's considerable talents tinkling the ivories?
It certainly looks that way. So while the "Ordinary People" singer may only be starring in one episode, here's hoping he makes it count. He was coolly self-assured in La La Land, and I'd love to see him in a more dialogue-heavy, music-light role. Perhaps, once the piano player gets to have a cigarette break and a heart-to-heart in the street outside with Dev, this could be Legend's chance.