John Lewis's Graphic Novel Wins Four More Prizes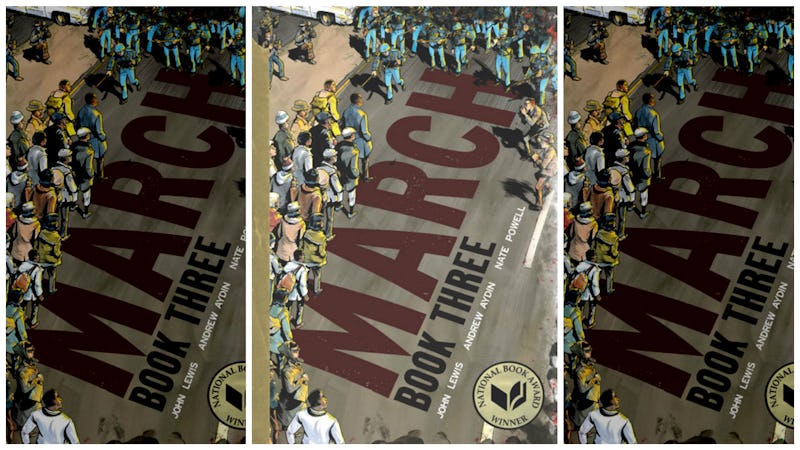 On Monday morning, the American Library Association announced the best children's and YA books of 2016, and one book clearly stood out from the crowd. March: Book Three won four ALA awards, making it the most talked-about book of the whole event — and for good reason. The graphic novel is the final installment in a series on civil rights and the power of young people to change the world — a wonderfully inspiring sentiment.
March: Book Three won the Michael L. Printz Award for excellence in young adult literature; the Coretta Scott King Author Award, which was established to recognize African-American creators of outstanding books; the Robert F. Sibert Award for most distinguished informational book for children; and the YALSA Award for excellence in nonfiction. These add to the two prizes this fantastic graphic novel has already won: the National Book Award for Young People's Literature, and the Walter Dean Myers Award for Outstanding Children's Literature. Yep, this book is a force to be reckoned with.
The March series was created by Congressman John Lewis, Andrew Aydin, and Nate Powell to make the civil rights movement accessible to young adults, and each book in the graphic novel series has been greeted with critical acclaim. This final installment was described by Comic Book Resources as "a victory tale for the oppressed, an inspiration to anyone victimized by injustice, and a positive and motivational work that sings the praises and virtue of non-violence."
March: Book Three deserves every one of the six awards it's racked up so far. The impact of this book, which educates young people about where we've come from, and reminds them of what's still to be done, is bound to be long-lasting and revolutionary.