Watch John Oliver's "Goodbye" To Bill O'Reilly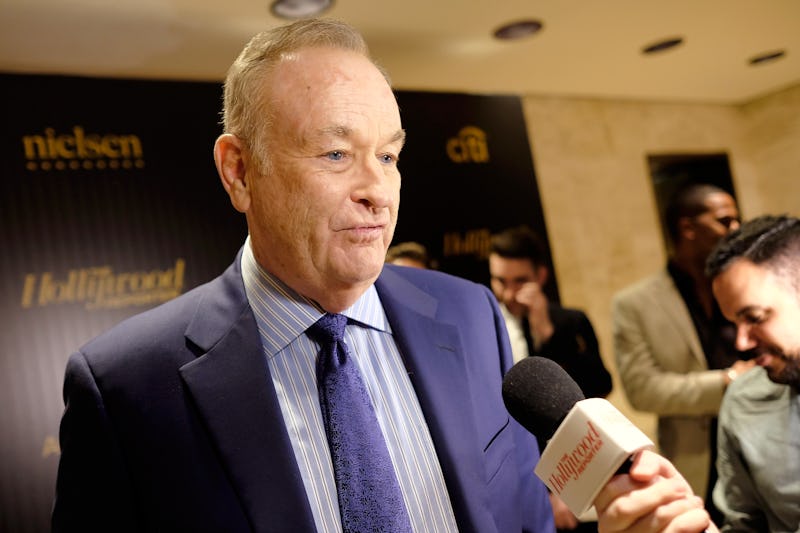 Dimitrios Kambouris/Getty Images Entertainment/Getty Images
On Last Week Tonight on Sunday evening, John Oliver bid Bill O'Reilly farewell by playing a montage of some of his most outrageously infuriating moments on television from the past decade and beyond.
Oliver's adieu to the news host follows O'Reilly's firing from Fox News and his show, The O'Reilly Factor, last week after an April 1 article in the New York Times brought to light that O'Reilly and Fox News reportedly reached settlements with multiple women who accused the television star of sexual and verbal harassment over the past 14 years. These settlements reportedly amounted to around $13 million. O'Reilly firmly denied the allegations, claiming even after he was let go from Fox News that they were completely unfounded.
After the New York Times article surfaced, many advertisers started pulling their ads from O'Reilly's show. Furthermore, various women's advocacy groups and the general public began putting pressure on 21st Century Fox, Fox News' parent company, to remove O'Reilly from the air. On April 9, Fox announced that it would launch an investigation into at least one of the claims against O'Reilly. But last Wednesday, 21st Century Fox officially announced its decision that O'Reilly would be immediately removed from its lineup and would no longer be employed by the company.
Oliver's "goodbye" montage for O'Reilly constituted a compilation of some of O'Reilly's most outrageous and inappropriate moments from his show over the years. Many of the the clips featured O'Reilly talking about women and minorities in derogatory ways or seeming to insult guests or commentators who appeared on his show.
Oliver's "goodbye montage" clearly indicated that he was pleased that O'Reilly is departing from television, as have his previous segments on the O'Reilly controversy. Indeed, on the previous week's show, Oliver dedicated a good deal of time to the O'Reilly controversy, critiquing President Donald Trump for defending the news host. Oliver also reported that, in an interview with reporters in early April, Trump indicated that he did not believe that "O'Reilly would do anything wrong," and that he was "a good guy."
Oliver was so irked by the president's reaction to the O'Reilly allegations that he created a public service announcement (PSA) to "educate Trump" about sexual harassment and warn him about the consequences of supporting people who are facing sexual harassment allegations. Oliver sought to buy airtime during the O'Reilly Factor in order to air this PSA and seek to reach the president directly. Again, O'Reilly has firmly denied the allegations against him.
Between last week's PSA and this week's farewell clips, it is clear that Oliver is happy to see O'Reilly depart from Fox News. It has certainly been helpful to have Oliver's comedic yet highly educational perspective on the issue, especially amidst what's otherwise a heavy topic regarding sexual harassment allegations in the workplace.