John Oliver Can't Get Over This One "Outfit" From Paul Manafort's Expensive Wardrobe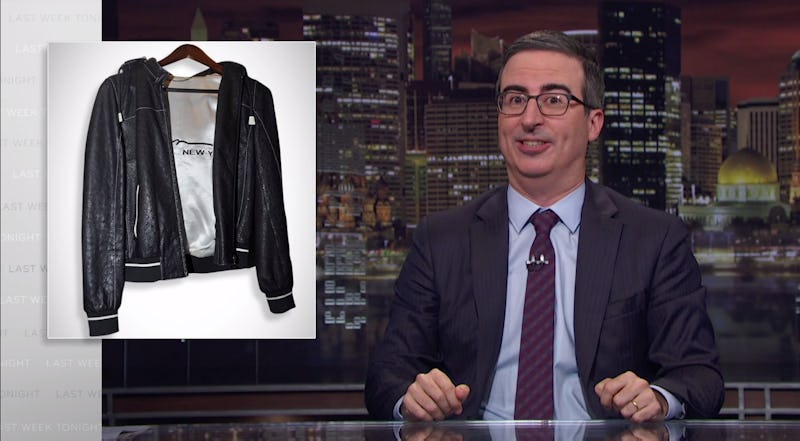 Last Week Tonight with John Oliver/HBO
The host of Last Week Tonight has shown that he can tear apart fashion faux pas with a ferocity that would make Joan Rivers proud. John Oliver mocked Paul Manafort's ostrich outfit as well as other strange fashion choices in a merciless satire on Sunday night. Oliver's segment came after the ongoing trial of President Donald Trump's former campaign chairman, charged with tax and bank fraud, revealed some surprising details about his extravagant spending and financial habits. Manafort has maintained his innocence.
"But most of the attention on Manafort's spending focused on the $1.3 million he supposedly spent on clothes between 2010 and 2014, and his taste was truly spectacular," Oliver said, before going to a CNN report that itemized Manafort's fashion expenses, listing a $9,500 ostrich vest, a $15,000 ostrich jacket, and an $18,500 python blazer.
Manafort's sartorial spending consisted of mainly suits, sport coats, and the eyebrow-raising ostrich and python garments. Between 2010 and 2014, Manafort spent almost $1 million at Alan Couture, USA Today reported.
"$24,000 on an ostrich outfit. That is ridiculous when you can find one online for $55, and look, if you're thinking at all 'well, hold on, maybe when you see the jacket, it'll be worth it,' I'll show you it f*cking isn't," Oliver said. "I never thought I'd say this, but that looks better on the ostrich. That is a leather jacket for people who also have a subscription to Reader's Digest."
The financial details of Manafort's pricey wardrobe came out as prosecutors were trying to prove his lavish spending, and it wasn't limited to just clothing. His extravagant lifestyle also included multiple homes and expensive watches. But it's his frequent shopping at what's widely regarded as one of the most expensive men's clothing stores in the world that caught the public's attention, and it's why the $15,000 bomber jacket made of ostrich leather is now the punchline of a number of jokes on social media.
The distinctly-dotted (frequently associated with ostrich leather) black jacket has a white stripe around its waist and sleeves. And, as Oliver pointed out, a hood.
Oliver goes beyond that jacket, though, making sure to highlight each jacket shown and what it had to say about its owner. One light-blue plaid jacket was characterized as, "I briefly dated your nana after her third divorce," while an oversized gray blazer apparently screamed, "I am three children stacked on top of each other and still wouldn't be caught dead in this."
Manafort was indicted during Special Counsel Robert Mueller's investigation into Russia's election interference. He is charged with a number of things, including conspiracy, tax evasion, and bank fraud, for a total of 18 criminal counts. After finishing the first week of his high-stakes trial, the public can only guess at what else will come out of the prosecutors' deep examination into Manafort's past. Earlier in the year, Manafort denied all charges, saying, "I continue to maintain my innocence."